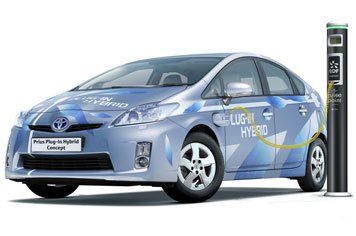 The prospect of a rechargeable "plug-in" Prius has been one of the hottest topics on this blog and we know there will be many readers out there delighted to hear that Toyota is to launch a worldwide trial of just such a vehicle next year.
Announced at the Frankfurt motor show today, the Prius Plug-in Concept successfully addresses some of the main drawbacks associated with fully electric vehicles. The use of a compact and lightweight lithium-ion battery pack (in place of the nickel-metalhydride type used in the current third-generation Prius) allows the car to be driven further and faster in EV (electric vehicle) mode.
When the battery charge does run out, the petrol engine in the full hybrid powertrain automatically takes over, so there is no risk of you being left stranded. The battery can be quickly recharged by connecting the car to a domestic electricity supply or a public power point. Toyota says a full top-up will take just 90 minutes from a 230-volt supply.
Toyota researched urban motoring trends carefully before designing the car and found that across Europe most car trips cover less than 15.5 miles (25km), while in the UK 80 per cent are no longer than six miles (10km). Taking this into account, the Prius Plug-in has an EV range of 12.5 miles (20km), at speeds up to 62mph (100km/h).
There is also a big impact on emissions performance: in EV mode, of course, there are no harmful emissions, while Toyota is aiming for an overall CO2 figure of less than 60g/km.
Early next year 500 Prius Plug-in cars will be leased to customers around the world, including here in Europe. The official website of this global demonstration programme is priusphv.com. Toyota will monitor both performance and the public's response to help determine the car's future market potential.