The new Toyota Prius Plug-in Hybrid combines all the attributes of the fourth-generation Prius with a class-leading all-electric driving range and a series of innovative technologies.
Toyota was the first car manufacturer to offer Plug-in Hybrid Vehicle (PHV) technology. With the launch of the second-generation Prius Plug-in Hybrid, it is taking a further step towards its goal of reducing whole-fleet CO2 emissions by 90 per cent by 2050.
https://youtu.be/hBkM9CEqvnE
Toyota's new PHV is a powerful response to customer feedback on the original Prius Plug-in. It features sophisticated technology breakthroughs, including a Dual Motor EV drive, a battery warning system and – in two world firsts – an EV range-extending solar roof and gas injection heat pump automatic air conditioning.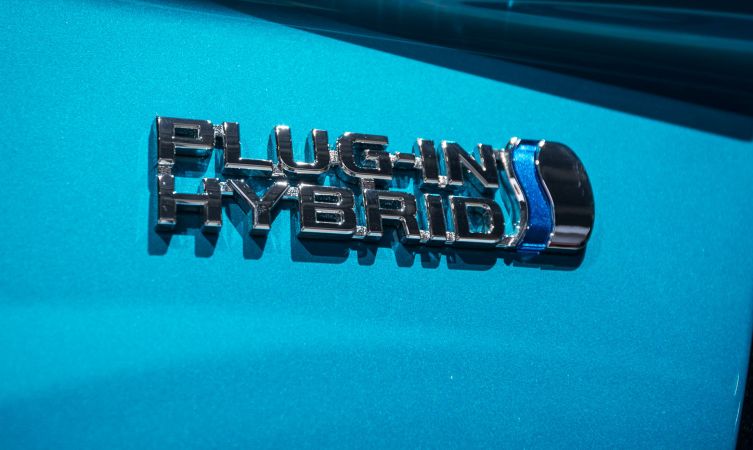 The new Prius Plug-in Hybrid has an EV driving range of more than 30 miles – double that of its predecessor – and represents a major advance in efficiency, driving performance, innovation and styling.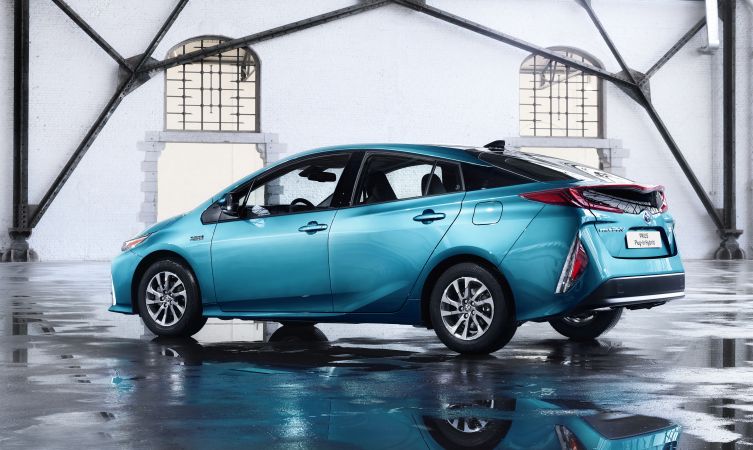 Improved EV and HV driving performance are combined with targeted average fuel consumption of 282.5mpg* and CO2 emissions of 22g/km*.
State-of-the-art PHV technology
Toyota's latest generation PHV technology offers customers two cars in one: a sophisticated full hybrid powertrain and all-electric driving. The significant increase in EV range is based on technological improvements in battery development, driving performance, and battery recharging speed.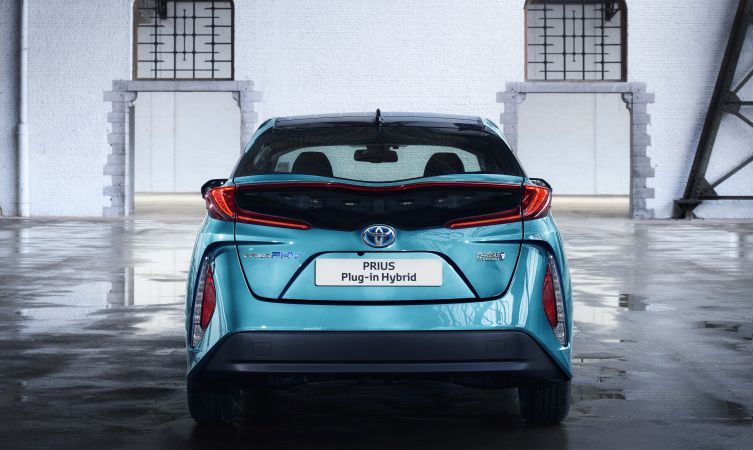 Key to Prius Plug-in's 30-mile-plus EV range is its lithium-ion battery. Located beneath the load space, its volume has increased from 87 to 145 litres and its energy capacity doubled to 8.8kW/h.
EV power has increased 83 per cent thanks to the development of a new Dual Motor Drive System, which uses a compact clutch within the transaxle to engage the hybrid system generator as a second electric motor within the powertrain. This boosts EV driving power, while at the same time reducing the need for assistance from the petrol engine.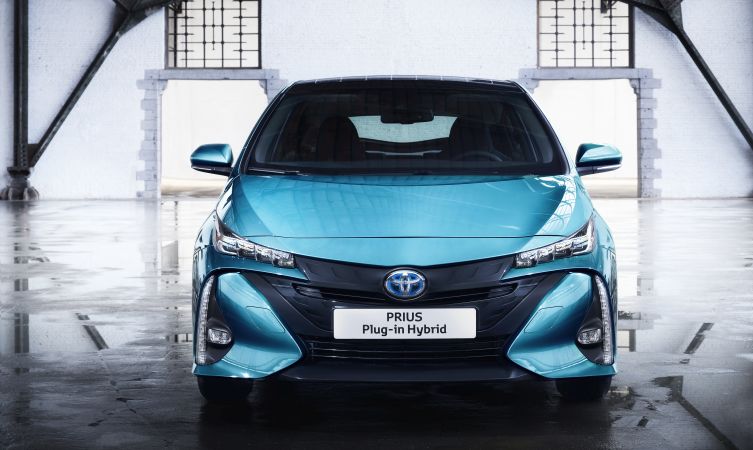 Efficient heating and charging
In a world-first, the automatic air conditioning is powered by an efficient gas injection heat pump. Using heat absorbed from the outside air, it is capable of warming the cabin without having to start the engine, even when external temperatures drop as low as -10°C. This minimises the impact that heating the car's interior has on the EV driving range.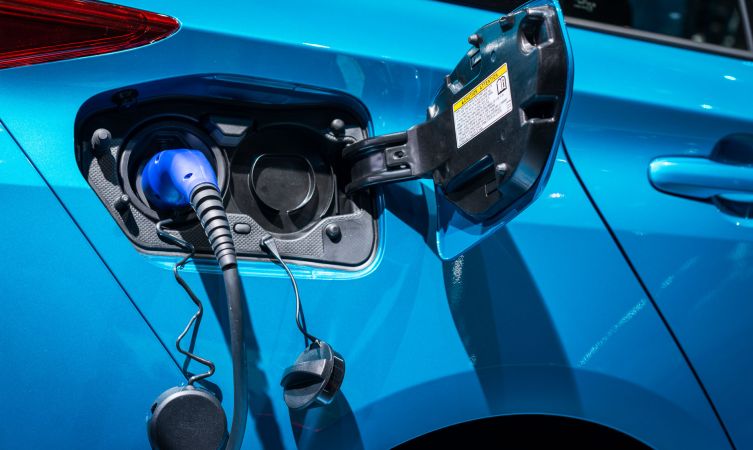 During charging, a new battery warming system will also heat the cells to an efficient working temperature. This means full power is available from start-off, even if outside conditions are as cold as -20°C.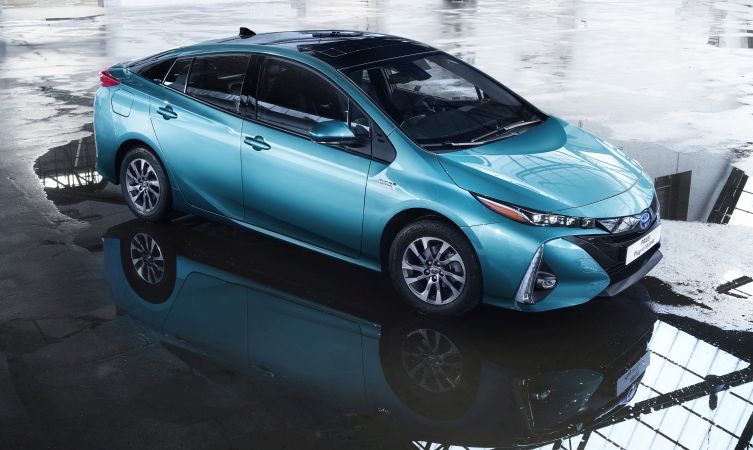 Maximum charging power has been increased from 2.0 to 3.3kW. The battery can now be fully charged in just two hours using a Type II Mode III Mennekes connector, or three hours 10 minutes using a standard household plug socket. The charging process can also be programmed for a week on a day-to-day basis, including the facility to simultaneously charge the battery and pre-heat or pre-cool the cabin.
Striking, stand-alone styling
The new Prius Plug-in shares the same Toyota New Global Architecture platform as the current Prius, but its striking, highly aerodynamic design builds on that familiar profile with new styling treatments.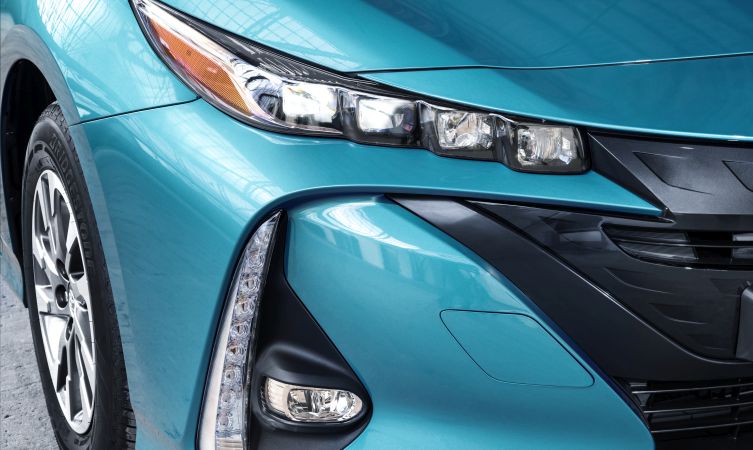 The front of the car is instantly distinguishable from the standard Prius because of its prominent acrylic grille treatment and ultra-compact four-LED adaptive headlamp units. Aerodynamic sculpting of the bumper sides includes vertical daytime running lights and LED turn signals at the vehicle's extremity, reinforcing the low, ground-hugging stance.
In profile, Prius Plug-in can be identified by its longer overhangs, its lower cowl and rear spoiler, and two-tone 15-inch alloys. At the rear the cross-section of the 'double-bubble' screen is carried through into the curve of the spoiler, which also integrates a line of LED lights. The tailgate itself is made from carbon fibre reinforced plastic – a first for a mass-production vehicle.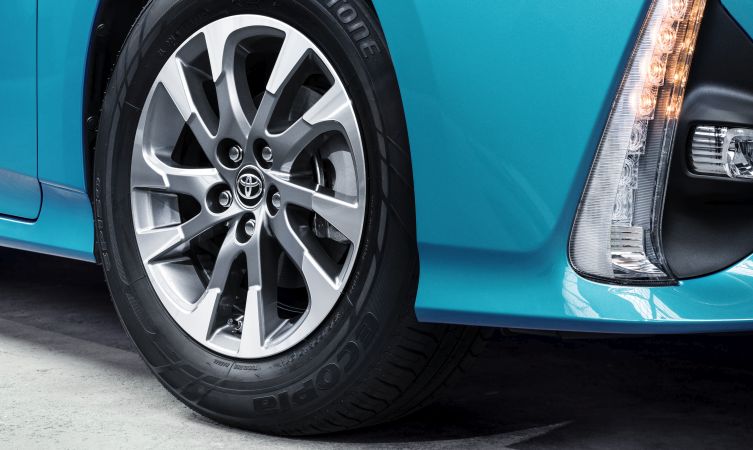 A comprehensive aerodynamics package plays a central role in reducing fuel consumption, giving Prius Plug-in a 0.25 coefficient of drag.
Interior design
The new Prius Plug-in Hybrid shares the same overall dashboard design as the latest Prius. But it benefits from the larger, eight-inch infotainment screen with updated graphics, dual 4.2-inch TFT meters with PHV-specific graphics, and satin chrome-plated instrument panel.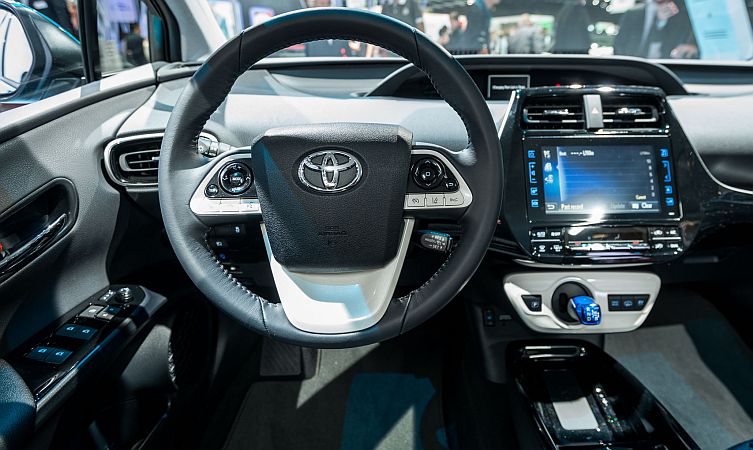 The front seats are shared with the conventional Prius, while the rear arrangement consists of two seats separated by a centre console. Meanwhile, the luggage deck has been raised to accommodate the larger plug-in hybrid system, resulting in maximum load space volume of 360 litres.
Advanced technology for greater efficiency
Every aspect of the advanced technology deployed in the new Prius Plug-in has been designed to improve the vehicle's efficiency and promote an environmentally conscious lifestyle.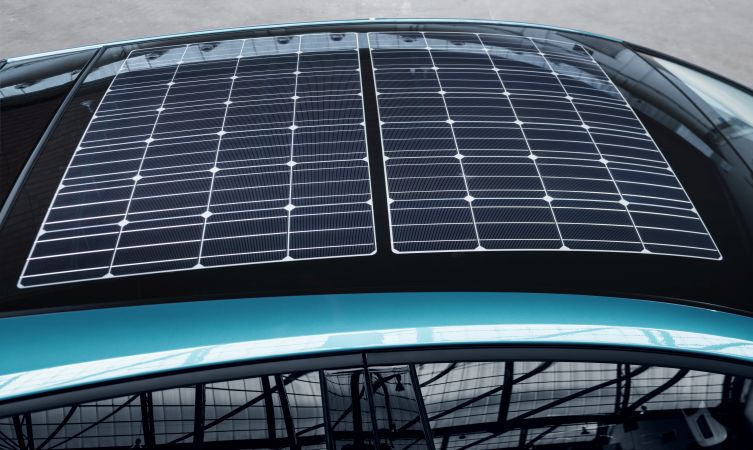 This includes the development of a large solar panel in the roof to generate electricity to charge the hybrid system battery. When the vehicle is parked, but not connected to a charging socket, the solar roof charges a dedicated solar battery, which in turn delivers a charge to the main hybrid battery. Solar charging can increase the car's EV range up to three miles per day – the equivalent of 620 miles of all-electric driving a year.
The driving modes now include Battery Charge Mode, which uses the engine to generate electricity and charge the battery when the vehicle is running in HV mode.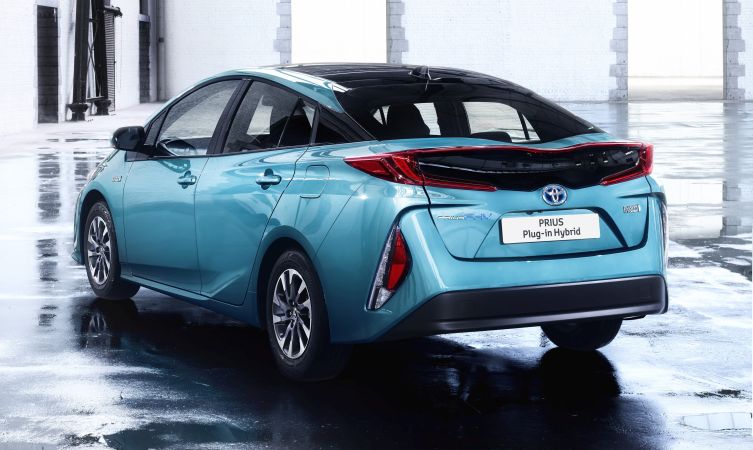 Provisional technical specifications*
| | |
| --- | --- |
| | 1.8 PLUG-IN HYBRID |
| Engine | |
| Displacement (cc) | 1,798 |
| Max. power (bhp/kW @ rpm) | 98/73 @ 5,200 |
| Max. torque (bhp/kW @ rpm) | 142 @ 4,000 |
| Transmission | e-CVT |
| Performance | |
| Fuel consumption (mpg) | 282.5 |
| CO2 emissions (g/km) | 22 |
| EV Performance | |
| Max. EV speed (mph) | 84 |
| Max. EV range (miles) | >30 |
| Max. EV power (kW) | 68 |
| Battery | |
| Type | Lithium-ion |
| No of cells | 95 |
| Power (kW) | 8.8 |
| Volume (l) | 145 |
| Weight (kg) | 120 |
| Max. charging power (kW) | 3.3 |
| Max, charging time (hours) | 2.0 |
| Dimensions | |
| Overall length (mm) | 4,645 |
| Overall width (mm) | 1,760 |
| Overall height (mm) | 1,470 |
| Coefficient of drag (Cd) | 0.25 |
*Model specifications and performance data are for international markets. UK-specific information will be released later. Fuel consumption and emission figures are provisional and subject to homologation.