When Jo and Richard Harris decided to start up the Alkmonton Dairy, they wanted to fulfil a dream – to supply milk as part of a completely eco-friendly package using a Proace electric milk van, glass bottles and solar power, all while driving as few farm-to-fridge miles as possible.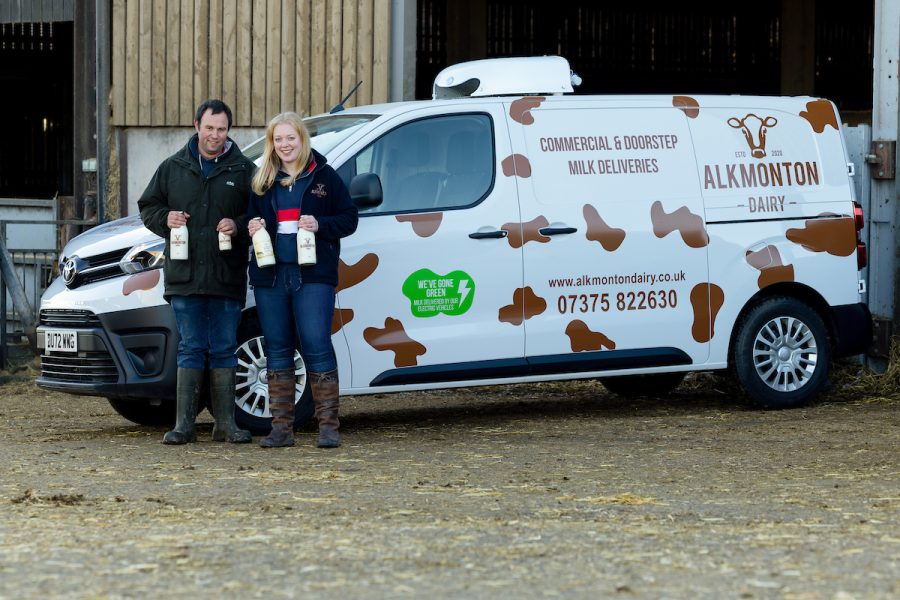 "We began bottling milk from my family's herd of Ayrshires and started deliveries at the start of lockdown," explained 33-year-old Richard Harris.
"I had a Toyota Hilux which I'd bought new from Derby in 2016 so we started-off using that for our Alkmonton Dairy deliveries. Processing our own milk means we can keep control of our business and set our own prices and not sending all our milk off to a processor means it doesn't have to travel so far – keeping our carbon footprint small. Most of our deliveries are within about 12 miles of our farm."
Alkmonton Dairy, near Ashbourne, Derbyshire has a herd of around 200 Ayrshires and produces milk, butter and cream delivering it to almost 1000 doorsteps, cafés, pubs and farm-shops in the area.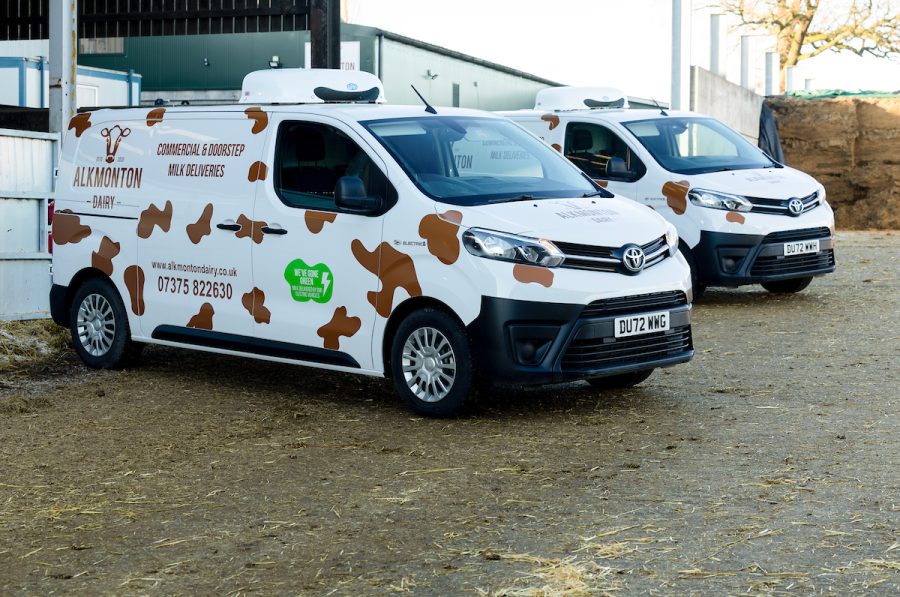 "I love farming and want to future-proof our farm by making it more appealing to the consumer, this means being as eco-friendly as we can," added Richard.
"We bought a pair of Proace electric vans from Pinkstones in Stoke on Trent. With our NFU membership discount available through Toyota and the government grant, we saved about ten thousand pounds on each van. So they were much cheaper than other manufacturers' similar vans."
"We also had them fitted with fridge units from Cool Kit in Burnley. This took a while and was an added investment – they also had to fit batteries for the chillers, as the demand on the van's batteries would have been too great. But overall, our vans are saving us money in running costs.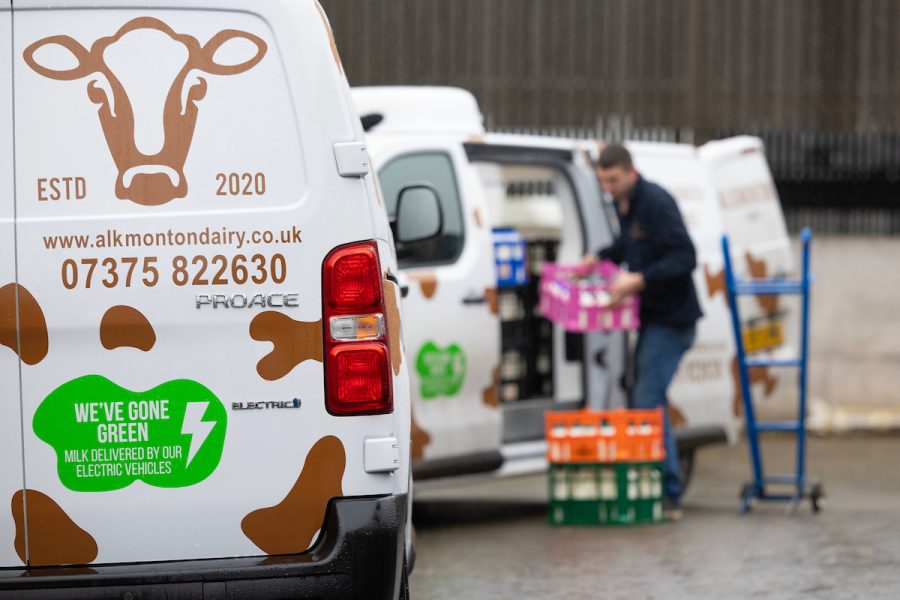 "We've installed a pair of BG Sync EV 7kW chargers. And as they're only out on deliveries from 4.30 in the morning until lunchtime, there's plenty of down-time to give our electric milk vans a good slow charge. Our long-term plan is to put solar panels up on our dairy roof to make the vans even more environmentally friendly.
"We only had the second Proace electric milk van delivered last week so it's hard to tell exactly what their running costs are yet – but it's looking like they're costing about £180 per month – that compares to the diesel vans they replaced which each used about £150 of diesel every week.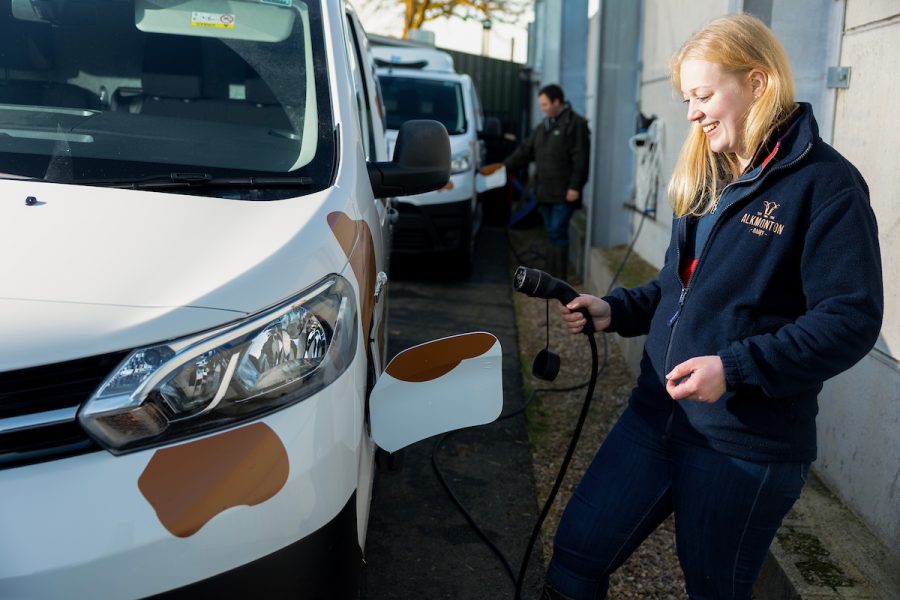 "We have to get to know our vans, but so far there's not been a problem with range. They both have the larger 75kW batteries and are doing about 800 miles a week over six days," he said.
"Being a young couple we wanted to do something fun with the electric milk vans – so we had them sign-written to look just like our brown and white Ayrshire cows and added 'We've gone green – milk delivered by electric vehicles' stickers.
"There's still a demand, from some of our customers, to have milk in plastic bottles, but we're seeing this percentage continue to fall in favour of reusable one litre and 500ml glass bottles," said Jo.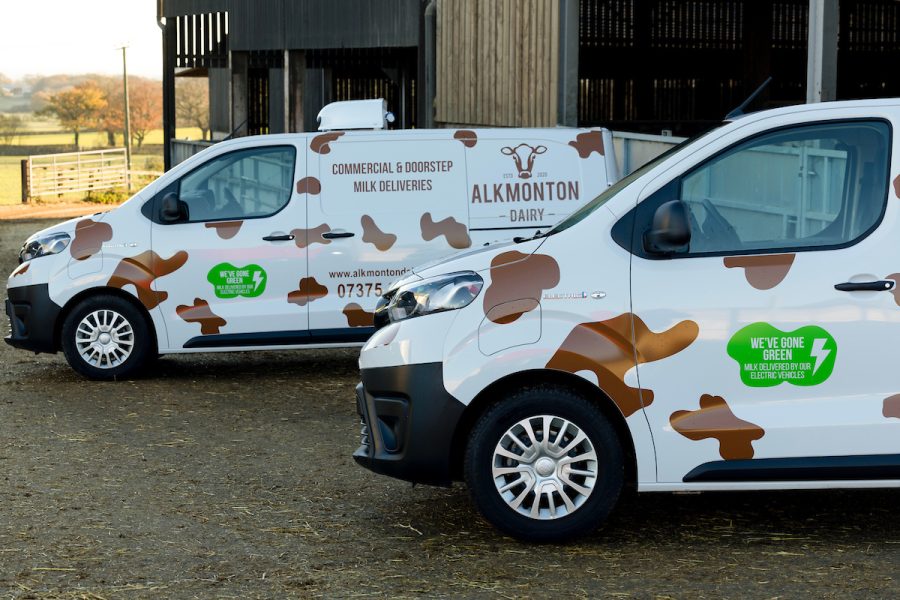 There are many similarities between Alkmonton Dairy's cosy Toyota electric milk vans and the open-cabbed milk floats of the past. The dawn-chorus of clinking bottles and almost silent buzz of electric motors has returned to Derbyshire. But perhaps the only noise missing is the sound of milkmen rubbing their hands together to keep warm.