Toyota Gazoo Racing started its 2023 Dakar Rally campaign on New Year's Day. After a challenging start of the FIA World Rally-Raid Championship and two weeks of non-stop racing, the final Dakar Rally result was that Toyota's defending champions, Nasser Al-Attiyah and co-driver Mathieu Baumel, secured another resounding victory for Toyota in the world's toughest cross-country race. The pair completed the final 136km-long stage on 15 January 2023 and sealed the overall victory with a winning margin of more than 80 minutes.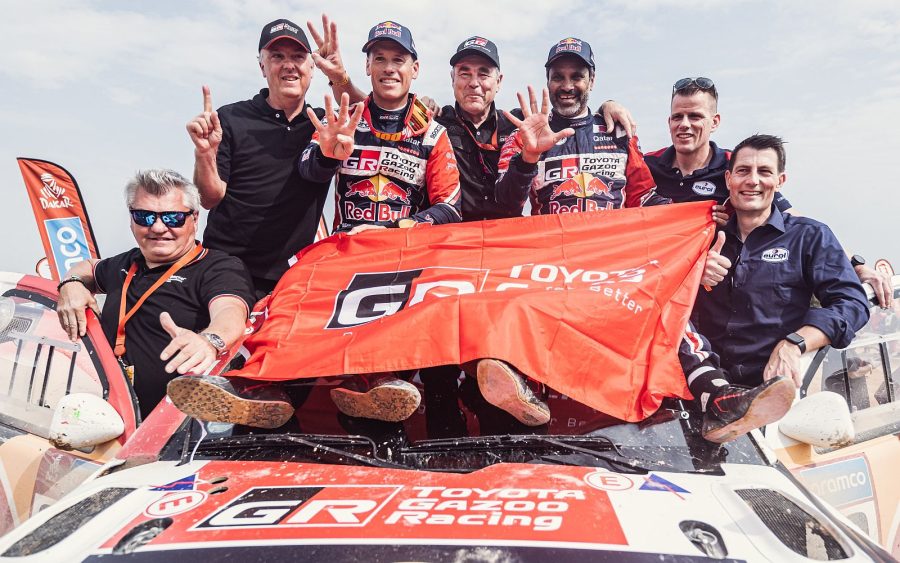 Team principal Glyn Hall (above centre) commented: "What a day for our entire team! Winning Dakar is something memorable, but winning the world's toughest race twice in a row is simply extraordinary. My sincere thanks to every member of our team, every one of our sponsors and, of course, our drivers and co-drivers, who delivered a stunning result. I'm really proud of our GR DKR Hilux T1+, which has proven yet again that it is reliable and durable enough to not only complete the world's roughest automotive race, but to do so two years in a row."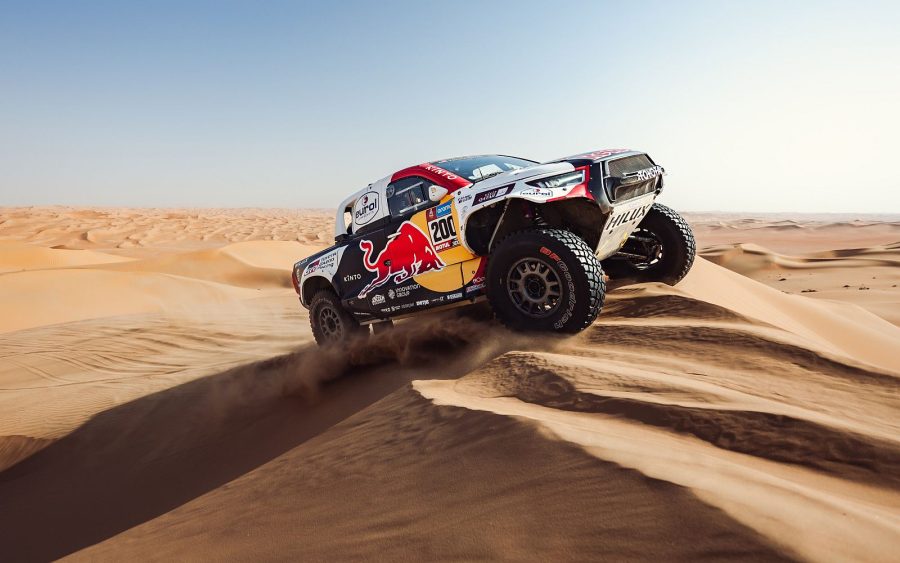 Reviewing the 2023 Dakar Rally result
Toyota's stunning victory marked Al-Attiyah's fifth win of the Dakar Rally, while Baumel's tally has now climbed to four wins. Together the pair have won three times for Toyota, with the results in 2022 and 2023 coming as a back-to-back display of the quality, durability and reliability of the Hilux T1+ prototype. Interestingly, Al-Attiyah and Baumel took the lead in their #200 Hilux on Stage 2 and despite the gruelling nature of the event, the crew never relinquished that position.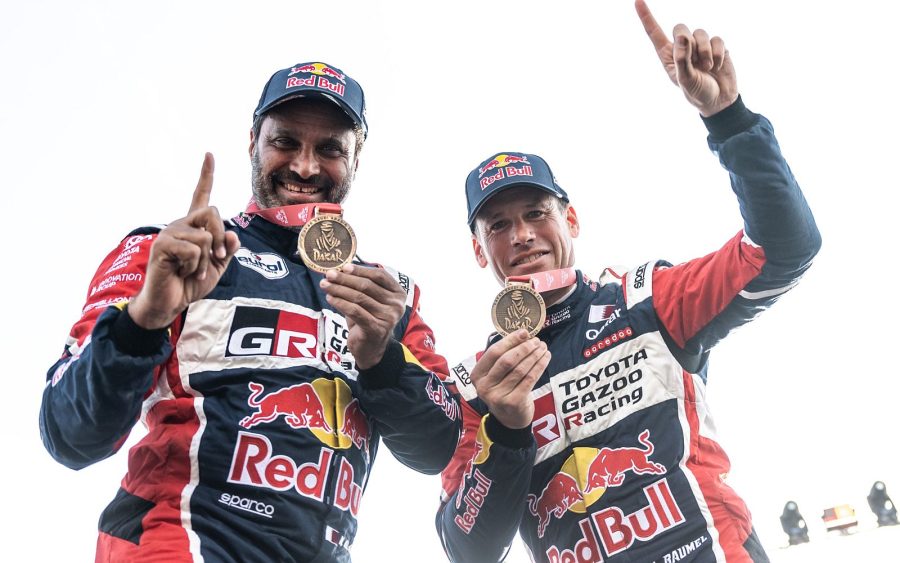 Talking of durability, TGR teammate Giniel de Villiers completed his 20th consecutive Dakar Rally when he crossed the finishing line in the #205 Hilux, ending the rally in fourth place in the overall standings. It is a result that brings his total number of top five finishes to 15, including one victory in 2009. The South African has only finished outside the top ten on one occasion, and his performance in the 2023 Dakar Rally underscores the toughness and tenacity of one of the Dakar Rally's true veteran racers.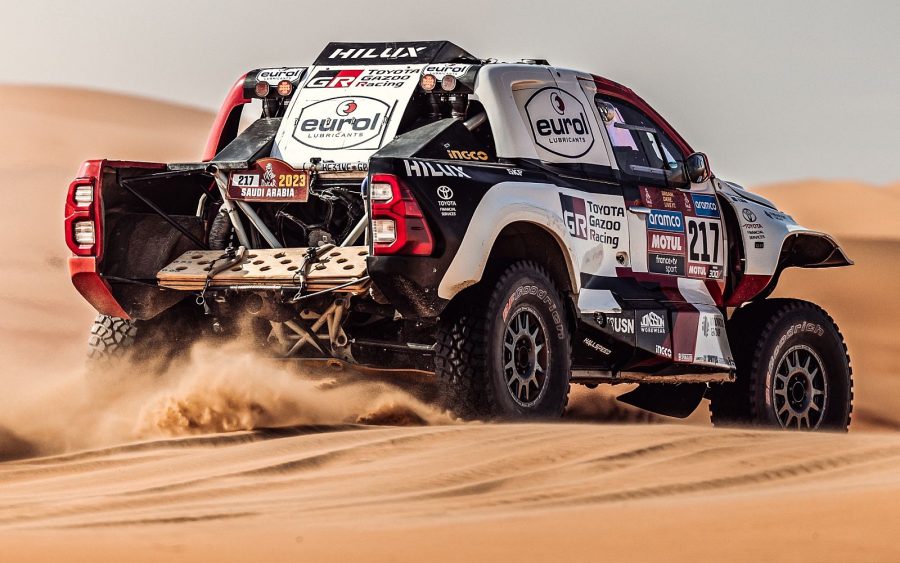 The 2023 Dakar Rally will be remembered by Henk Lategan and co-driver Brett Cummings as a race that could have turned out very differently for them. At the conclusion of the first week, their #217 Hilux was in second place in the overall standing, but two later setbacks pushed them down the order. Nevertheless, the pair showed great pace throughout the rally and finished fifth overall, less than five minutes behind de Villiers and Murphy in fourth.
W2RC 2023: final standings
| | | | | |
| --- | --- | --- | --- | --- |
| POSITION | NUMBER | TEAM | TIME | VARIATION |
| 1 | 200 | Toyota Gazoo Racing | 45h 03m 15s | |
| 2 | 201 | Bahrain Raid Extreme | 46h 24m 04s | + 1h 20m 49s |
| 3 | 230 | Overdrive Racing | 46h 41m 46s | + 1h 38m 31s |
| 4 | 205 | Toyota Gazoo Racing | 47h 34m 27s | + 2h 31m 12s |
| 5 | 217 | Toyota Gazoo Racing | 47h 39m 38s | + 2h 36m 23s |
| 6 | 210 | Orlen Benzina Team | 48h 43m 59s | + 3h 40m 44s |
| 7 | 220 | Overdrive Racing | 49h 30m 24s | + 4h 27m 09s |
| 8 | 224 | Hanwei Motorsport Team | 49h 32m 36s | + 4h 29m 21s |
| 9 | 212 | X-Raid MINI JCW Team | 49h 45m 53s | + 4h 42m 38s |
| 10 | 206 | GCK Motorsport | 50h 25m 25s | + 5h 22m 10s |
Thanks to the efforts of privateer team Overdrive Racing, there were four Hilux models in the top five at the conclusion of the 2023 Dakar Rally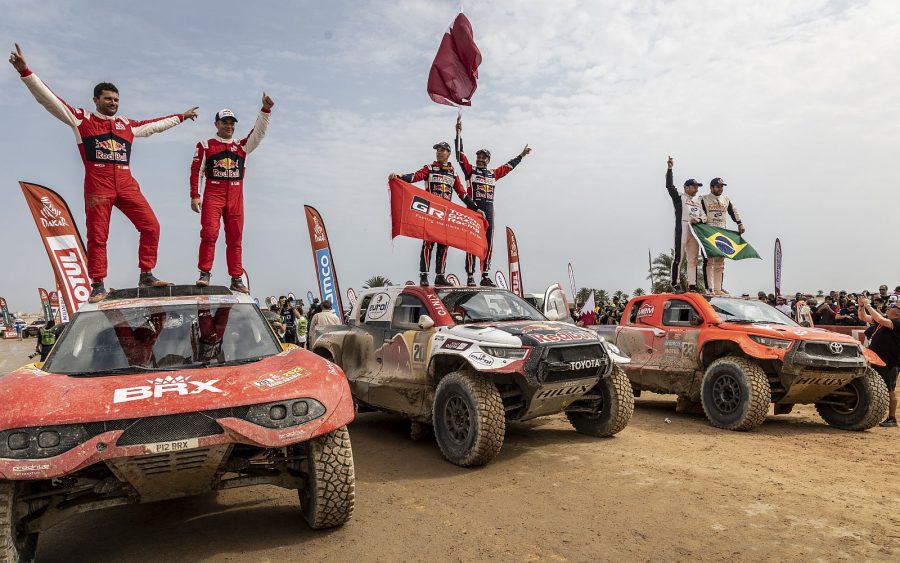 Toyota dominated the 2023 Dakar Rally results, with the works TGR crews finishing first (above middle), fourth and fifth. Overdrive Racing's privately entered Hilux T1+ (above right) added to Toyota's success story by finishing in third place overall.
Tough as it was, however, the Dakar Rally only represented the first of five rounds of the 2023 World Rally-Raid Championship. The next race is the Abu Dhabi Desert Challenge, which takes place during the last week of February. Where will Al-Attiyah, Baumel and the GR DKR Hilux T1+ sit after that event?