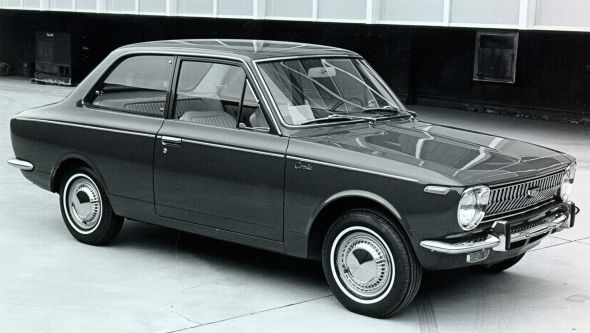 The Toyota Corolla was introduced to Japan in 1966 with the slogan: The most wanted car by the market – presented to the world by bringing together the essence of Toyota's technology.
Though overly wordy, the phrase made the point that this was designed to be a people's car. It offered desirability and new technologies, many of which happened to be world-firsts too.
Available in two distinct body styles (two- and four-door saloon, two-door estate), Corolla displayed great attention to detail and was lavishly equipped with features that were normally only seen on higher grade models.
It featured a sporty, floor-mounted gear lever that was remarkable at the time. Comfort was provided by separate bucket-type seats with firm padding, while the rear bench offered so much space that it was likened to a living room sofa. Although classed as a compact vehicle, its elevated roof height made the interior feel exceptionally roomy.
The level of interest Corolla received on its debut was phenomenal. No matter which car it was compared to, its innovative features stood out. So much so that whenever one was delivered to its new owner, it drew an admiring crowd. Within three years Corolla became the top-selling vehicle in Japan.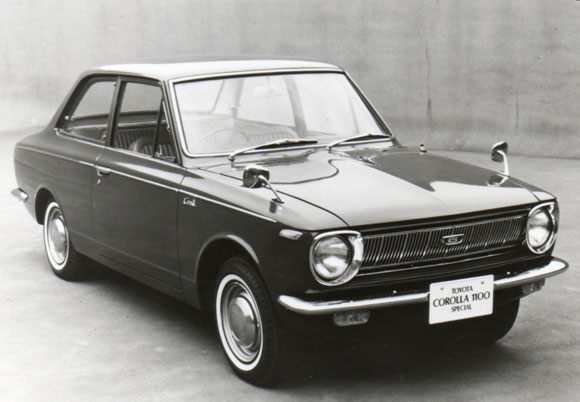 1966-70 Corolla: a people's car to be proud of
Development leader Tatsuo Hasegawa devised the concept for the Corolla in the latter half of 1962. Based on his experience with an earlier family called the Publica (1961 to 1978), Hasegawa proposed something entirely new.
The Publica was a car that pursued practical utility and economy and focused on a retail price of 360,000 Japanese yen (the average monthly salary in 1961 was 26,000 Yen). However, to achieve this figure meant simplifying the specifications and features which led to stagnant vehicle sales and little support from the general public.
At that time, the purchase of a car was one of the dreams of the general public. And more than being an item of mere utility, they wanted a car to be proud of – something that portrayed a sense of luxury.
Hasegawa reflected on that period, stating: "Since that time, the market has demanded attractive vehicles – vehicles that don't seem inferior when compared to others and even appear somewhat luxurious. If we consider these types of market needs, the Publica probably looked somewhat cheap."
He soon came to realise that existing components could not hope to meet the increasingly sophisticated demands of this era. With that in mind, a concept was launched that called for a newly developed vehicle, including the engine and suspension.
Full-scale developments started in 1963, though approval for the plan was not easily obtained. The development of a new vehicle required huge expenditure. Each time a new vehicle was developed, equipment investments of several tens of billions of yen were made and new plants were constructed. For that reason alone, only cautious starts were approved, and at first, approval was only given for the development of a new engine. Eventually, the new Takaoka Plant was constructed at a cost of 30 billion yen in order to take on the construction of the Corolla.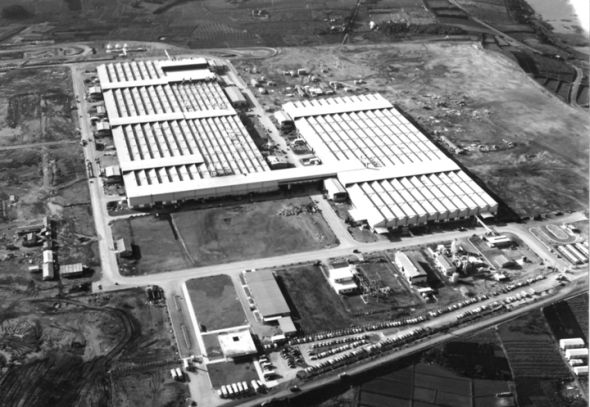 1966-70 Corolla: issues and resolutions
The initial plan established goals for a 1.0-litre engine that had a maximum output of 45PS at 5500rpm – considerable challenges at the time. While it was understood that an overhead cam layout was an effective method in creating a high-performance engine, the team lacked experience in this area. Instead, an overhead valve layout was selected, but by configuring the camshaft in the highest possible position within the cylinder block and shortening the push rod, a concept was reached that achieved similar results to that of an overhead cam layout.
During this development period it was noted that a 1.0-litre engine was swiftly becoming the standard displacement for a family car. So in order to ensure that Corolla maintained an air of superiority over its competitors the displacement was expanded to 1.1-litre (1077cc). However, there was some uneasiness within the company about this additional volume because it would pitch the car into a higher tax bracket. After the vehicle's release that concern proved unfounded – the Corolla and its brand new 1.1-litre K-series engine was well accepted by customers. Indeed, K-series units went on to support Corolla models for the next 20 years.
With Hasegawa's plan calling for numerous new developments and technologies, there were many opposing voices within the workforce, which brewed some trouble. One particular point of concern was in the positioning of the MacPherson strut front suspension. As this was the first application of this lightweight setup in a Japanese vehicle, the team had no points of reference from which to develop its own configuration.
To give an indication of how difficult new developments were, one prototype vehicle was only able to travel 500 metres before the suspension failed – a fact that proved difficult for Hasegawa to stomach as he had the responsibility of encouraging the engineers. Nevertheless, prototypes were improved and tests were repeated time and time again. Two-and-a-half years later, the team had the setup perfected, and it continues to serve as the standard suspension configuration for many vehicles today. Meanwhile, at the rear end, a semi-floating type suspension was adopted that reduced the inherent squeaking noise that comes from leaf springs.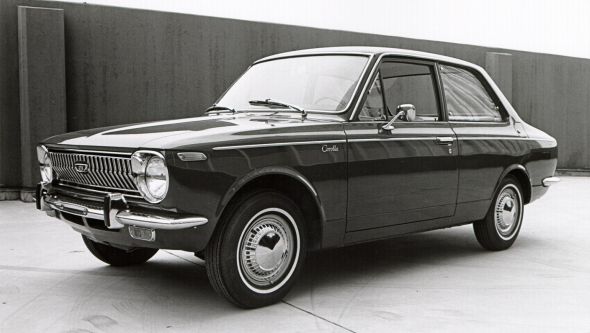 1966-70 Corolla: thinking global from the outset
A year before the vehicle was released, Toyota executives considered a campaign of overseas expansion, including a plan to export Corolla to the United States.
According to the Design Plan Policy, a document put together to summarise Corolla's development concepts, Hasegawa stated: "In the future, Corolla will compete both in Japan and overseas with European-made cars in the same class. Superiority of the Corolla over the competition will be ensured through performance and economic efficiency."
Therefore, right from its very early stages, development focused on the needs of export markets. And it is evident that the team used Corolla to open new markets and measure the brand's competitiveness overseas.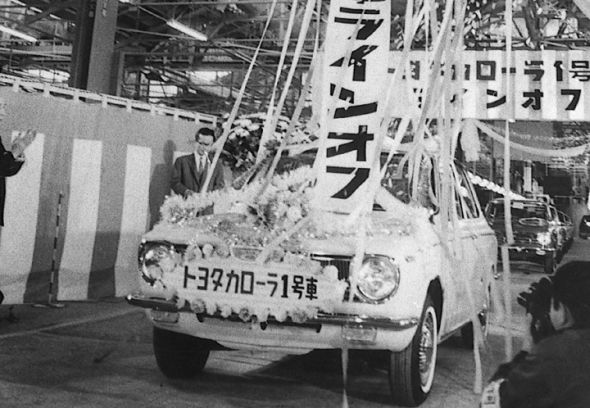 1966-70 Corolla: technology boosts specification
On its launch, Corolla was only available as a two-door saloon. Soon afterwards, however, a four-door saloon and two-door 'van' (estate) model were added to the line-up for a total of three body styles.
In terms of exterior appearance, a fresh image was targeted that was designed to symbolise the arrival of a new era in Japan. For the first time, Toyota adopted a semi-fastback style, with widespread use of curved surfaces to express an active, charming and faintly feminine appeal. In the brochure, Corolla was introduced as having a "creative design reflecting the simplicity of Japanese values." Its style was fresh and sporty, and it truly captured the hearts of the general public.
To maintain the vehicle's radiance, rare and advanced technology was adopted at the body preparation stage. This included a protective electrostatic coating in addition to the regular electrophoretic body coating. Meanwhile, the names of the body colors were based on classic mythology themes, using names of Greek and Roman gods such as Aphrodite White and Zeus Blue in an effort to conjure up images of magnificent dramas and culture.

The engine line-up began with the 1.1-litre K engine, which generated a maximum output of 60PS at 6000rpm and 61 lb/ft torque at 3800rpm. Numerous revolutionary technologies were adopted into this unit, such as a five-bearing crankshaft that could endure high speeds, and a high-mounted camshaft for higher performance. It was soon joined by a more powerful K-B version equipped with twin carburetors, and the K-D engine, which strove for enhanced output through a raised compression ratio.
In the latter half of the model period, the 1.1-litre engines were replaced with a range of expanded 1.2-litre (1166cc) 3K, 3K-B and 3K-D engines. The standard 3K unit generated a maximum output of 68PS at 6000rpm and 69 lb/ft torque at 3500rpm for improved mid-range pull and high-speed acceleration.
Sports car technology was adopted for the transmission, evidenced by the four-speed, fully synchronised manual transmission and floor-mounted gear lever. It was the first time that this type of transmission was adopted in a Japanese vehicle, so its direct-shift action must have felt like a revelation. A floor-mounted, two-speed automatic transmission (another first for Japan), plus a familiar steering column-mounted four-speed manual transmission were also made available.
Separate bucket-type seats materialised the Corolla's sporty image for front passengers. In addition to having a sliding range of 120mm and a 16-step reclining mechanism, the seats could be fully reclined. Equipment normally found in high-grade executive vehicles, such as armrests, a centre console box, radio and heater, were also adopted to create a dramatically more comfortable interior.
When the Corolla was first released, drum brakes were fitted at the front and rear. Midway through the model period, front discs were installed on some models – another first in Japan's family car market. In addition, safety measures were progressively enhanced during the model's lifetime, including recessed, pull-type outside door handles, and multi-point seat belts. Original safety designs were incorporated from the outset, such as two-speed windscreen wipers, an impact absorbing steering wheel and column, headrests, and a handbrake warning lights.
Looking at the safety features that came as standard in the first-generation Corolla – to meet stringent U.S. standards and in anticipation of expanding exports – it is apparent that safety has always been an important factor in the development and construction of the Corolla model.
1966-70 Corolla: additional equipment
* Curved glass harmonising with the gently rounded lines of the semi-fastback design
* Sporty round dials instead of conventional radio-type horizontal meters
* Door locks on passenger side and symmetrically-shaped keys
* Reversing lights for improved rear visibility
* Partially reinforced windscreen
* Detachable rear-view mirror
* Hazard warning lights
* Side ventilation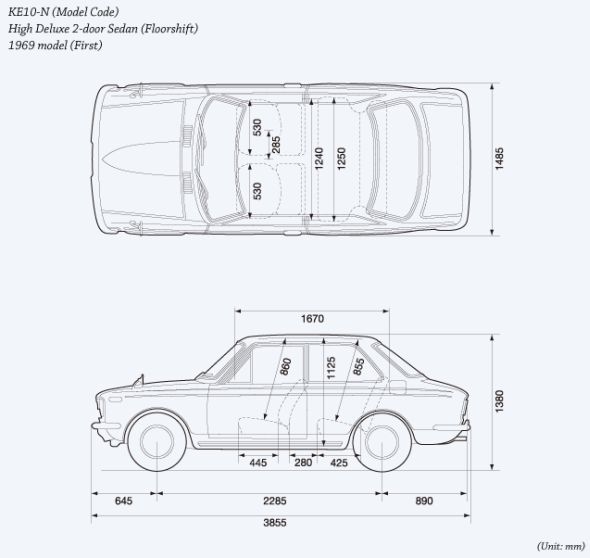 Read more:
History of the second-generation Corolla
History of the third-generation Corolla
History of the fourth-generation Corolla
History of the fifth-generation Corolla
History of the sixth-generation Corolla
History of the seventh-generation Corolla
History of the eighth-generation Corolla
History of the ninth-generation Corolla