The 1994 Geneva motor show marked the arrival of a new kind of vehicle, one that would transform the global car market. At the time few can have anticipated the impact the Toyota RAV4 would make, its world debut setting in train a success story that's still going on today.
The original Recreational Activity Vehicle with 4-wheel drive pioneered a new segment for compact, highly manoeuvrable SUVs, part of the market that has developed from a niche to become a fundamental feature of the motoring mainstream.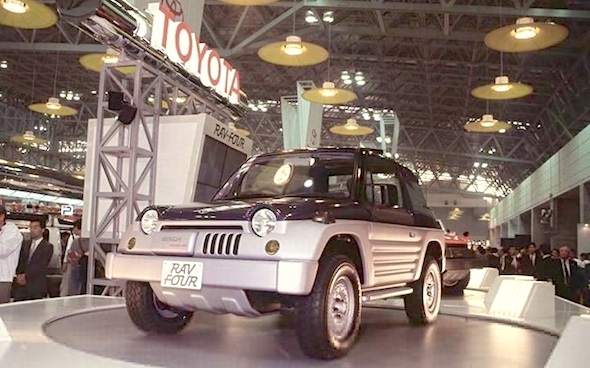 Toyota had modest ambitions for its new model, expecting initial worldwide demand of only around 4,500 units. When 8,000 orders flooded in the first month alone, production volumes had to be doubled.
In the UK, sales of the "small, light, sporty and affordable" RAV4 kicked off in June. Initially, it was available only as a three-door with a 2.0-litre petrol engine and either a five-speed manual or four-speed automatic transmission. Equipped with independent suspension all-round, a monocoque body and measuring just 3.96m long (little more than today's Yaris), it was unlike anything else on the market.
The public had an appetite for the newcomer, however, and the following year – RAV4's first full year on sale – almost 6,800 were sold, quickly establishing it as the fourth best-selling model in Toyota's 14-strong UK line-up.
Where it all began
The first evidence of the direction Toyota was taking to create a compact SUV was the RAV-FOUR concept, unveiled at the 1989 Tokyo motor show. It may have been just a design study, lacking the detail of a genuine development model, but it was warmly received by the public. Two years later Toyota gave the project the green light, and work began in earnest on creating the first RAV4.
The development challenge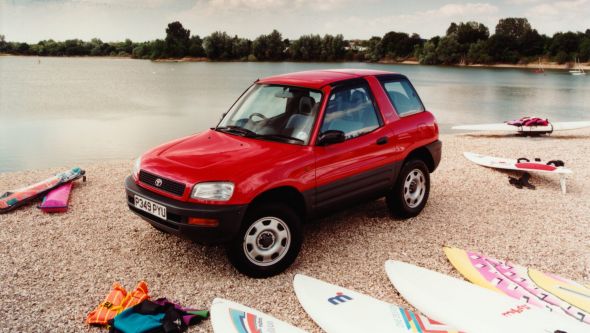 Chief Engineer Masakatsu Nonaka soon discovered he had a tough job convincing other Toyota departments of the feasibility of creating a mass-production car for a market segment that didn't yet exist. The term "sport utility vehicle" wasn't in common use, and many people within the business found it hard to understand the concept of such a compact 4×4.
At one point the project ground to a halt, only to be revived thanks to intervention from an unexpected source. Toyota's Japanese and European sales divisions came to the rescue, their close contact with the market convincing them that the time was right for this new type of car. Together they put the project back on track, and soon had their faith rewarded.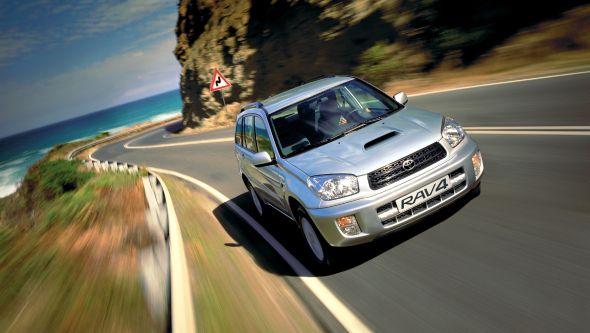 From niche model to global car
Toyota can rightfully claim to have created the compact SUV market with RAV4's introduction in 1994. That year it sold 53,000 worldwide; the following year saw double that number reach the road, and by 1995 the total had tripled.
Global sales have grown with each of the four generations of RAV, with more than five million now having been sold – 1.3 million in Europe and more than 167,000 in the UK. As a testament to Toyota's reputation for building hard-wearing, reliable vehicles, more than 90 per cent of the RAV4s ever sold are still on the road today.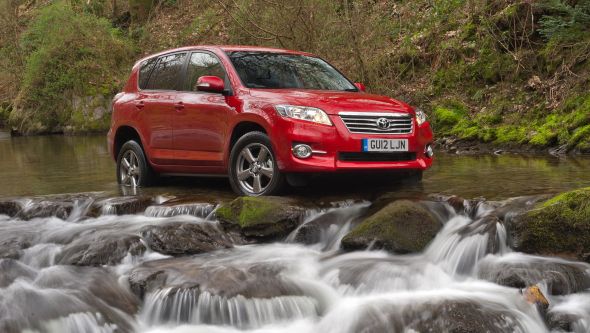 The sales performance is all the more noteworthy given the increase in competition. By 2010 other manufacturers had followed Toyota's lead, increasing choice in the compact SUV segment to 10 models; today there are 19.
This reflects the fact that the segment is one of the few to show sustained growth in Europe, with sales rising by 36 per cent in the last five years. Last year it attracted 848,000 sales in Western Europe, with a further 387,000 in Russia.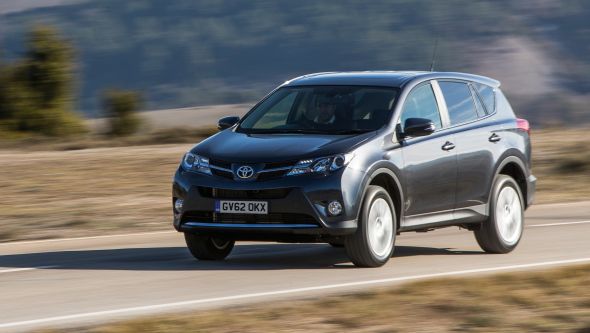 Fourth generation
The compact SUV market hasn't only grown since 1994, it has also evolved and matured in line with customers' changing requirements and preferences. At the outset this new type of car was regarded as an alternative to sporty hatchbacks and coupes; today its popularity is among families wanting an alternative to MPVs and estates that's more fun and fashionable.
In each development of the RAV4, Toyota has worked to keep the model firmly at the heart of its segment, without sacrificing the fun-to-drive quality that defined the original model. When it came to creating the latest, fourth-generation model, it talked to existing RAV4 customers around the world to understand what they liked best about their car. They cited its good manoeuvrability, ease of access, elevated view of the road ahead, ingenious packaging, versatility and reassuring capability, even when the going gets tough.
As a result, today's RAV4 reflects a stronger emphasis on family use, while retaining the core values of handling, versatility and on and off-road performance that have underpinned its continued popularity. The result is a car that is stronger and more sophisticated with sharper styling, a more spacious cabin and loadspace, greater comfort and higher levels of safety and versatility.
Customer choice is wider than ever before, with the UK range extending to nine models, offering both two and all-wheel drive, four diesel and petrol engines and three transmissions. Its all-wheel drive capability is more sophisticated than ever before, with Toyota's Integrated Active Drive System developed to offer a more engaging "sport" mode, with Dynamic Torque Control monitoring and automatically adjusting the amount of drive torque distributed between the front and rear axles.
Toyota RAV4 milestones
| | |
| --- | --- |
| 1994 | The first generation RAV4 makes its debut at the Geneva motor show. It's powered by a transverse-mounted, 2.0-litre, 127bhp petrol engine and has full-time all-wheel drive. Five-speed manual or four-speed automatic transmission is available, but with no transfer box or low-range ratios. The car has a unitary, monocoque construction and features independent suspension front and rear. |
| 1995 | A five-door model is made available in the UK. |
| 1997 | Production of an electric-powered RAV4 is launched, continuing until 2000. A number of RAV4 EVs are recruited for tourist transport in Jersey. |
| 1998 | A three-door soft-top RAV4 is offered in the UK. |
| 2000 | The second generation RAV4 is introduced. The three and five-door models are longer than their predecessors (+55mm and 40mm respectively) and are available with 1.8 and 2.0-litre petrol engines. The AWD system adopts a limited-slip centre differential, with a Torsen LSD provided as an option on the rear axle. |
| 2002 | The first diesel RAV4 is launched. |
| 2006 | The third generation RAV4 is built on a new platform and is exclusively a five-door model, but with different wheelbases in different world markets. The car is significantly longer: +190mm for the short wheelbase version and +475mm for the long wheelbase. It features a new AWD system with an electronically controlled coupling; Downhill Assist Control and Hill-start Assist Control are also introduced. |
| 2010 | A new RAV4 EV concept is developed in the USA with Tesla. |
| 2013 | The fourth generation RAV4 is, again, a five-door-only model, offered with a single wheelbase worldwide. It's longer by 235mm compared to the previous SWB model. The latest model marks the debut of the Dynamic Torque Control AWD system. |
All information is correct at the time of publishing.