I've arranged to meet up with Rob and Dave Nicholson outside their farm shop. They both have the morning off from their very busy filming schedule and want to chat to me about their Hilux and pose up for some photographs. The pair are the stars of the show and owners of Cannon Hall Farm where Channel 5's Summer on the Farm Live is filmed.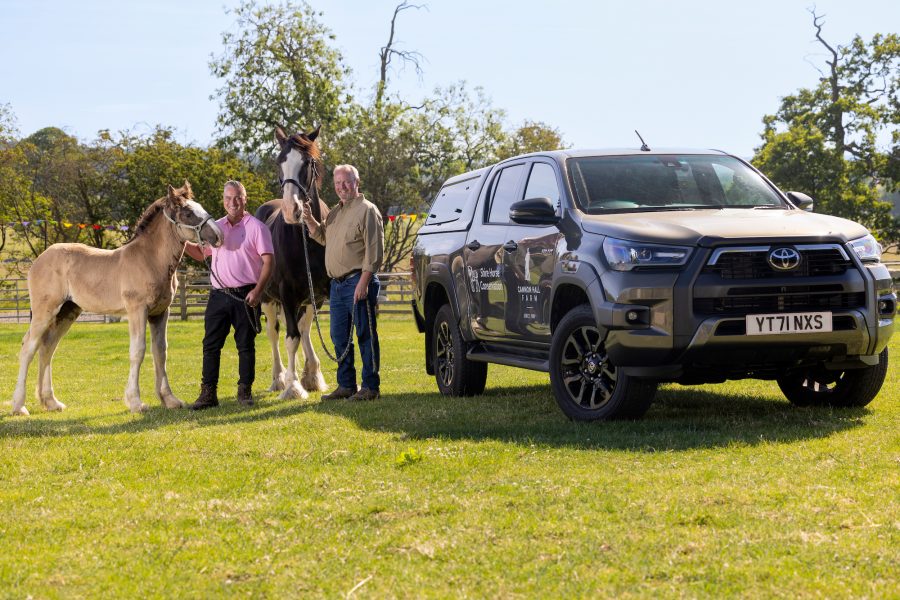 Dave walks me around the farm near Barnsley, South Yorkshire as we look for a couple of spots to take photographs. Progress is slow. Very Slow. Visitors keep stopping and asking to take selfies with Dave. People congratulate him on last night's show, others proudly announce they've never missed an episode. One family has travelled almost 100 miles from Whitby, where they are staying on holiday, just to spend a day visiting the farm. They beam excitedly as they hold out their phone and huddle together with Dave.
Rob positions the Hilux between some hay bales and under some colourful bunting – part of the TV show's set. He joins us briefly before heading off to fetch a couple of horses. Some filming is being set up with the show's chef on a vintage red tractor. Dave spots this and wanders into the shot, ad-libbing for the camera to inject a bit of unplanned humour into the segment, "You don't know how to drive a tractor!" he japes loudly in his finest Yorkshire twang.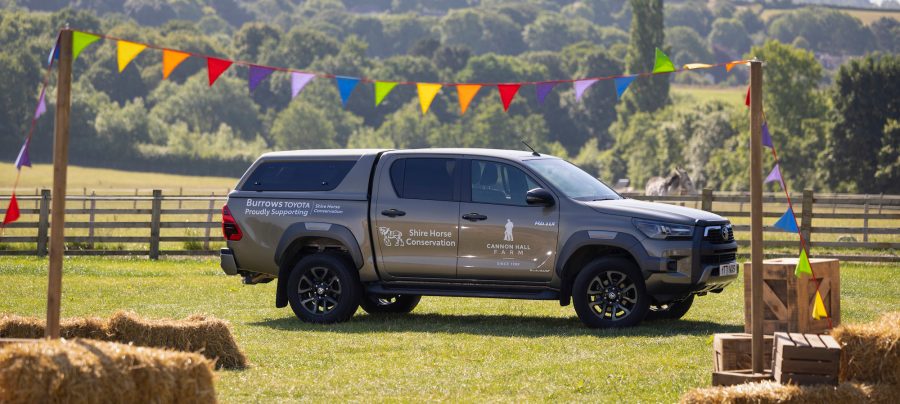 The farm, nestled in the Pennine hills, opened as a tourist attraction in 1989 and now has 335,000 visitors each year to its farm shop, restaurants and farm attractions. But when the tourists and film crews have gone home there's still serious work to be done. The Nicholson family has owned the 200-acre farm for 65 years and in addition to farming sheep and cattle, Rob and Dave are also now helping to conserve the country's stock of Shire horses.
"Our Dad was brought up in an era of Shire horses – he farmed with them here. So it seemed right to invest time and money in them. They won world wars for us – it's unthinkable to think they'd fade away so we thought we'd do our bit to preserve and promote them for future generations. We bought our first eight years ago. There are only 850 breeding shires in the country – so it's important to keep the bloodline going. We have five here at the moment and are about to buy our sixth – we are now a recognised Shire horse centre" explained Rob.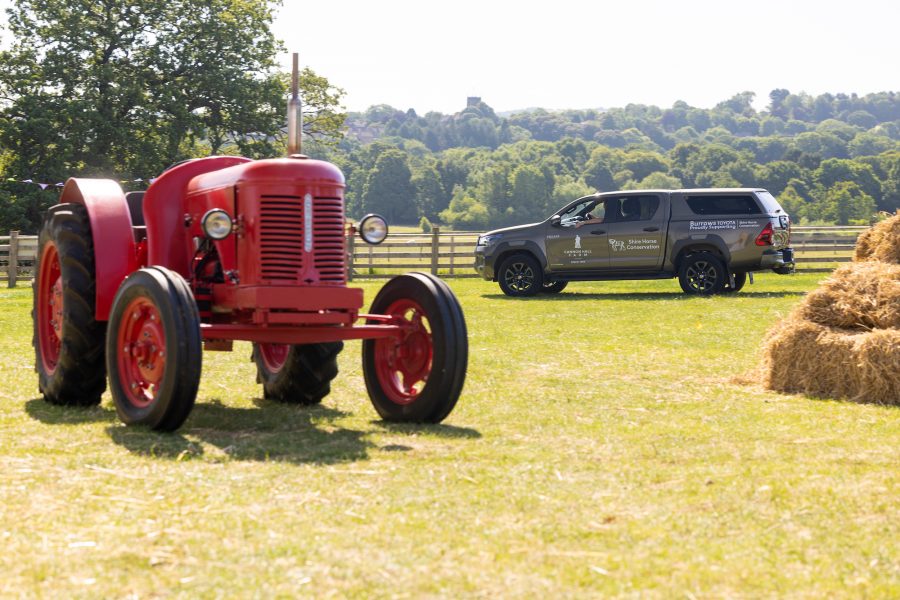 "We wanted to order a Hilux to use as an extra vehicle to help with the shire horses – they're the market leader – we've always liked them and aspired to own one.
"My wife had a Yaris for 14 years – she loved it – it was the best car she'd ever owned," said Rob.
"So we popped down to Burrows Toyota in Barnsley to order a Hilux – they're our nearest dealer and have a great reputation. But we discovered the lead-time for delivery was very long. So Burrows stepped in and lent us this one to help us and the horses out for the next few months.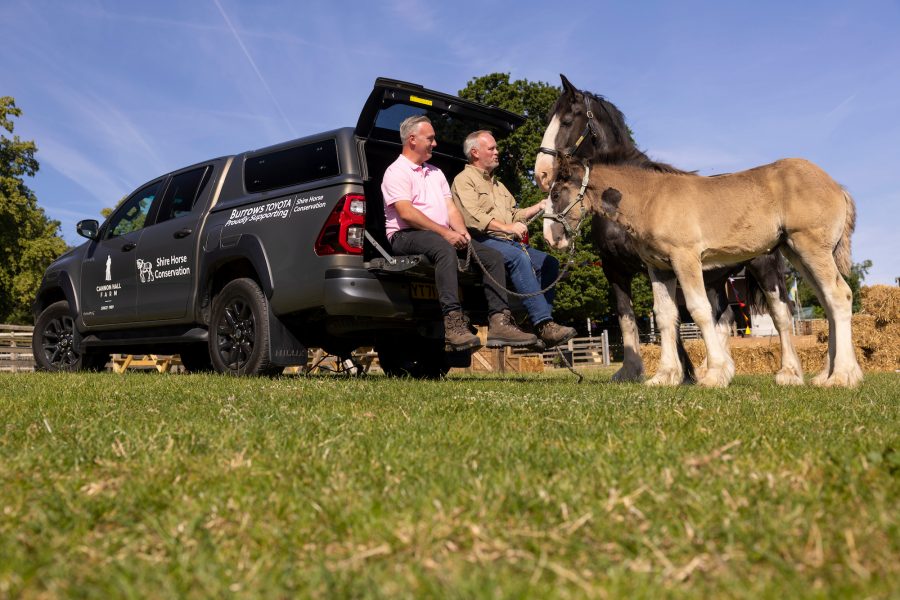 "We used it for a couple of hospital runs recently. We collected Orchid, our 14-year-old Shire and her foal, Rosie, from Rainbow Equine Hospital. Rosie nearly died soon after birth – she had something called 'dummy foal syndrome' – she thought she was still in the womb and was refusing to suckle. Mum and daughter are now fit and well and enjoying the Yorkshire sunshine," explained Dave.
"More recently we had to rush our eight-year-old Shetland, Pony M, to the same hospital – a hundred miles away. She was heavily pregnant and was suffering from catastrophic energy failure; she'd stopped feeding. Our vet was going to put her down but said there was a chance the hospital could save her. So we hooked the horse box on the Hilux and rushed her straight there. The Hilux has more power than other trucks we've had before and the gears seem just right for towing.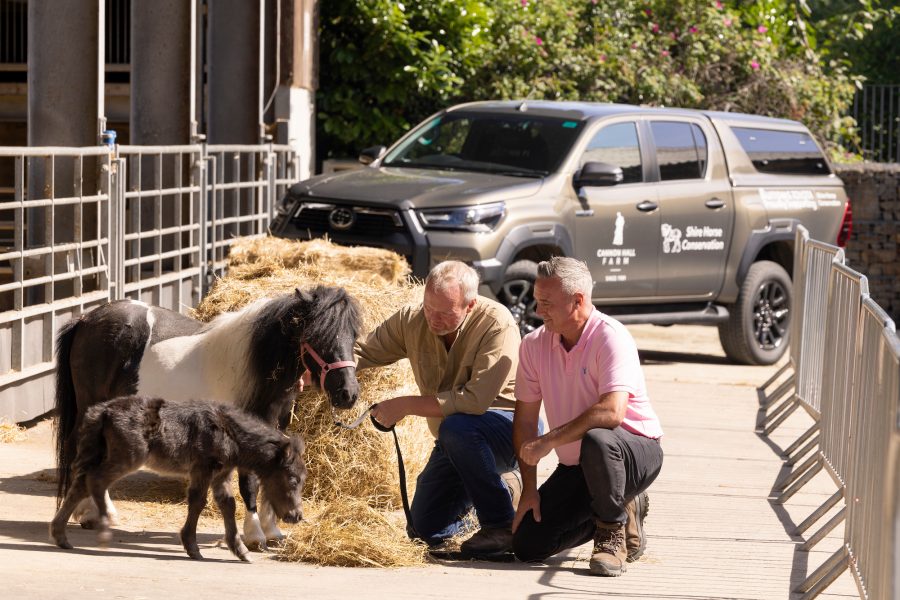 "Pony M was given insulin and glucose and put on a drip – after two weeks she'd made a full recovery. And we were super-glad when her new foal, Harriott, was born ten days ago," said Dave.
Rob continued: "We've done a little off-roading in the Hilux on the farm and are thinking of upgrading the tyres before the snow comes in the winter – other than that it's perfect.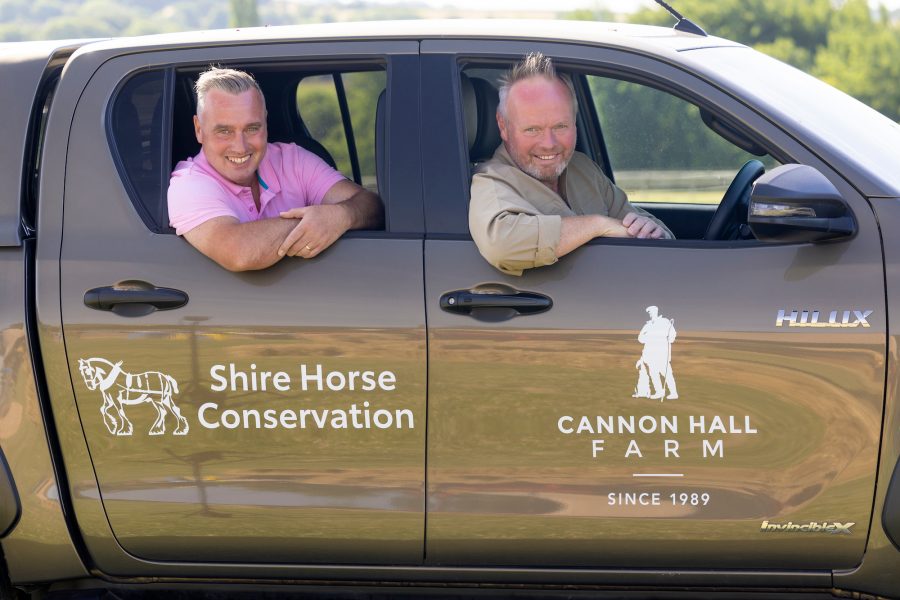 "I was so impressed with Burrows – I like the cut of their jib – that I've just bought a car for myself from them too – It's a RAV4 Hybrid. They had a white one which was available straight away. I love the hybrid system – on a trip to Cornwall and back a few weeks ago it only used a tank-and-a-half of fuel."
Steve Davidson, Regional Director at Burrows Toyota said: "We are delighted to help with the Shire Horse program and for the Hilux to support them working with them. It was going to be our second demonstrator, but we let them have it instead. It has our name and logo on it – they have a lot of visitors to the farm who'll see it – and it sometimes makes an appearance on TV too."