As worldwide partner of the Tokyo 2020 Olympic and Paralympic Games, Toyota provided a generous Beyond Zero fleet to deliver practical and efficient mobility solutions for staff and athletes between venues, within venues and around their respective accommodation areas.
Approximately 90% of the 3,700 vehicles Toyota employed during the event were electrified, with 1,350 of these being zero emission mobility solutions: 500 fuel cell electric vehicles (FCEV) and 850 battery electric vehicles (BEV).

Not only did the entire line-up achieve the lowest emissions target of any official Games fleet, it delivered convincing proof that Toyota's future range of Beyond Zero vehicles can provide effective, zero emission mobility solutions for urban environments… and beyond.
Let's take a closer look at some of the Beyond Zero fleet that formed this fleet.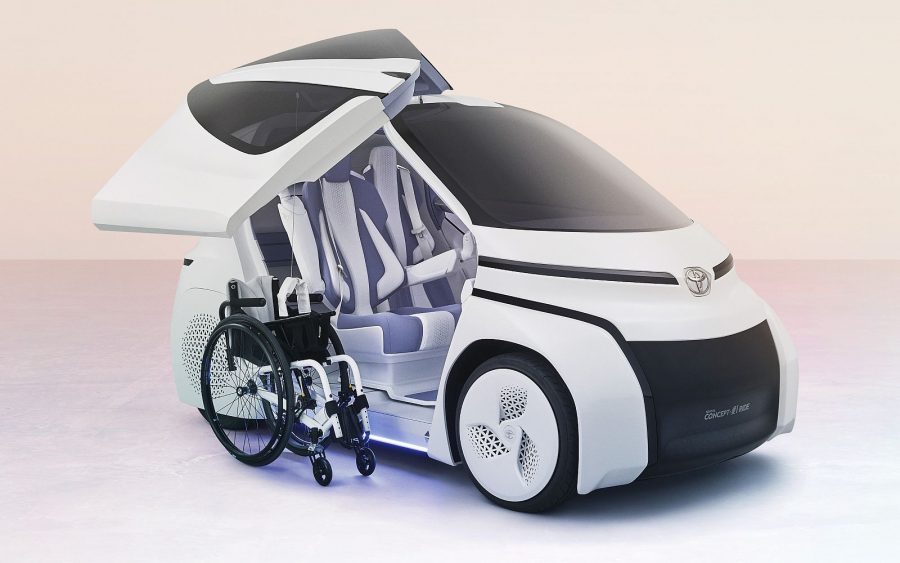 Meet the Beyond Zero fleet:
Toyota Concept-i RIDE
Special attributes: joystick control and wheelchair storage space
The Concept-i RIDE has gull-wing doors to provide easy access and an electric seat that slides towards the door opening to ease the user's transition from their wheelchair. The wheelchair itself can be easily stored in the rear thanks to the vehicle's seat design.
The car is controlled from a central driving position using a single joystick instead of a steering wheel, accelerator and brake pedal. An artificial intelligence agent is positioned on a large display in the instrument panel, while assistance functions such as automated parking are provided so that people of all ages can drive safely and with peace of mind.
Learn more: Toyota Concept-i series of vehicles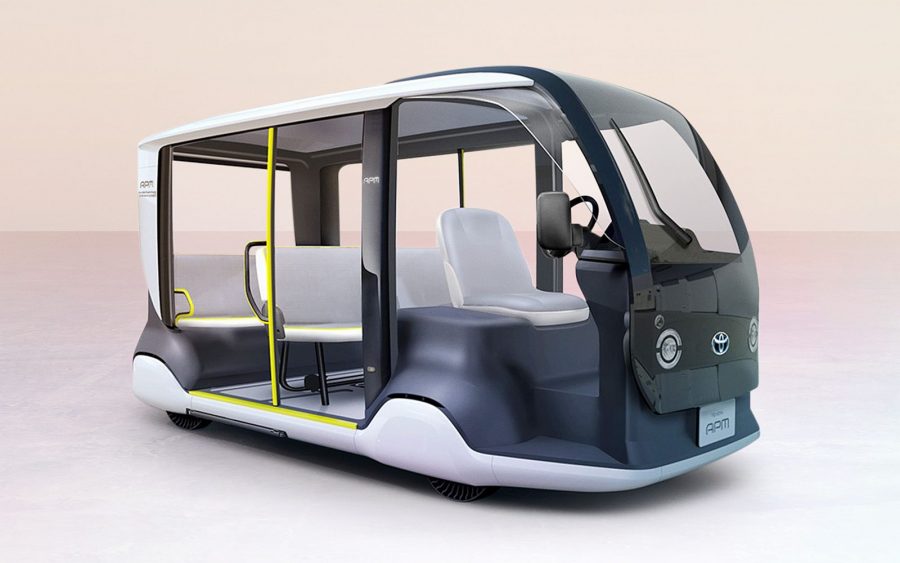 Toyota Accessible People Mover
Special attributes: easy access and seats for up to six people
Designed as a last-mile mobility solution, the supermini-size Accessible People Mover, or APM, uses its open plan layout to offer a handful of different configurations. With easy access on either side, the APM can carry up to six able-bodied people across three rows of seats, or four people and two wheelchair users. But it can also be turned into a relief unit to carry away injured people on a stretcher.
Learn more: Toyota Accessible People Mover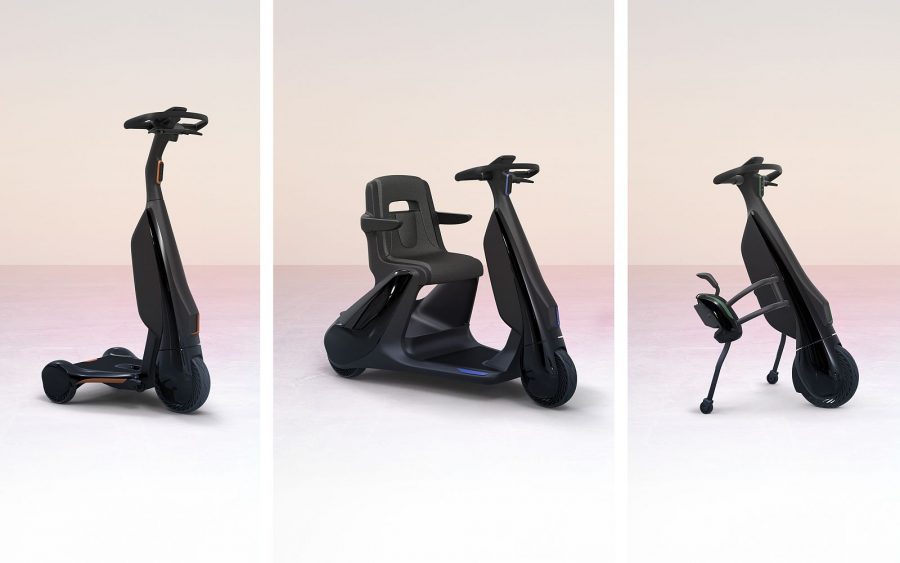 Toyota Walking Area BEV
Special attribute: three different configurations
Originally developed to help commuters travel the last mile to work, approximately 300 Walking Area BEVs were deployed to provide standing-type personal mobility for security and medical staff at the various Games venues. However, the beauty of this device is that it can be adapted to provide mobility for users that are standing, sitting or wheelchair-bound.
Learn more: Toyota Walking Area BEV family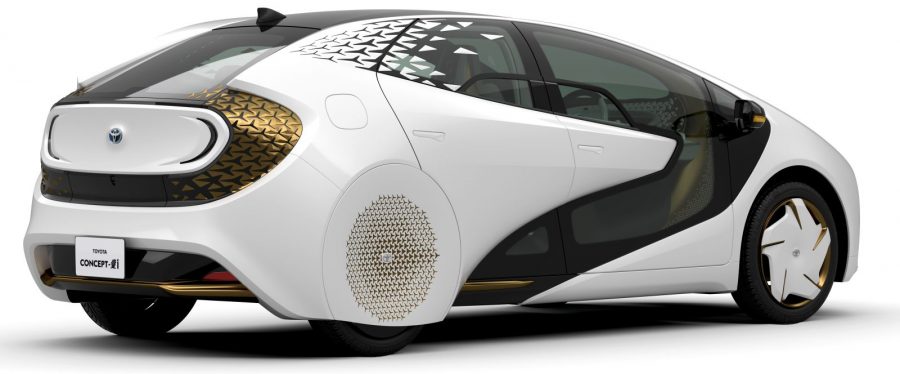 Toyota Concept-i
Special attribute: demonstrates SAE Level 4 automated driving technology
As the figurehead of Toyota's Concept-i series, this distinctive concept vehicle took centre stage at the Olympic torch relay and was the lead vehicle in the marathon event.
In the lead-up to the Games, the SAE Level 4 automation of Concept-i was thoroughly tested around the Tokyo Odaiba and Toyosu areas. But the heart of the vehicle is a powerful artificial intelligence (AI) system that is programmed to learn and engage with the driver in order to build a human-like relationship with them.
Learn more: Toyota Concept-i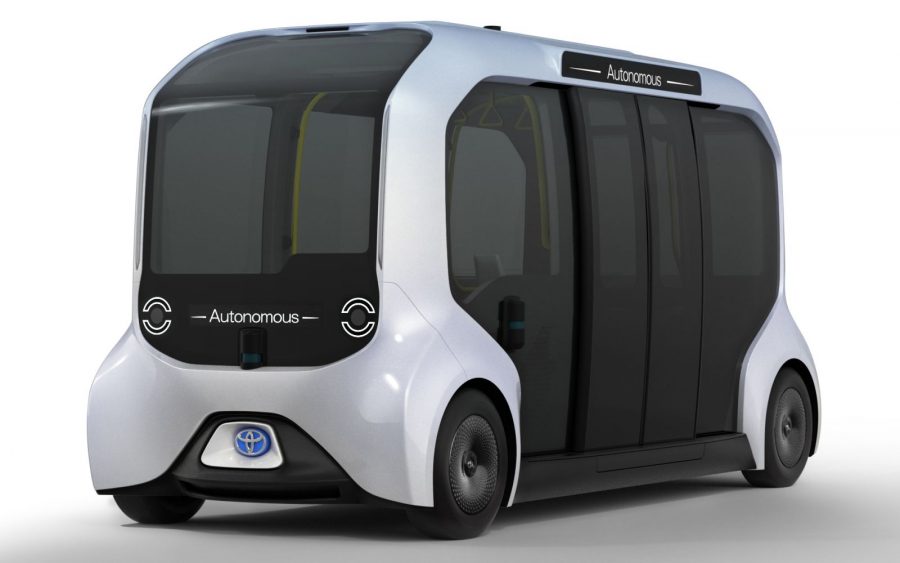 Toyota e-Palette Concept
Special attribute: scalable and customisable for a range of mobility services
The Toyota e-Palette is our first BEV specifically developed to provide autonomous mobility up to SAE Level 4 (high driving automation). More than a dozen examples supported the transportation needs of up to 20 staff and athletes at a time by running in a continuous loop within the Olympic and Paralympic Village.
Its low floor is designed to sit level with the pavement, while precise 3D mapping means that e-Palette can position itself with little or no gap between the kerb and bus so that wheelchair users can safely make this transition.
Learn more: What is the Toyota e-Palette?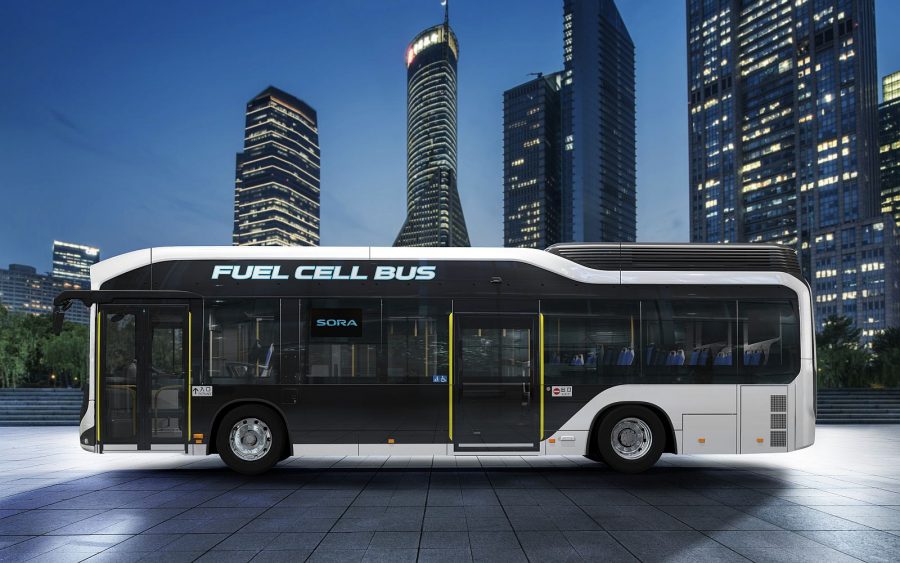 Toyota Sora fuel cell bus
Special attribute: first FCEV bus to receive vehicle type certification in Japan
Thanks to official certification, the Toyota Sora fuel cell bus is already providing zero emission public transportation within the Tokyo metropolitan area. A fleet of these were therefore diverted to shuttle staff and athletes between Games venues.
Appropriately, the name Sora was inspired by the earth's water cycle and is an acronym of Sky, Ocean, River and Air. It uses a doubled-up version of the fuel cell system originally developed for the Toyota Mirai (approximately 500 examples of Mirai also provided transport around official Games venues), which offers excellent power and quiet operation for passenger comfort. A total of 79 people can be carried, consisting of one driver, 22 seated and 56 standing.
Learn more: Toyota Sora fuel cell bus