Urban crossover styling already makes the compact Toyota Aygo X stand out from the crowd. But if owners would like to make their new city car an even more individual expression of their personality, we suggest they examine the broad range of official Aygo X accessories.
Whether it's to add extra protection, style or practicality, Toyota's official accessories for the Aygo X contain the solution. And because the range has been designed and developed by us, you can be assured that every item meets the same urban and suburban demands as the car itself.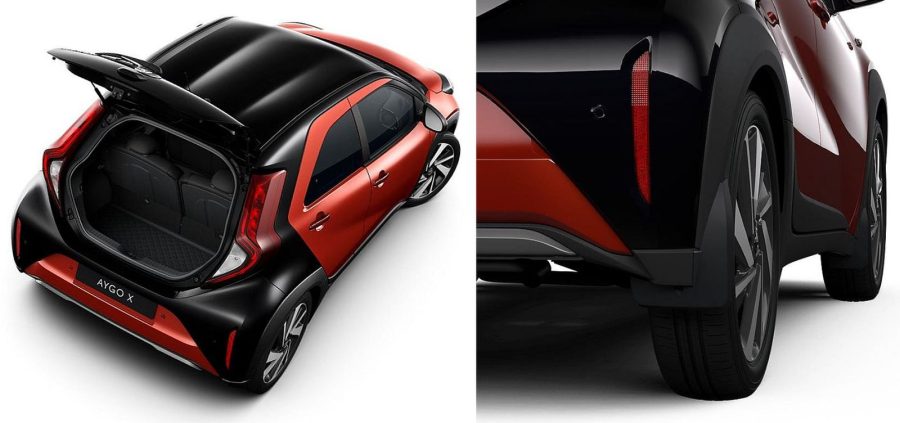 Aygo X accessories: optional packs
Toyota has gathered some of the most popular accessories into optional packs that offer multiple elements at a great price. To make the ordering of a new Aygo X as straightforward as possible, the following centre-fitted packs can be added immediately through the model's online configurator.
| | | | |
| --- | --- | --- | --- |
| OPTIONAL PACK | FEATURES | COST | COMPATIBLE GRADE/S |
| Essential Protection | Boot liner, front and rear mud flaps, rubber floor mats, door handle protection films (front doors only) | £195 | Pure, Edge, Exclusive, Air Edition, Limited Edition |
| Styling Pack – red | Front bumper garnish, side sills garnish, rear boot garnish | £345 | Pure, Edge, Exclusive |
| Styling Pack – chrome | Front bumper garnish, side sills garnish, rear boot garnish | £345 | Pure |
Lead image shows white Aygo X with red styling pack and red mirror covers, and black Aygo X with chrome styling pack
Individual Aygo X accessories
Some will prefer to pick and choose their Aygo X accessories. For such owners, Toyota has ensured that every item within the above packs is available to purchase individually via the supplying centre. These and many other accessories are listed below, separated into tables for exterior and interior components.

Exterior
| | | |
| --- | --- | --- |
| INDIVIDUAL ACCESSORIES – EXTERIOR | COST | COMPATIBLE GRADE/S |
| 17-inch gloss black alloy wheels (set) | £795 | Pure |
| 18-inch matt black alloy wheels (set) | £895 | Edge, Exclusive, Air Edition, Limited Edition |
| 18-inch machined black alloy wheels (set) | £895 | Edge, Exclusive, Air Edition, Limited Edition |
| Mud flaps (front and rear) | £49.99 | Pure, Edge, Exclusive, Air Edition, Limited Edition |
| Door edge protection film (each) | £32.99 | Pure, Edge, Exclusive, Air Edition, Limited Edition |
| Door handle protection film (each) | £7.99 | Pure, Edge, Exclusive, Air Edition, Limited Edition |
| Roof and bonnet decals – red | £98.84 | Pure, Edge, Exclusive, Limited Edition |
| Side and rear decals – red | £164.89 | Pure, Edge, Exclusive, Air Edition, Limited Edition |
| Mirror covers – red | £149.89 | Pure, Edge, Exclusive, Air Edition, Limited Edition |
| Front bumper garnish – red | £89.99 | Pure |
| Front bumper garnish – chrome | £89.99 | Pure |
| Side sills garnish – red | £220 | Pure |
| Side sills garnish – chrome | £220 | Pure |
| Rear boot garnish – red | £79.99 | Pure |
| Rear boot garnish – chrome | £79.99 | Pure |
| Side mouldings | £79.99 | Pure, Edge, Exclusive, Air Edition, Limited Edition |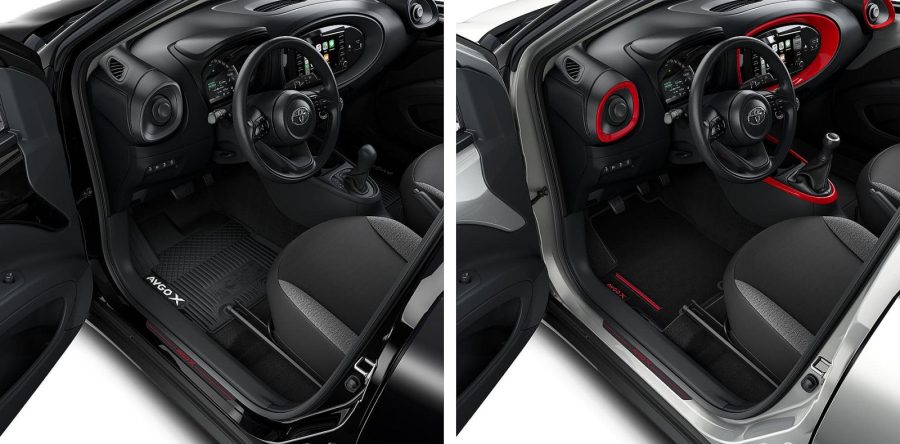 Interior
| | | |
| --- | --- | --- |
| INDIVIDUAL ACCESSORIES – INTERIOR | COST | COMPATIBLE GRADE/S |
| Polycarbonate scuff plates – red | £75 | Pure, Edge, Exclusive, Air Edition, Limited Edition |
| Polycarbonate scuff plates – chrome | £75 | Pure, Edge, Exclusive, Air Edition, Limited Edition |
| Rubber floor mats | £65.99 | Pure, Edge, Exclusive, Air Edition, Limited Edition |
| Boot liner | £35.99 | Pure, Edge, Exclusive, Air Edition, Limited Edition |
| Rear seat protection | £39.02 | Pure, Edge, Exclusive, Air Edition, Limited Edition |
| Vertical cargo net | £37.99 | Pure, Edge, Exclusive, Air Edition, Limited Edition |
| Ash tray | £16.99 | Pure, Edge, Exclusive, Air Edition, Limited Edition |
| Travel safety kit | £61.99 | Pure, Edge, Exclusive, Air Edition, Limited Edition |
Prices correct at time of publishing