Toyota's launch of the new GR86 coupe is one of the most hotly anticipated new model introductions of 2022. Advance interest has been high for this third member of the thoroughbred GR sports car range, which will be available in strictly limited numbers – production for Europe is limited to just two years.
We have now sold our current allocation of GR86. Click here join our waiting list.
The order process is designed to be clear, convenient, seamless and customer-focused, ensuring a fair, first-come, first-served approach. The customer can configure their ideal car, save their progress to their My Toyota account and then complete their order online, at a time and place that's convenient for them, which could be at home or in a Toyota showroom. Payment of a £1,000 refundable customer deposit is required to secure all orders.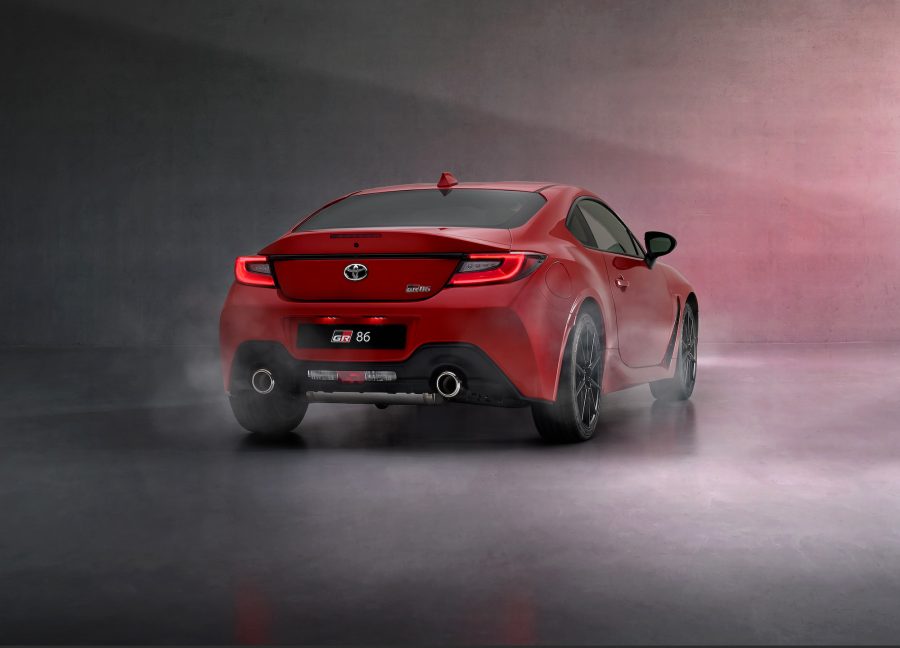 Prospective purchasers are also welcome to discuss their requirements with expert sales teams in Toyota showrooms or organise a test drive with Toyota's specialist Toyota GR Centres (test cars will be available from June).
Here's how the ordering process works: –
The customer chooses and configures their GR86 online at www.toyota.co.uk
Any appropriate part-exchange valuation can be added
A preferred payment method is chosen
They select the "buy online" option
The completed vehicle build and quotes are saved to the customer's My Toyota account
The customer logs into their My Toyota account and proceeds to checkout
They select their preferred Toyota centre for the vehicle handover
The appropriate finance application is submitted – a decision will be provided promptly, in real-time
The £1,000 deposit is paid (online card payment)
The GR86 comes with an on-the-road price tag of £29,995 for the manual model and £32,085 for the automatic version. If you have already placed a deposit with your centre, don't worry, they will be able to support you through the online order process. Please contact them for more information ASAP.
We have now sold our current allocation of GR86. Click here join our waiting list.
Equipment features
The GR86 range comprises a single model grade with the option of a six-speed manual or automatic transmission. The specification introduces equipment features not previously available on GT86, including: –
10-spoke 18-inch black alloy wheels with Michelin Pilot Sport 4 tyres
Multimedia system with an eight-inch display
Smartphone integration via Apple CarPlay and Android Auto
Reversing camera with Rear Cross Traffic Alert
Blind Spot Monitor
LED Adaptive Headlight System
Illuminated entry
Seven-inch colour multi-information display
Other items include Ultrasuede and leather seat upholstery, heated front seats, cruise control, automatic dual-zone air conditioning, smart entry and push-button start and auto-folding door mirrors.
The GR86 automatic gains additional, new active safety and driver assistance systems, including Pre-Collision System with autonomous emergency braking, Adaptive Cruise Control, Automatic High Beam and Lane Keep Assist.
GR86 is available in seven different colours. Pearlescent finishes include Pearl White, Ignition Red, Electric Blue and Sapphire Blue Pearl. In addition, there are three metallics: Ice Silver, Magnetite Grey and Crystal Black. The Black metallic colour is free with the other metallic colours costing £645 and the Pearlescent colours costing £965.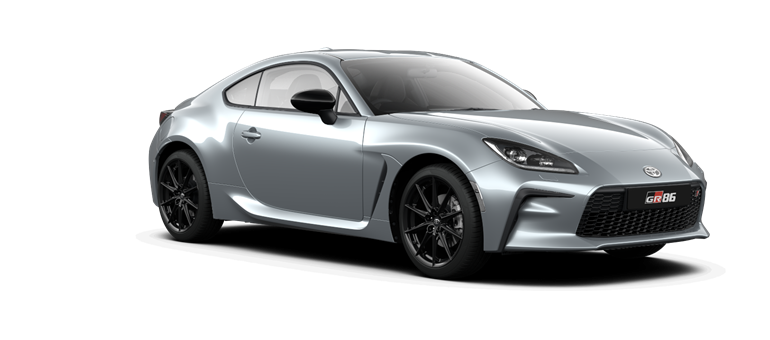 Toyota GR86: power and performance
The horizontally opposed 'boxer' engine remains a defining element of the GR86. The new engine retains the same cylinder block as that used in the outgoing GT86 but has been bored out to increase displacement from 2.0 to 2.4 litres. Power has risen by around 17% to 231bhp, yet it is the 22% increase in torque that will be most keenly appreciated, especially as the 250Nm peak now arrives almost 3,000rpm lower down the rev range.
As a result, the 0-62mph acceleration time has been cut by more than a second to 6.3 seconds, while the top speed is now 140mph (6.9 seconds and 134mph for automatic).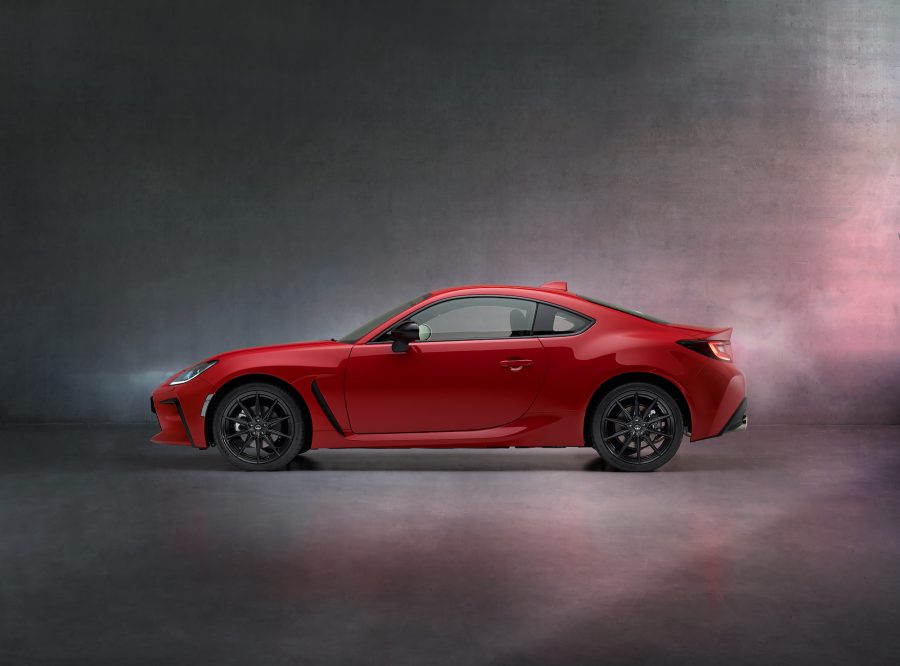 Detailed mechanical changes have been made to reduce the engine's weight and ensure performance that is appropriate for its higher output. These include thinner cylinder lines, stronger connecting rods and bearings, an optimised combustion chamber and water jacket, and a switch from aluminium to a resin material for the rocker covers.
The D-4S fuel injection has been retuned for quicker response to throttle inputs. The direct injection element of this system has a cooling effect in the combustion chamber, which supports the high 12.5:1 compression ratio, while its port injection operates under light and medium engine loads to maximise efficiency.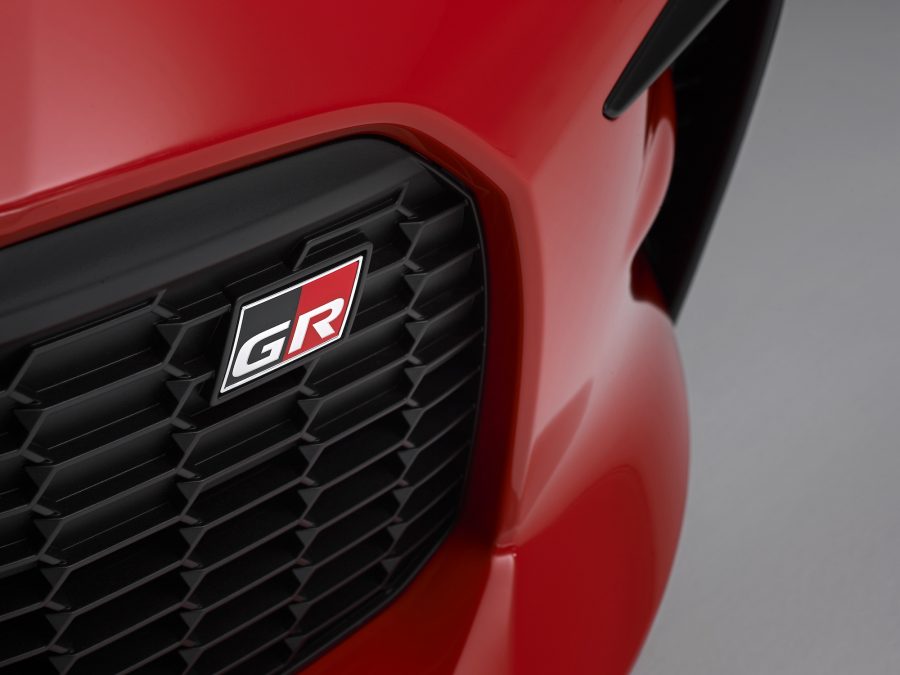 Engine breathing has been improved with changes to the diameter and length of the intake manifold, while upstream the intake has been redesigned to optimise airflow. Liquid management has been improved with a new anti-cavitation fuel pump, a smaller, high-speed water pump, and a new water-cooled oil radiator with a thicker core. Liquid-filled engine mounts combat unwanted noise and vibration, though a combination of a new 5.6-litre exhaust centre pipe and synthesised audio help to generate a satisfying roar in the cabin.
The six-speed manual transmission benefits from a new carbon synchroniser on gear four, as well as new low-viscosity oil and bearings to improve shift quality. The ergonomics of the shift lever have made it more satisfying to hold, while the stroke length has been shortened. The automatic transmission has been equipped with additional clutch discs and a new high-capacity torque converter to harness the engine's higher power. Sport mode selects the optimum gear in line with driver input and the vehicle's dynamic behaviour, although the driver can also take manual control of the gear shifts through paddle controls on the steering column.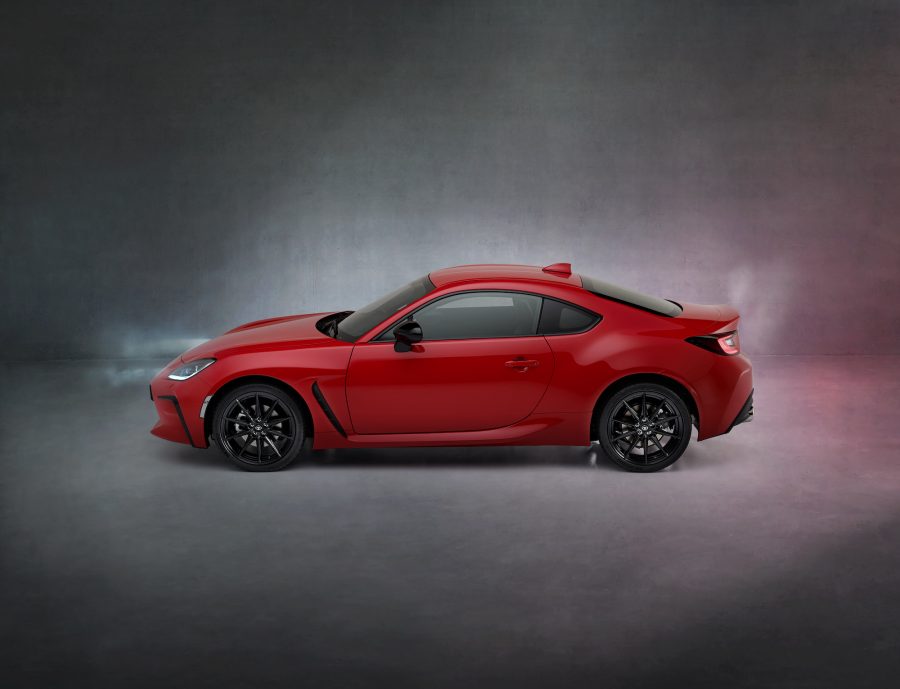 Toyota GR86: chassis and handling
The new GR86 follows its predecessor in delivering the thrill of a car that responds exactly in line with the driver's intentions. To ensure this translation is accurate, the chassis and body make extensive use of light but high-strength materials, strategic reinforcements and structural adhesives.
At the front, the bonnet has a new diagonal internal frame. Diagonal braces and high-strength fasteners have also been added to the connection between suspension and body frame to improve the transmission of load from the tyres and reduce lateral bending. These measures have increased rigidity in this area by 60%. At the rear, a continuous frame structure has been created by connecting the inner panel to the platform and joining the upper and lower chassis with the same high-strength fasteners. As a result, the torsional rigidity of the body has increased by 50%.
Aluminium is employed for the roof panel, front wings and bonnet, with further weight savings from the new front seat, silencer and prop shaft designs. These are key in giving GR86 a 53:47 front/rear weight balance and making it the lightest four-seat sports car on the market, with the lowest centre of gravity.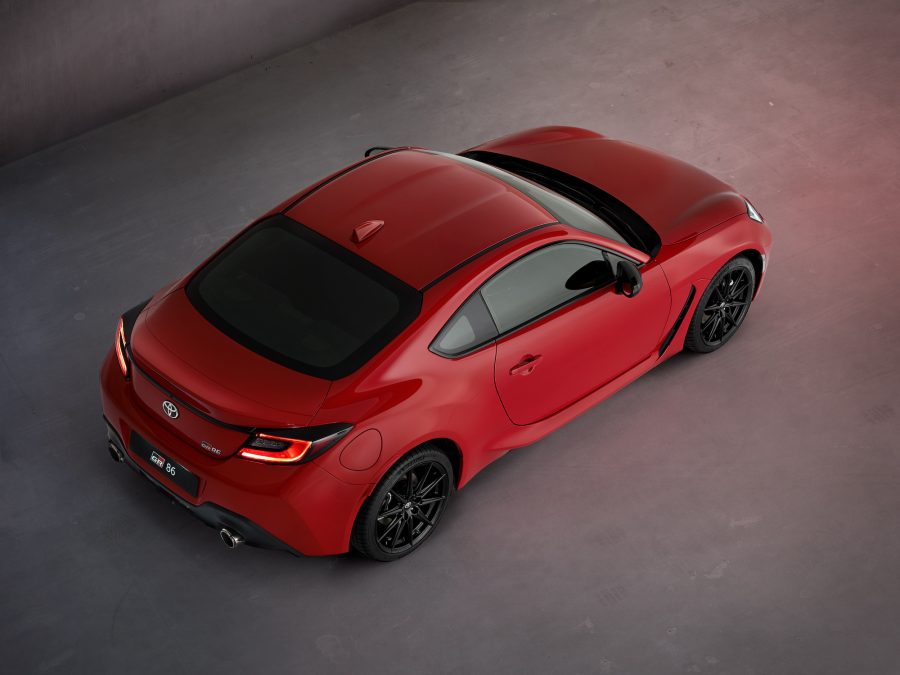 With regards to its chassis, the GR86 maintains the front MacPherson struts and rear double wishbones of its predecessor, though tuned for an even higher level of response and stability. Shock absorber damping and coil spring characteristics have been optimised and the rear suspension has been improved by connecting the anti-roll car directly to the subframe for maximum stability. A Torsen limited-slip differential equalises traction across the rear axle when cornering.
The electric power steering has a 13.5:1 ratio and requires just 2.5 turns to move from lock to lock. The system uses a new column-mounted motor to reduce weight and use of space.
Finally, ventilated disc brakes are fitted front and rear, with diameters of 294 and 290mm respectively. A complement of braking control systems – ABS, Brake Assist, Traction Control, Vehicle Stability Control, Hill-start Assist – are provided as standard, together with an emergency brake signal system.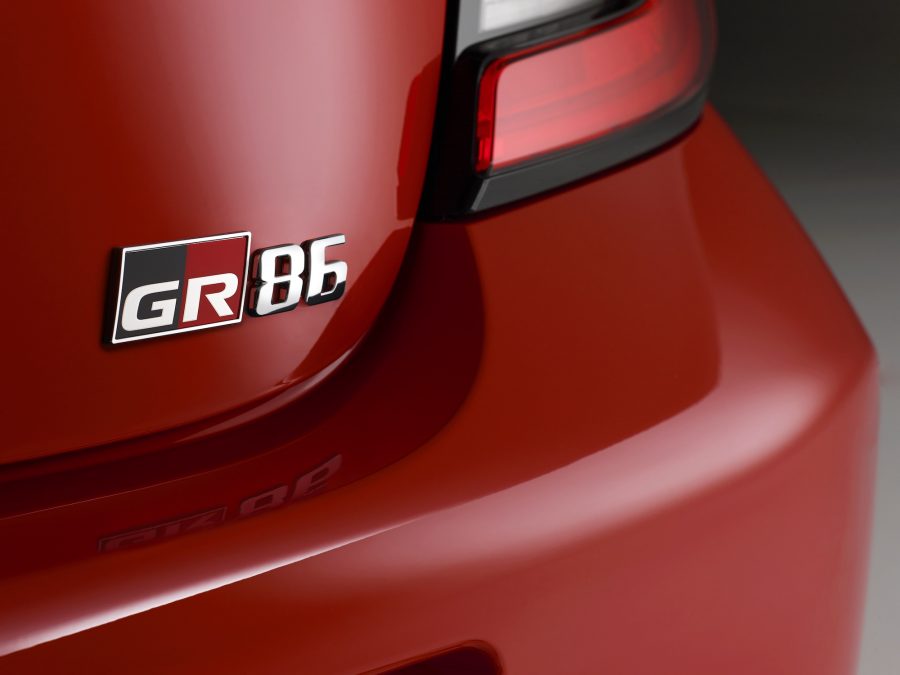 Exterior design
The exterior aesthetic is an evolution of the classic front-engine, rear-wheel-drive sports car proportions expressed in the GT86. The new GR86 has similar overall dimensions, though it is 10mm lower and 5mm longer in its wheelbase.
The LED headlights feature an L-shape internal arrangement similar to that of the GR Supra, and the rear light clusters have a strong three-dimensional design that blends into the rear haunches. The front bumper has a new textured finish that helps to reduce drag, and the front wings and large sill mouldings combine to form shapely side skirts.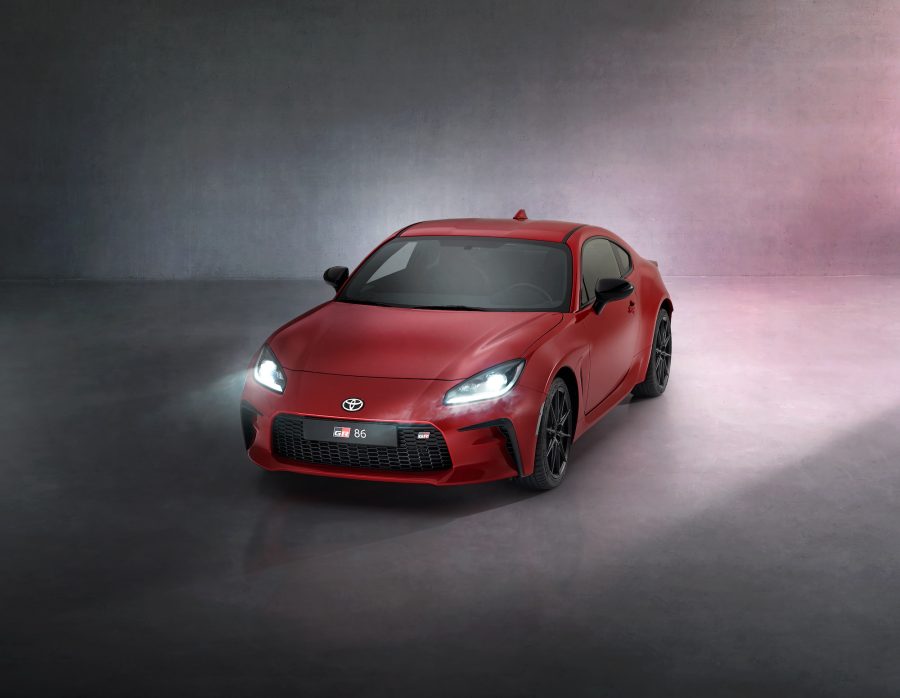 Functional vents in the front wings manage airflow and reduce turbulence within the wheel arches, while fins around the rear wheel arches and lower bumper similarly train airflow over and away from the body to enhance stability.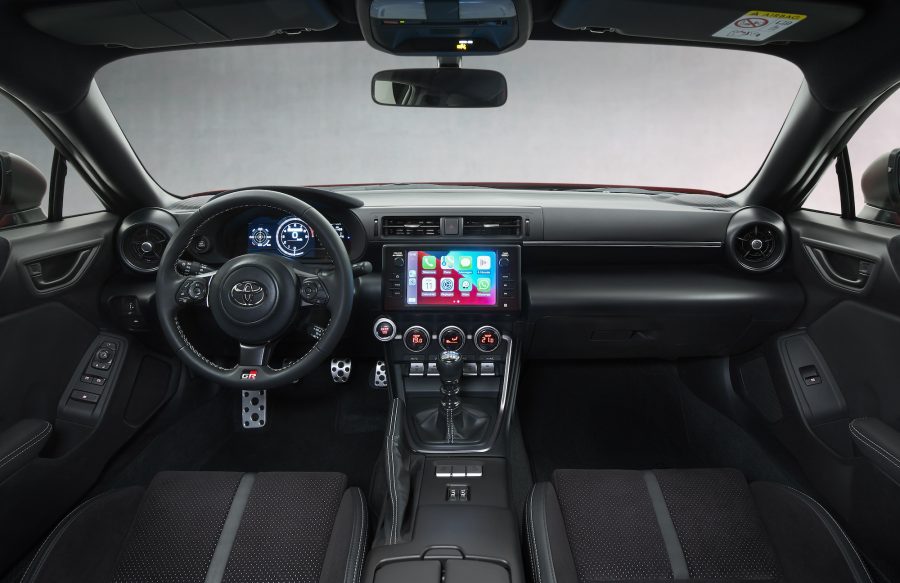 Toyota GR86: interior design
The interior features a strong horizontal layout that gives the driver a wide field of vision. Within the instrument binnacle is a seven-inch multi-information display that prioritises the central tachometer and digital speedo. The contents of the display can be selected, reset and controlled using switches on the steering wheel. GR branding in the start-up animations on both the driver's screen and eight-inch multimedia system acknowledges the car's sports status.
Function controls are designed and located for intuitive operation, including large rotary dials for heating and ventilation, and piano key switches. The centre armrest has been improved with cup holder recesses, two USB ports and an auxiliary socket.
The new front seats are slim yet offer good body-holding through the use of supportive pads, and the rear seatback can be folded down from either inside or outside to reveal a load space big enough to hold four wheels – ideal for those driving to and from a track day.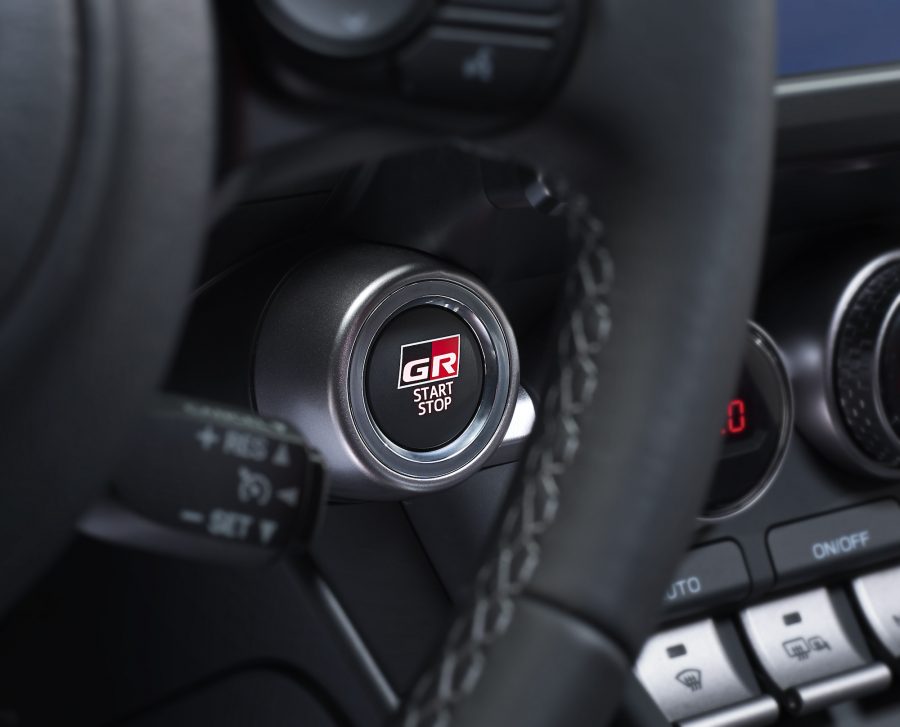 Toyota GR86 technical specifications
| | |
| --- | --- |
| ENGINE | |
| Type | Four-cylinder horizontally opposed (boxer) |
| Valve mechanism | 16-valve DOHC |
| Fuel system | Toyota D-4S direct and port injection |
| Capacity (cc) | 2,387 |
| Bore x stroke (mm) | 94 x 86 |
| Compression ratio | 12.5:1 |
| Max. power (bhp/DIN hp/kW @ rpm) | 231 / 234 / 172 @ 7,000 |
| Max. torque (Nm @ rpm) | 250 @ 3,700 |
| TRANSMISSION | |
| Type | Six-speed manual / six-speed automatic |
| PERFORMANCE | |
| Max. speed (mph) | 140 manual / 134 automatic |
| 0-62mph acceleration (sec) | 6.3 manual / 6.9 automatic |
| SUSPENSION | |
| Front suspension | MacPherson strut |
| Rear suspension | Double wishbone |
| Anti-roll bar thickness (mm) | 18.3 front / 14 rear |
| STEERING | |
| Type | Electric power steering, rack and pinion |
| Turns lock-to-lock | 2.5 |
| Min. turning circle – body (m) | 5.7 |
| Min. turning circle – tyre (m) | 5.4 |
| BRAKES | |
| Front | Ventilated discs |
| Rear | Ventilated discs |
| TYRES | |
| Tyre size | 215/40 R18 |
| DIMENSIONS – EXTERIOR | |
| Overall length (mm) | 4,265 |
| Overall width (mm) | 1,775 |
| Overall height (mm) | 1,310 |
| Wheelbase (mm) | 2,575 |
| Front track (mm) | 1,520 |
| Rear track (mm) | 1,550 |
| DIMENSIONS – INTERIOR | |
| Length (mm) | 1,625 |
| Width (mm) | 1,480 |
| Height (mm) | 1,060 |
| Load space – VDA (l) | 226 |
| WEIGHTS | |
| Kerb weight – max-min (kg) | 1,275-1,316 |
| Gross weight (kg) | 1,670 manual / 1,700 automatic |