Toyota today announces improvements and enhancements that will further strengthen its Yaris Hybrid hatchback range, increasing the market appeal of a model that has proved an outstanding success for the brand. A significant programme of performance, safety and styling upgrades will ensure the model presents class-leading qualities in its area of the highly competitive B-segment.
Toyota is introducing a completely new digital dimension to the car with a customisable driver's instrument display, a more powerful and intuitive multimedia system, convenient and stable connectivity and, for the first time, a hands-free digital key will be available*.
The principal changes also include a more powerful version of Yaris's 1.5-litre hybrid electric powertrain and an increase in the scope and performance of the car's advanced active safety and driver assistance systems,
Built in Europe for European customers, the new 2024 Toyota Yaris will reinforce the model's long-established reputation for innovation and excellence in small car design and engineering.
2024 Toyota Yaris: a new digital user experience
Toyota has targeted a best-in-class proposition with a completely new digital user experience for the new Yaris. This takes in both a customisable driver's instrument display and a faster and more powerful multimedia system with added functionality. The displays – seven or 12.3-inch for the combimeter, and nine or 10.5-inch for the multimedia screen, according to model grade – are class-leading in terms of size.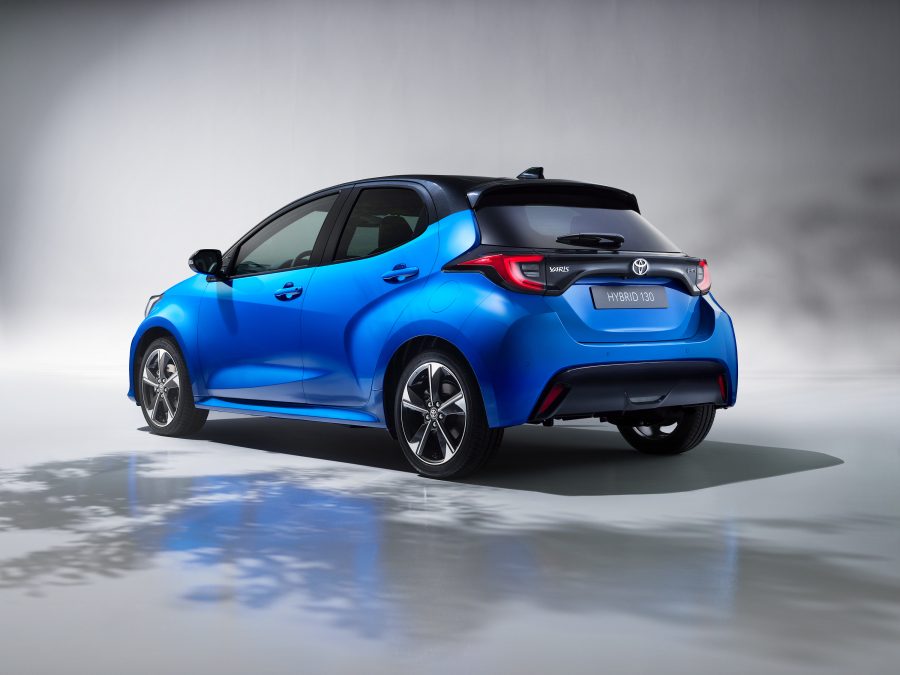 The 12.3-inch digital combimeter presents dials, information and graphics in sharp definition for good visibility in all light levels. Their appearance is customisable to suit the driver's mood and the type of journey with up to four options: Smart, Casual, Sporty and Tough. According to model grade, seven or 12.3 or seven-inch versions are fitted.
The new-to-Yaris Toyota Smart Connect multimedia system has a more intuitive and reactive interface and provides cloud-based navigation as standard. This "always connected" system ensures journey planning benefits from up-to-the-moment information on routes, traffic and delays.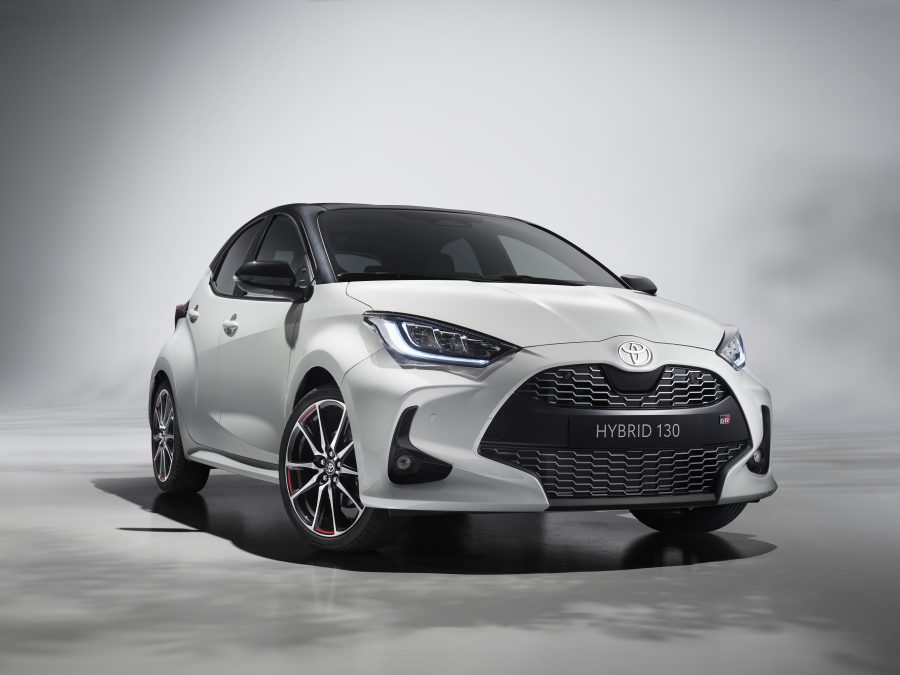 It takes spoken commands to another level with a voice recognition function and "Hey Toyota" voice agent that responds to more natural forms of speech. For example, simply state "Hey Toyota, I'm cold" and the system will automatically raise the climate control temperature.
Ease of connectivity is a customer priority and the new Yaris enables wireless smartphone integration using both Apple CarPlay and Android Auto. And, as with the Toyota Safety Sense systems, upgrades and new functions for the multimedia system can be applied over the air without additional trips to the service centre.
Easy access with smart digital key
The digital transformation of new Yaris includes the first availability of a smart digital key. Linked to the MyT app, this gives up to five users access to the vehicle using their smartphone. It's designed for complete convenience, so users can lock, unlock or start their vehicle without having to take their phone out of their bag or pocket.
This feature, standard on the new Premiere Edition grade, further expands the MyT functions, which include remote locking/unlocking, climate control operation and activation of the hazard lights for easy vehicle identification in a crowded car park. It's compatible with both Apple and Android devices and four years' connection is included in the car's purchase price.
Technologies for Safer, easier driving
With its wealth of active and passive safety equipment and fundamentally strong design, the current Yaris was developed with the aim of being the safest small car in the world. Toyota is introducing additional and enhanced safety features to further improve the model's safety leadership.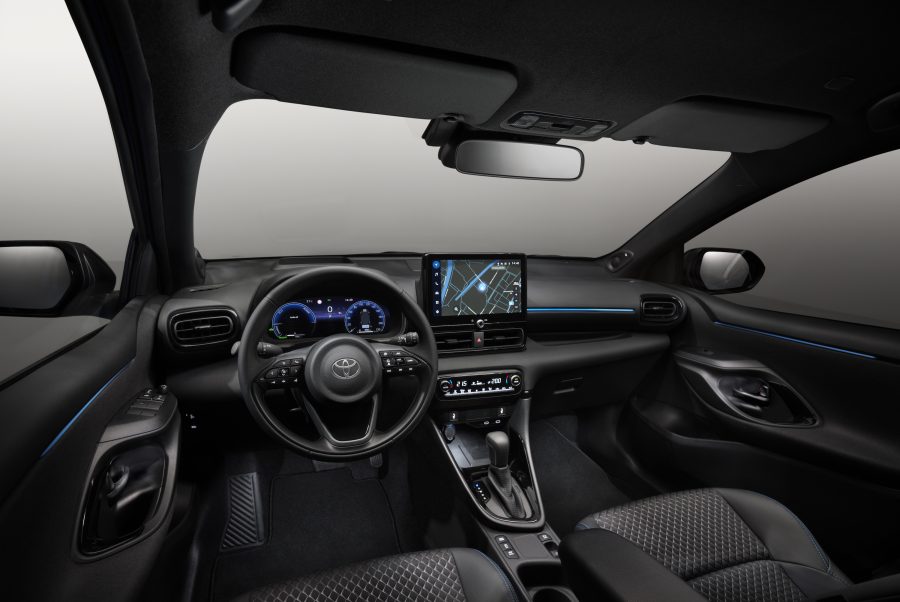 In the new 2024 Toyota Yaris, these are more effective than ever, with additional and improved functions, and include the latest generation Toyota Safety Sense driver assistance systems. In its mission ultimately to eliminate road traffic accidents, Toyota provides advanced technology features as standard – features that are often extra-cost options or simply not available on other B-segment models.
Thanks to its new multimedia system and data communications module (DCM), Toyota provides the flexibility and convenience of software updates delivered over the air. This means the Toyota Safety Sense and multimedia functions can be seamlessly upgraded, with no need for the car to be taken to a service centre. Downloads can take place while the car is being driven, ready for installation when it's convenient for the driver.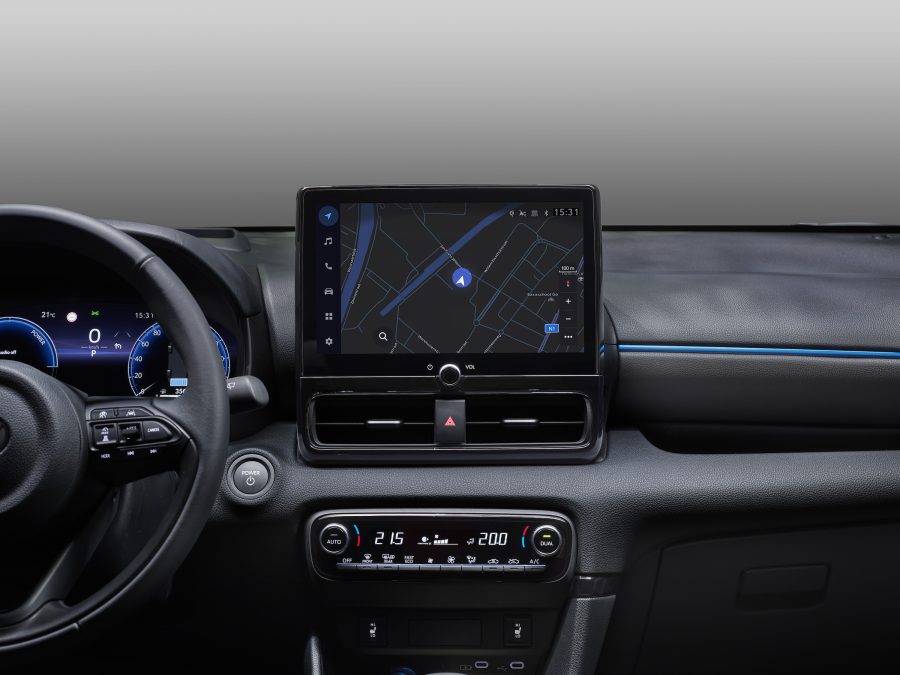 Using a new camera and radar which can scan further and broader than before allows for a significant increase in the scope of accident risk detection. For example, the Pre-Collision System (PCS) can now recognise a potential head-on impact and a wider range of objects and vehicles – pedestrians, cyclists and now motorcyclists – in the car's path. The Intersection Collision Avoidance Support – a safety feature which debuted for Toyota on the current generation Yaris – similarly has a wider operating scope, identifying approaching traffic across two lanes, crossing cyclists and vehicles cutting in from the side at a junction.
Acceleration Suppression is a new addition to the Toyota Safety Sense portfolio. This intervenes to slow any sudden acceleration when it recognises the risk of a collision with a vehicle ahead.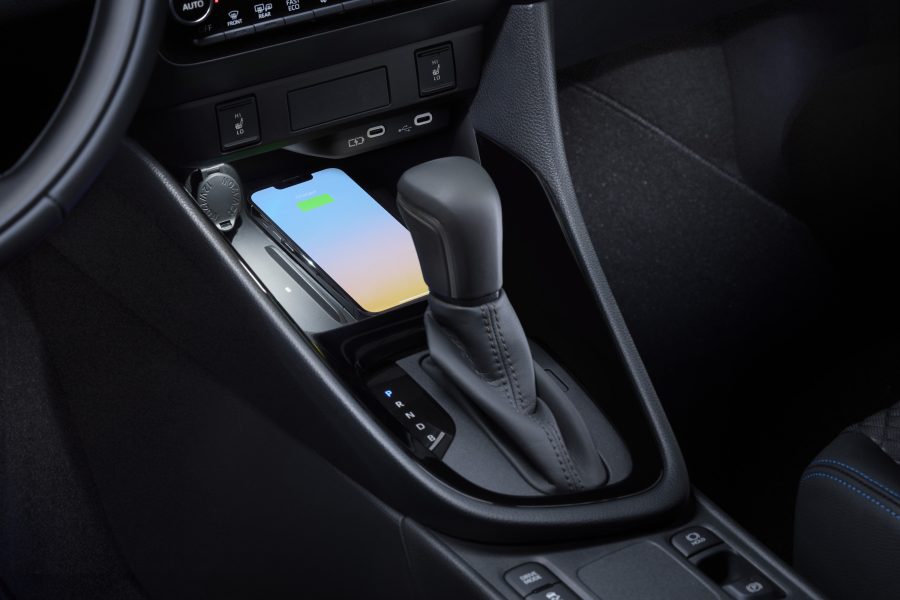 Proactive Driving Assist (PDA) is another new feature, designed to help avoid familiar accident hazards when driving at low speed. Deceleration Assist provides smooth deceleration when the driver comes off the accelerator to slow down when approaching a slower vehicle ahead, or entering a bend. The second element is Steering Assist, which recognises a bend in the road ahead and adjusts steering force to help the driver make a smooth and stable turn.
The new Emergency Driving Stop System (EDSS, functioning when Lane Trace Assist is activated) is able to support the driver, should they be taken ill or incapacitated. If the system detects the driver has made no inputs – steering, braking, accelerating – for a certain amount of time, it will sound a warning. If there is no reaction from the driver, it will bring the car to a gentle stop, activate the hazard lights and unlock the doors.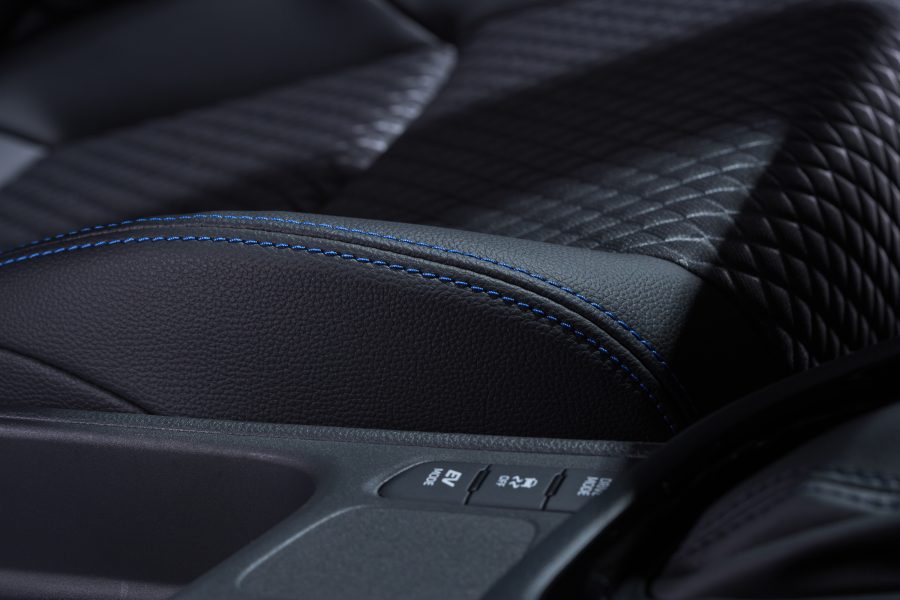 Protection is also provided when the car is stationary, With the Safe Exit Assist (SEA)*, a visual and audio warning system which will prevent a door from inadvertently opening into the path of vehicles and cyclists approaching from the rear. And the Rear Seat Reminder System (RSRS) will alert the driver via visual and acoustic notifications if they have left a child or pet in the back seat, helping avoid the risk of "hot car" incidents.
As well as these extra functions, the new Yaris also benefits from upgrades to its established Toyota Safety Sense features. The Adaptive Cruise Control (ACC) has been revised to respond more quickly and operate with a more natural feel. For example, when another vehicle moves into the Yaris's lane, deceleration is more gradual. The driver can also select a longer vehicle-to-vehicle distance setting for a more comfortable gap and the system's curve speed reduction is activated earlier, giving smoother speed control.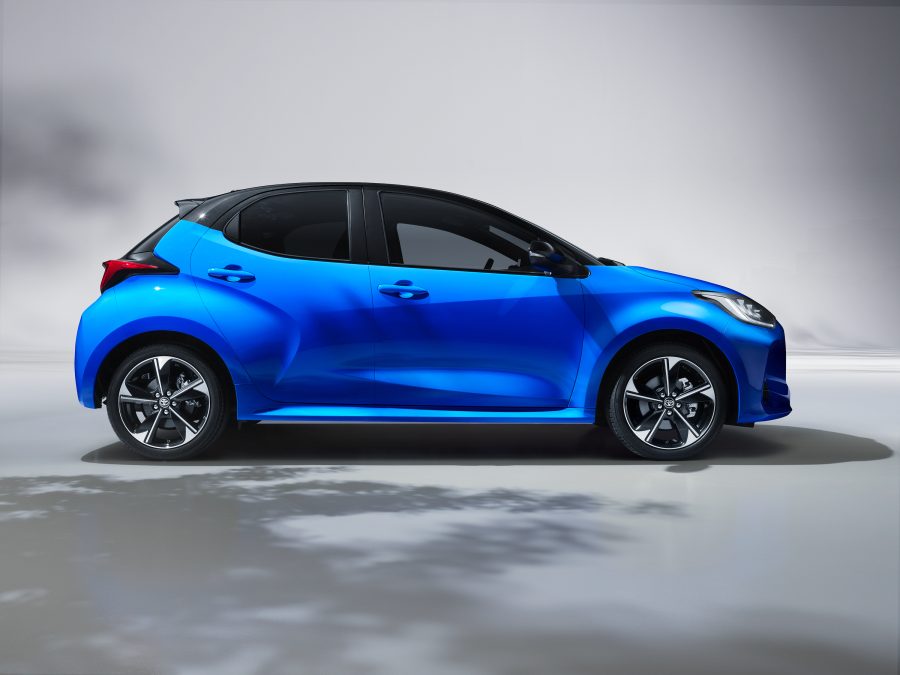 New systems have been added to the Adaptive Cruise Control for safer overtaking: Overtake Prevention Support prevents unintentional overtaking on the wrong side of a vehicle ("undertaking"), and Preliminary Deceleration/Turn Signal Linked Control helps the driver safely re-join the traffic lane at an appropriate speed and distance from other vehicles.
The Lane Departure Alert (LDA) now recognises when the driver has moved out of the lane while trying to avoid an obstacle (pedestrian or other road users) and temporarily cancels the Lane Departure Warning. The lane-centring function of Lane Trace Assist (LTA) has also been changed so that the car will deliver a more natural feeling. The Road Sign Assist has been enhanced so just a one-touch adjustment of the speed limiter is required to match traffic sign information.
2024 Toyota Yaris: refreshed styling and Premiere Edition
At launch, the new Yaris range will include a special Premiere Edition version, a halo model that showcases the model's full range of new features. This will be offered with the new Hybrid 130 powertrain (details below), a new dedicated Neptune Blue bi-tone paintwork with a contrast black roof and pillars, and new-design 17-inch black machined alloy wheels. The blue theme is repeated in the seat upholstery stitching and deco lines on the instrument and door panels. The Premiere Edition will also be available in bi-tone Platinum Pearl White or Silver Metallic paintwork.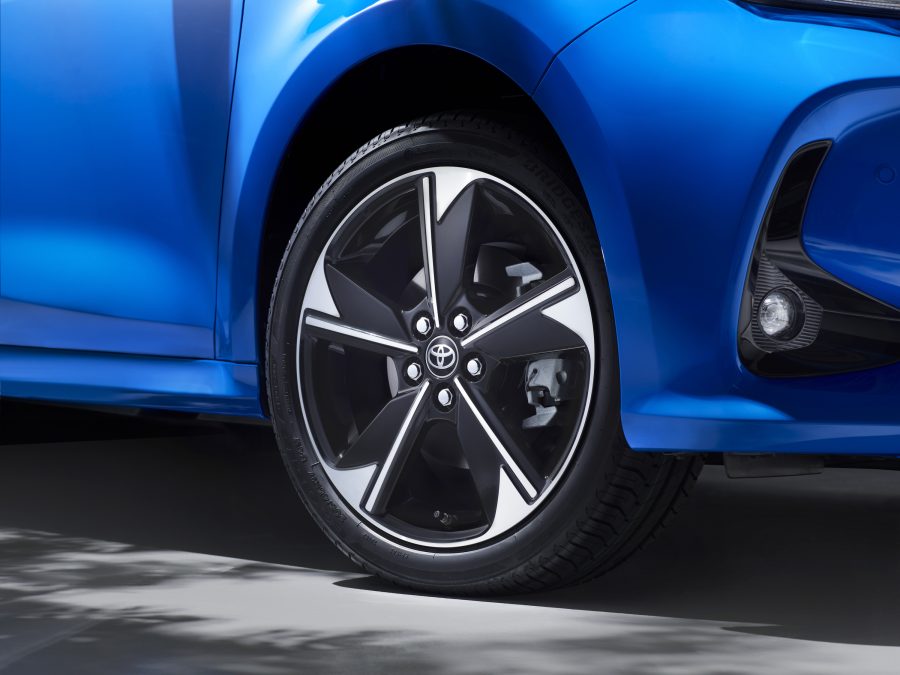 Elsewhere, new five-spoke alloy wheel designs will be introduced, in silver or machined finishes respectively. The interior seat upholstery has also been refreshed with a new pattern. A new Juniper Blue paint option will be available across the Yaris range.
In other respects, the new 2024 Toyota Yaris retains the muscular, "condensed agile" lines that distinguish it from other B-segment models and give it the sense of being full of energy and always ready to go. Its sporty profile is made possible thanks to its GA-B platform: overall height and length are compact, but the wheelbase and front and rear tracks are generous, giving a planted look and helping secure good cabin space. The short overhangs add to Yaris's nimble character in urban driving, giving the car a suitably tight 5.2m turning radius (with 16-inch wheels) – ideal for city streets and tight parking spaces.
The interior follows a "less is more" concept. It's a sharply designed space that has the high sensory quality and spacious feel of a car from a class above. Details include soft-touch padding across the dashboard; soft felt inserts in the door panels; a wide front console; a low-set hood for the driver's instrument binnacle; and a small-diameter, sporty steering wheel.
More power and a more rewarding drive
The updates to Yaris's full hybrid electric powertrain are central to the model's enhanced appeal, delivering both higher performance and a more engaging driving experience. These qualities are increasingly important to prospective B-segment customers, especially those seeking to downsize their choice of car. With the new Yaris, customers can now choose from two hybrid powertrains to suit their needs while still benefiting from class-leading environmental performance.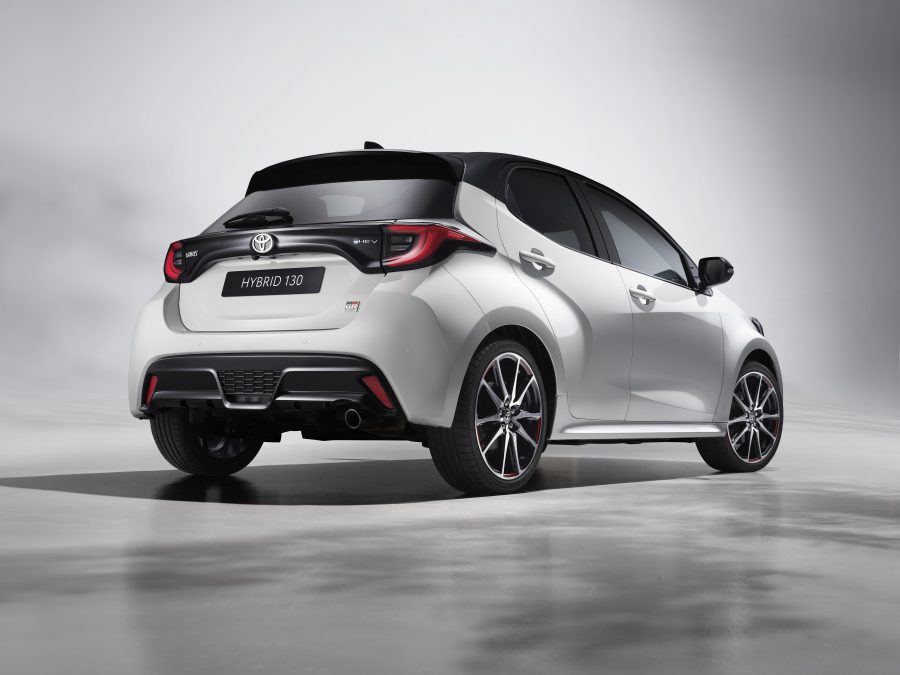 On its debut, the 1.5-litre system was praised by media and motorists alike for its exceptional fuel and emissions efficiency and how it enabled the car to be driven for longer and further in all-electric EV mode. By deploying the transaxle from the latest, fifth generation of Toyota's market-leading hybrid electric technology, it now offers more power, more torque and more rewarding driveability.
A new transaxle with a larger and more powerful electric motor-generator and revisions to the power control unit's (PCU) software and hardware have raised total system output by 12 per cent, from 114bhp/85kW to 129bhp/96kW. There's a significant hike in torque, too, with the maximum from the MG2 electric motor increased by 30 per cent across the total rev band, from 141Nm to 185Nm.
This translates into noticeably faster acceleration, not just for the 0-62mph benchmark, but more importantly for nimbler progress at overtaking speeds. Half a second has been taken off the 0-62mph time (9.2 seconds), and there's also a reduction in the 50 to 75mph time to 7.5 seconds. These gains have been secured with only a modest upshift in CO2 emissions; the Yaris retains its best-in-class status in this regard, with 96-116g/km. All performance data remain provisional prior to official homologation.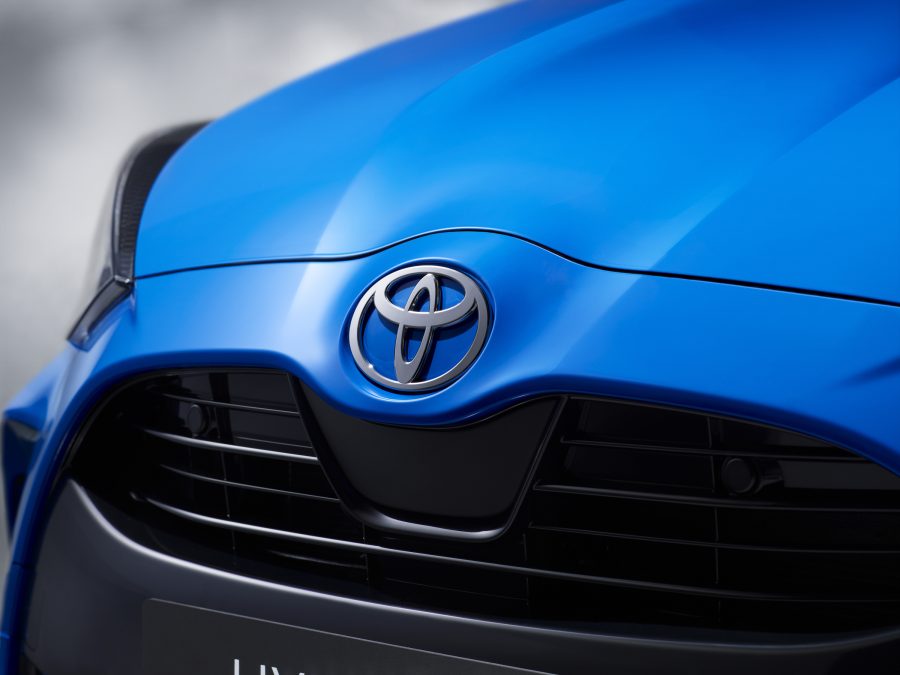 Of course, adding power is just part of the story. It's how the driver experiences the car's performance that makes the real difference. With the increase in torque delivered at all engine speeds, the result is a stronger, more responsive and more dynamic feel.
The hybrid electric powertrain is the number one deciding factor for people choosing to buy Yaris. By adding increased performance to the mix, its appeal will be even greater – smooth and nimble around town and poised and confident on the open road.
With the new "dual hybrid" offering in the new Yaris line-up, customers can choose between the well-established Yaris hybrid powertrain with best-in-class environmental performance, now named Hybrid 115, or the new system, Hybrid 130, which delivers higher performance while maintaining class-leading environmental qualities.
The new 2024 Toyota Yaris Premiere Edition and GR Sport models will have the Hybrid 130 as standard*.
* UK specifications to be confirmed at a later date.
All information is correct at the time of publishing.