The 2023 Toyota RAV4 has unveiled a series of upgrades and a raft of enhancements that focus on improving life on board with new multimedia systems and a customisable new digital driver's instrument display. Safety is enhanced, too, with new functions added to the Toyota Safety Sense systems. The changes are rolled out across the full range of hybrid electric and plug-in hybrid electric models, making the world's original and best-selling recreational SUV an even more desirable proposition.
2023 Toyota RAV4: new multimedia system
The new RAV4 adopts Toyota's latest multimedia system which features a larger,10.5-inch screen with a high-definition colour display.
The standard system provides cloud-based navigation that allows for accurate journey planning with information that's constantly updated, plus live details of traffic and road events and how easy or hard it might be to find a parking place near your destination.
Thanks to the included four-year over-the-air "Smart Service" data package, customers can access Toyota's latest multimedia and navigation systems without having to pair their smartphones to the vehicle.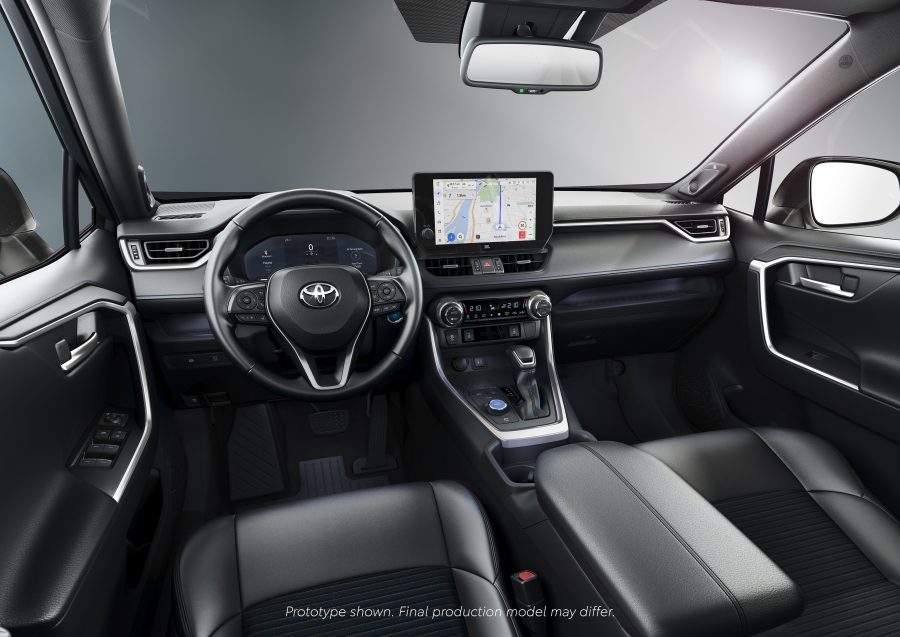 The user experience is seamless with the accompanying MyT smartphone app, so customers can keep track of various vehicle information, such as driving analytics, fuel levels, warnings and "find my car" function. There's also the time-saving convenience of being able to use the app to book service and maintenance appointments at Toyota centres.
Smartphone integration with Android Auto® is available and for added convenience, wireless smartphone integration with Apple CarPlay® is featured as standard.
There are more ways to communicate with your car using the new on-board voice agent that will respond to spoken requests to adjust the climate control, choose multimedia options, make a phone call, or open and close the windows. "Hey Toyota" is designed to understand conversational speech, so if you say "I'm cold" it will respond by closing the windows or raising the air conditioning temperature.
A further, optional multimedia system is also available, offering additional functions. It introduces an embedded navigation system that will operate when no data connection is available. It also recognises highway signs and can provide local weather alerts and notify the driver of restricted LEZs (low emission zones).
Remote services
The new RAV4 comes with more remote functions the driver can make use of without having to be in or near their vehicle. The familiar worries about whether you have left a window open, the doors unlocked or the lights on after you've walked away from your car are addressed with remote notifications to confirm the vehicle is secure. This feature is standard on all new RAV4 models.
You can also lock and unlock the doors – a handy feature if someone without a key needs access, for example to drop off a parcel or to clean the car. The hazard lights can also be flashed, making the vehicle easier to spot in a big or busy car park. These features are newly standard on mid-grade models, together with remote operation of the climate control to warm up or cool the cabin before making a journey.
2023 Toyota RAV4: new digital combimeter
It's a feature of all-new Toyota models that the driver can view and take in key vehicle data at-a-glance, so there is the least distraction from their focus on driving and the road ahead. The new RAV4 introduces a new digital combimeter in the instrument binnacle that comes with flexible display settings. There is a choice of four styles and three layouts and personalisation options for the 12.3-inch display so the driver can choose the most relevant information needed between the numerical speedometer and digital dials, as well as other information such as an eco-driving meter, audio track information, or Adaptive Cruise Control display, among others.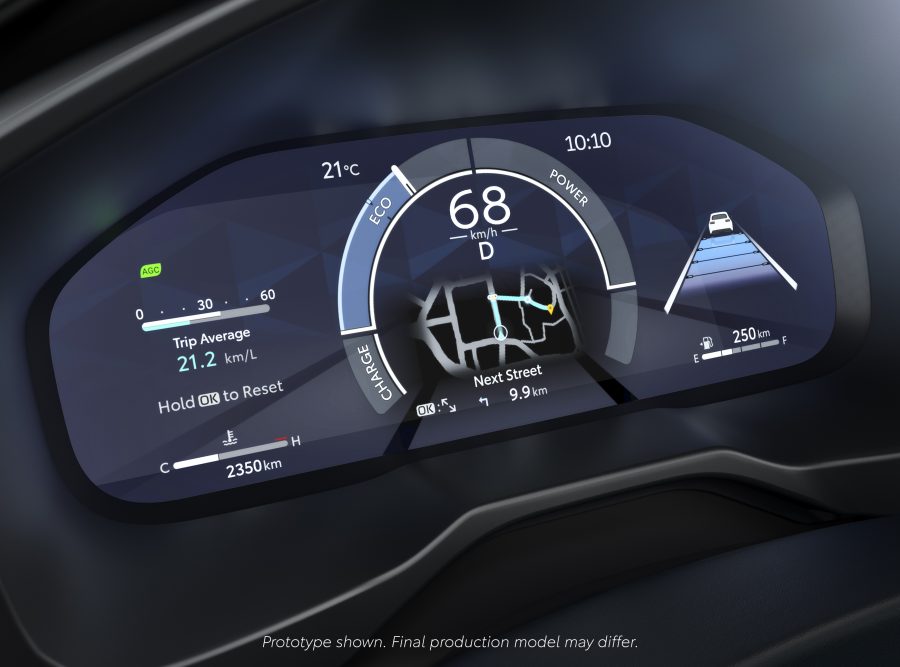 These layouts are presented in four different style themes for a more customised look and feel: Casual, Smart, Sport and Tough.
The new unit is standard on all grades apart from the entry-level Icon model which uses a 7-inch version of the combimeter.
2023 Toyota RAV4: enhanced Toyota Safety Sense
The new RAV4 gains enhanced Toyota Safety Sense functions that can warn the driver and help avoid a wider range of common road accident risks.
The Pre-Collision System (PCS) gains intersection support that can help with safer turns at junctions. It will detect if the car is about to cross the path of any oncoming traffic, and if there are any pedestrians crossing the road into which the vehicle is moving, alerting the driver and, if necessary, initiating braking control to help avoid an impact.
Emergency Steering Assist is also newly provided, helping the driver avoid a pedestrian who has stepped into the road while keeping the car under control and within its traffic lane. On the RAV4 Plug-in, the system will also recognise and react to bicycles and parked vehicles. The RAV4 Plug-in's PCS also gains the ability to detect oncoming vehicles in the car's traffic lane and reduce the risk of a head-to-head collision.
New exterior colour
A new Platinum White Pearl exterior colour is being introduced for all grades of the RAV4 Plug-in Hybrid and Hybrid. Dynamic grade will see the introduction of a Platinum White Pearl bi-tone with Midnight Black Metallic for both variants.
Production of the 2023 Toyota RAV4 will begin during the third quarter of this year.
All information is correct at the time of publishing.