In the world of science fiction, robots are typically know-it-all machines, frequently portrayed with deadly intentions beneath their expressionless features. Robots have long since made the move from fantasy to reality and become a familiar part of modern life, from the factory floor to the home.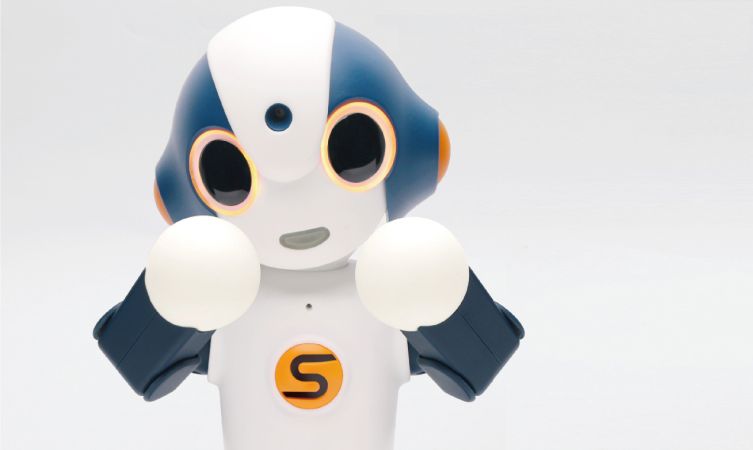 Toyota believes there is much that robots can offer society
However, Toyota believes there is still much that robots can offer society. They can provide valuable services such as focused medical rehabilitation and companionship, especially for those who live alone or are deprived of social contact. Robots also play an important role in Toyota's transition to a mobility company by providing means of independence and freedom.
Even though the machines are increasingly sophisticated, Toyota remains faithful to the notion that robots and artificial intelligence should not replace humans. Instead the technologies should always be human-centric and preserve the human sense of control.
This post examines the world of Toyota humanoid robots, looking at the tasks they can perform and the technologies currently under development.
T-HR3: the Toyota Humanoid Robot
Toyota revealed its first 'partner' humanoid robot in 2005 and has since constantly improved its ability to move and perform tasks. T-HR3 was launched in 2017 and the latest version, presented in 2019, is a machine capable of sophisticated, flexible movements that mirror the actions of a human operator who can be up to 100km away. Standing 1,540mm tall and with 32 articulating joints in its body, the robot is balanced and able to undertake a wide range of tasks in many different environments.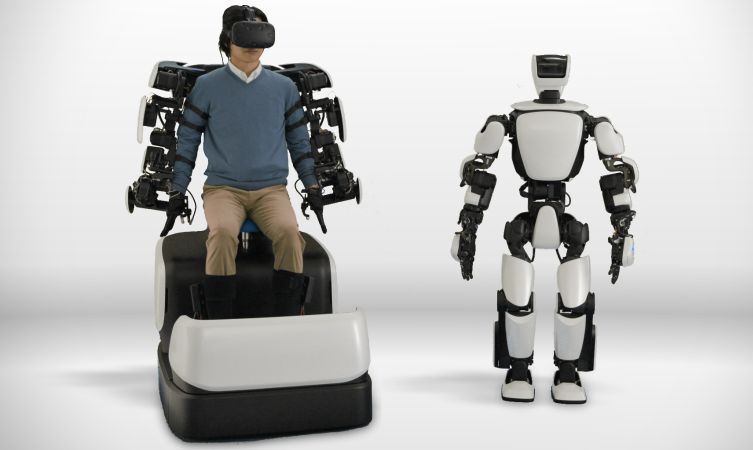 The operator uses a Master Manoeuvring System to control movement, right down to finger level. These lightweight controls are strapped to the operator, including a VR headset which shows them to view the robot's surroundings in real time. The development of finger control has enabled T-HR3 to do more delicate and precise tasks, increasing its functionality.
Another key development of T-HR3 is its ability to continue to be operational even if some of its joints stop working. For example, with its increased range of movement, it might scoop up an item from the side, if it is unable to pick it up directly.
The robot's basic human shape makes it easier for a human to control without the special training required of a more complex design. It also makes it easier for the robot to operate in environments that are designed to suit humans.
Tomohisa Moridaira, team leader for the development of T-HR3, said: "We still have to overcome many development issues. But in the future, people will be able to extend their ability to move and experience the world using remote avatar robots. The ability to offer new mobility services like this is a goal that is well-suited to Toyota as it transforms into a mobility company.
"We think there will be important future applications, such as providing proper care for the aging population, including helping reduce the travel time for carers and increasing communication time via robots, or enhancing the abilities of people who need care to do more for themselves. We want to use the technologies we have developed to help realise a society in which everyone will be able to maximise the time they have and live active lives."
Toyota WelWalk WW-200: rehabilitation robot
Now commercially available as a medical aid, the Toyota WelWalk WW-200 is a robot can help people regain power of movement after suffering lower limb paralysis through strokes, injuries or other causes.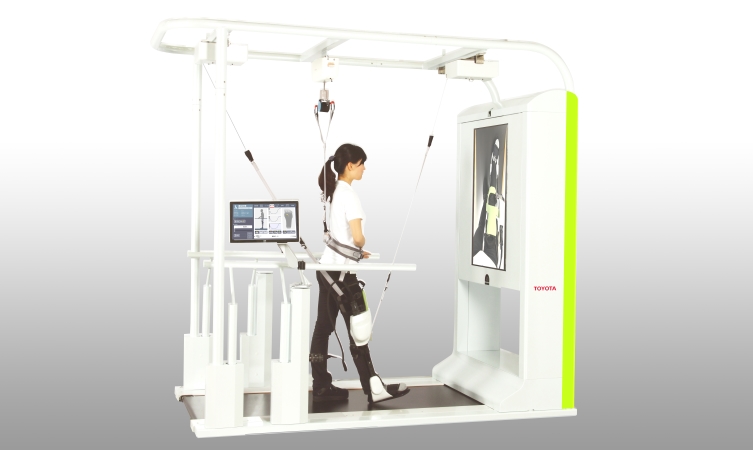 Toyota began developing rehabilitation assist robots in 2007, working with Japan's Fujita Health University. It has worked on their functionality and ease of use to give patients better support and ease the workload for therapists.
The user wears a robotic leg and special footwear to walk on the spot on a gentle treadmill. Their posture and gait are displayed on a screen in front of them, giving an instant picture of how their rehabilitation is progressing. The latest model shows assistance settings in real time and a game function that motivates users to persevere with their training.
The WelWalk WW-200 is being manufactured at Toyota's Motomachi factory and up to 50 units a year are expected to be delivered to customers.  It is another example of how robots are supporting Toyota's vision for the freedom of mobility for all.
Kirobo: a friend at home and in space
Kirobo – a name that combines the Japanese word for hope and robot – made history when it spent 18 months orbiting the earth on board the International Space Station in 2013. Measuring just 34cm tall, Kirobo was developed to operate in zero gravity, with speech, facial recognition and video recording functions.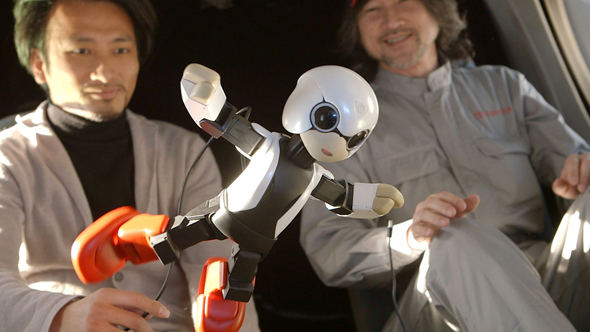 While Kirobo's mission was specialised, it led directly to the production of Kirobo Mini, a smaller version that can sit in the palm of the hand. Toyota's concept was to provide people with a friendly companion who would recognise their face and certain emotions and interact with them with expressions and words of greeting, support or encouragement.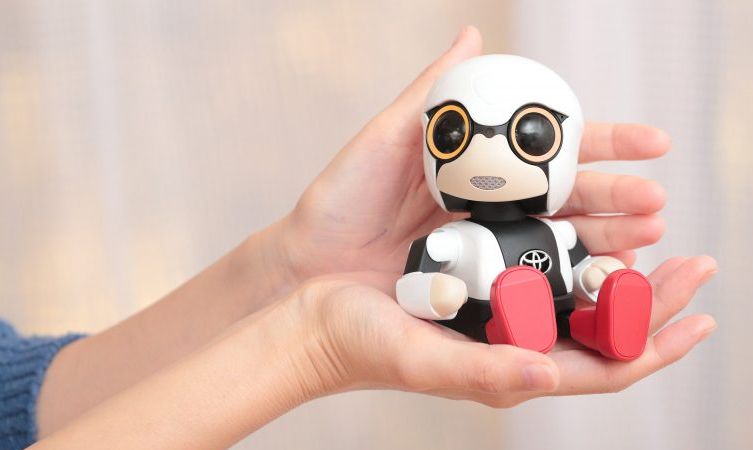 Kirobo Mini was made commercially available in Japan, together with an operating app. It too plays a role in mobility, giving people new experiences and encounters that can inspire them emotionally.
CUE4: the basketball star
CUE4 is a sharp-shooting robot basketball player that has proved its skills on court with one of Japan's top teams. Its development began as a spare-time project for a group of Toyota technicians but proved so successful that it now forms part of their day-to-day work.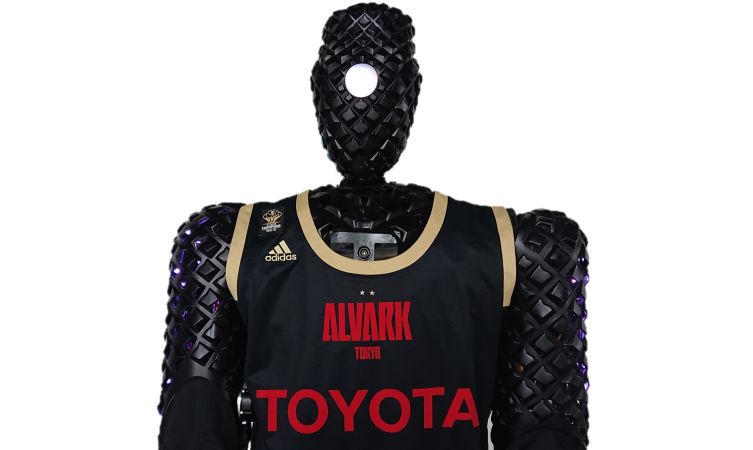 Successive CUE models have been produced, each with improvements in performance, accuracy and athleticism. CUE3 set a new world record by landing more than 2,000 consecutive baskets in the summer of 2019. And this year CUE4 was revealed, a robot that can run around the court unaided thanks to an integrated electric motor. It is equipped with a human-like hand that can pick up a ball, aim and shoot.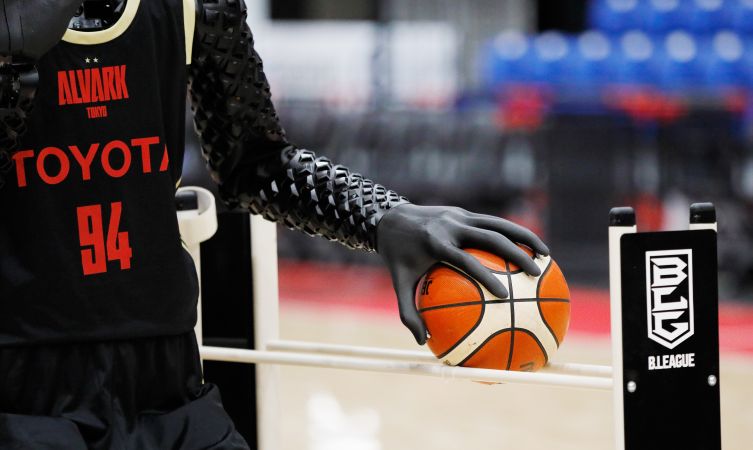 Although CUE4 provides entertainment, it also demonstrates how Toyota can apply robotics to build machines with increasingly sophisticated capabilities.
Read more: Robots and broomsticks – Toyota at the 2019 Tokyo Motor Show