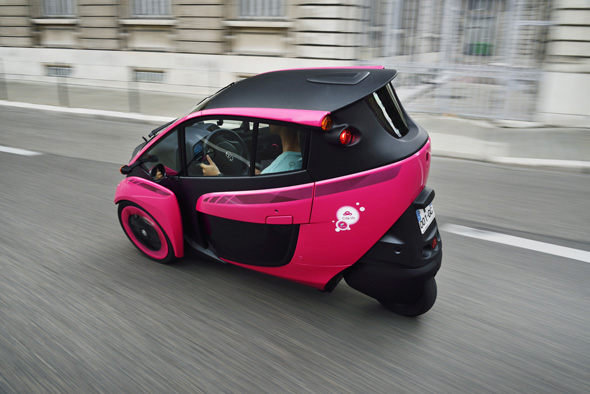 Wired has said the Toyota i-ROAD could be the perfect electric vehicle, thanks to how it is being adopted in a trial which begins in Grenoble, France, in October.
Toyota is part of a programme called Cité lib by Ha:Mo. Other partners include energy firm EDF – and its subsidiary SODETREL – which installs, manages and maintains electric charging points, and Cité lib, a well-established local car share operator.
From 1 October, any Grenoble resident 18 or older who holds a valid driving licence can register with Cité lib, to gain access to the Toyota electric vehicles.
People will be able to pick up a vehicle and drop it off at any of 27 charging stations in the greater Grenoble area. When the vehicle is dropped off, it is plugged into the station to be recharged and ready for the next customer.
Wired points to this partnership as key to the i-ROAD's appeal. It says the two biggest problems with electric vehicles are their limited range and high purchase cost.
"Ha:Mo solves neither problem, but sidesteps both," says Wired. "On a full battery, the i-Road can drive about three hours at a presumably limited speed. That's actually excessive for vehicles meant to be used for a few minutes at a time and charged in between.
"Cost isn't an issue because people are renting the vehicles (at a reasonable rate), not buying or leasing them. EV ownership may not happen on a grand scale for years or decades. In the meantime, these vehicles fill the niche that is open to them."
That, says Wired, is why "it may be the perfect application of electric vehicles."
Read the full Wired article: France's Bizarre Three-Wheeled Buggies May Be the Perfect EVs.
The i-ROAD is part of a three-year pilot in Grenoble where the programme partners will gather data on technical issues and user behaviour to help shape future mobility initiatives.
See also:
Toyota i-ROAD to begin French urban mobility trial
Toyota i-Road hits the streets in first public trial
Toyota i-ROAD hits the roads of Japan
World-first drive of the Toyota i-Road electric concept