Why does Toyota compete in the 24 Hours of Nürburgring (20-23 June 2019) in addition to the 24 Hours of Le Mans? Is it because they are both day-long endurance races, or is there more to it than that? We investigate the reasons why.
What makes the Nürburgring unique?
The Nürburgring's 13-mile long Nordschleife (North Loop) is formally classified as a circuit. But its layout means it more closely resembles a winding European mountain road. It offers 170 corners of varying lengths, slow, technical sections, high-speed straights, and a maximum elevation difference of 300 metres.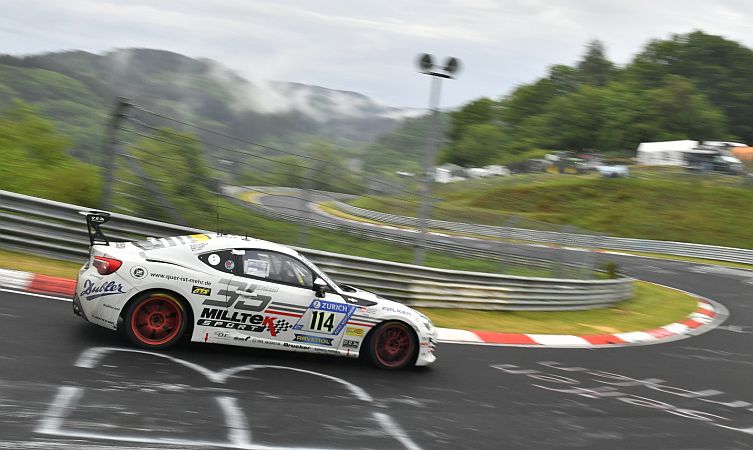 The Nürburgring uncovers 100% of a car's capabilities
Comparing the loop with Japanese circuits further emphasises its vast scale. Toyota's own Fuji Speedway is 2.83 miles long and consists of 16 corners, while Suzuka Circuit is 3.6 miles long with 20 corners. Both tracks offer an elevation change of just 40 metres.
What's more, this weekend's 24-hour race will use an even longer track layout, measuring 15.77-miles and incorporating the Grand Prix circuit and the Nordschleife.
Due to changes in paving technologies applied since the first sections were laid in 1927, the surface of the Nürburgring is almost entirely uneven. The course is narrow, escape zones are virtually non-existent and it is possible for cars to take off at some points. It is has been said that the Nordschleife condenses the world's roads into a single circuit and becomes more fearsome the more it is driven.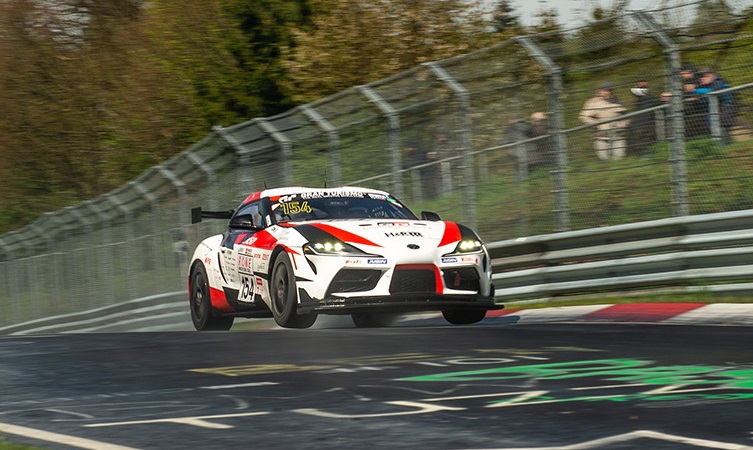 The 'Green Hell' – heaven for vehicle development
As a general rule, a road car should be comfortable, easy to drive, responsive to driver inputs and behave predictably, whether in normal or extreme driving conditions. You shouldn't need to fight with a car or feel forced to rely on electronic controls to stay in control. To this end, the fundamental performance qualities of each car must be refined. But where do you test these?
No other road route is as demanding of both the car and driver as the Nürburgring. It requires a meaningful dialogue between both parties in order for the driver to extract as much speed and enjoyment as possible while simultaneously maintaining a broad margin of safety.
https://www.youtube.com/watch?v=wEKQ8–4hjU
The fact that the Nürburgring offers manufacturers an opportunity to take on everything from single-lap time trials to punishing enduring racing series makes it the ultimate vehicle proving ground. It allows engineers to supplement clinical machine data with the subjective analysis of experienced master drivers, who can provide more nuanced, emotion-led feedback.
The highest level within this development programme is delivered through competition in the 24 Hours of Nürburgring. Widely regarded as the world's most demanding road race, it enables Toyota to refine its sports cars, discern and enhance their unique 'flavour,' test new technologies, and provide clear direction for the creation of ever-better cars.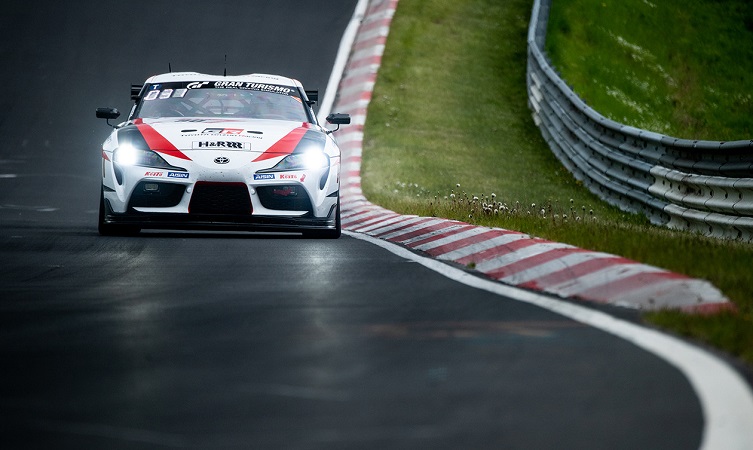 Does the Nürburgring provide further opportunities?
Absolutely. While the pit lane at Le Mans is staffed with professional race technicians, the Nürburgring garage is usually populated with engineers drawn from Toyota's worldwide vehicle development teams. It is a great privilege to be invited to become part of the team in this 24-hour event, and it is expected that those who compete and grow in such a demanding environment will go on to apply their experience to vehicle development in the future.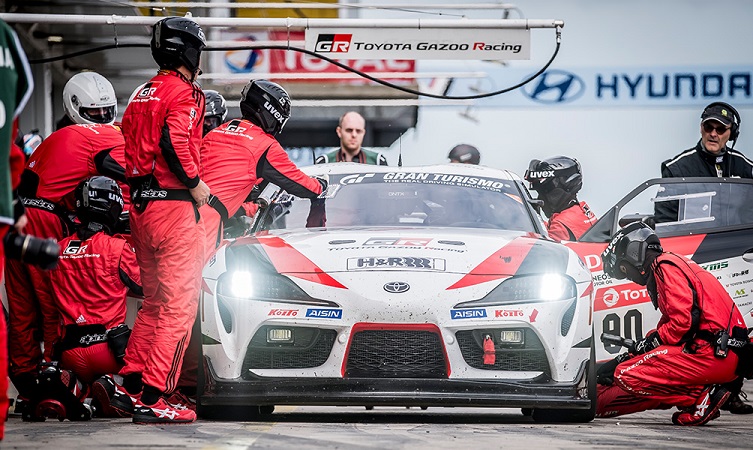 A brief of history of Toyota at the Nürburgring
Toyota first visited the Nürburgring more than 45 years ago to provide technical guidance to renowned master driver Hiromu Naruse, who was competing in the 6 Hours of Nürburgring at the wheel of a first-generation Celica 1600 GT similar to that seen below.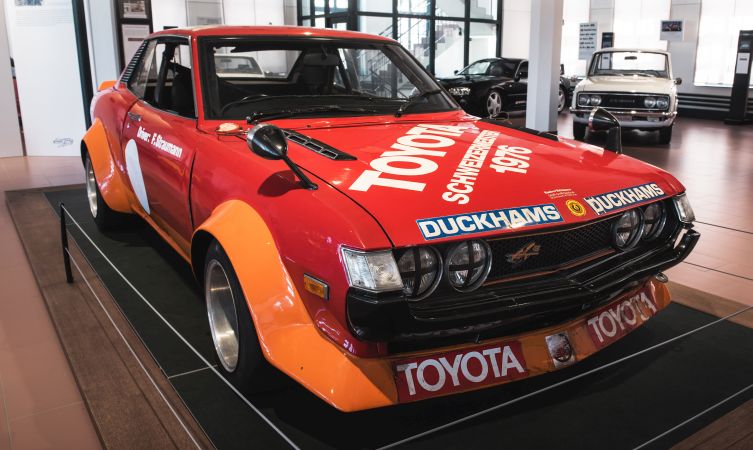 Naruse immediately recognised the course as an extraordinary place and instinctively felt that it could be used for vehicle development. From that point on, he lobbied for new performance-oriented models such as the 1978 Celica XX (known elsewhere as Celica Supra) to make their domestic media debuts at Japanese race tracks for testing. However, Naruse was not entirely satisfied with this move.
He commented: "Japanese circuits only reveal one-tenth of a car's performance but the Nürburgring uncovers 100% of a car's capabilities. For this reason, it is impossible to misrepresent a car at the Nürburgring."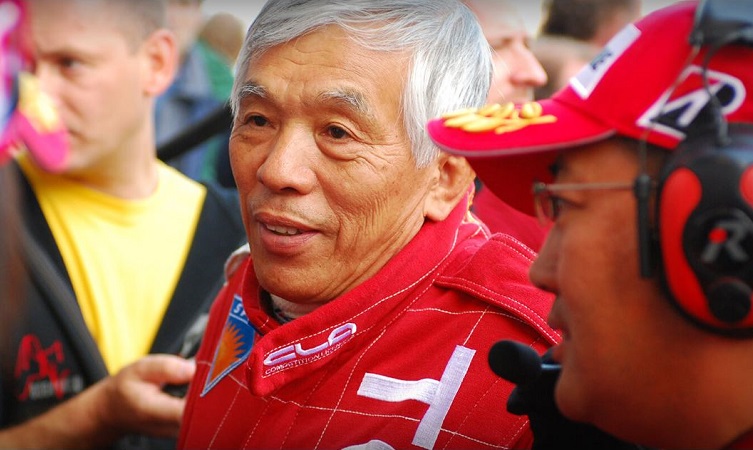 It is impossible to misrepresent a car at the Nürburgring
Fast-forwarding to the late 1980s, Naruse's persistence finally paid off. For the first time, the Nürburgring became an integral part of the development of a new Toyota model – the fourth-generation Supra. Indeed, before his untimely death in 2010, Naruse (above) had logged more development hours around the Nordschleife than any other Japanese driver.
Discontinuation of the MR2, Celica and Supra model lines meant that by the mid-2000s Toyota had no more sports cars in its line-up. But the enthusiasm for performance engineering and racing remained undiminished.
As evidence of this, Gazoo Racing was inaugurated in 2007 and this new motorsport division immediately entered the annual 24 Hours of Nürburgring – a punishing endurance race it has gone on to compete in every year since.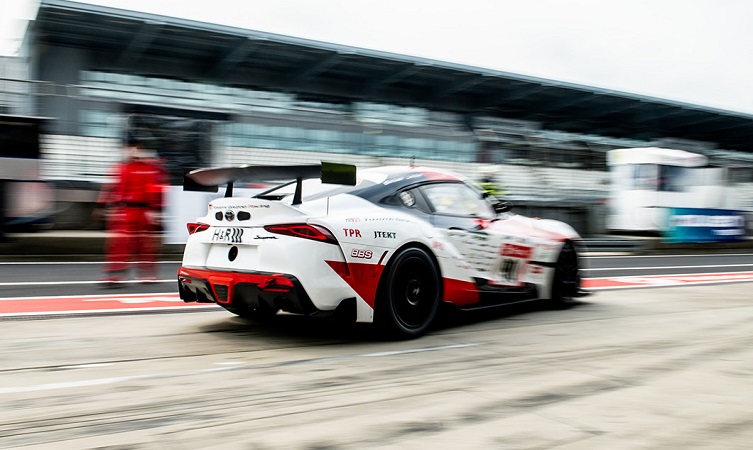 In recent years, use of the venue has increased to include competition in Germany's VLN endurance series as a means of seizing further development opportunities.
Round nine of the 2018 VLN series revealed the fruits of this approach when a prototype of the fifth-generation Toyota Supra was entered. Behind the wheel was 'Morizo' (the racing pseudonym of Toyota president Akio Toyoda), who had refused to give the new car its final seal of approval for production until it had proved itself in the heat of competition – just as his friend Naruse would have wanted.
Read more: Why does Toyota compete in motorsport?