The Toyota Yaris has always done space, reliability, and value well – very well in fact. But thanks to a multi-million pound overhaul in 2014; it can now add greater levels of driver enjoyment and interior quality that rivals cars from the class above, into its compelling mix.
We've trawled social media to show you who's taken the new model to heart.
Phyllis collects her fourth Yaris
Phyllis is well known to Steven Eagell Toyota as she's just collected her fourth Yaris from the group! Phyllis opted for a Chilli Red Yaris Hybrid, which is exempt from both Vehicle Excise Duty (road tax) and the London congestion charge for maximum smiles per gallon.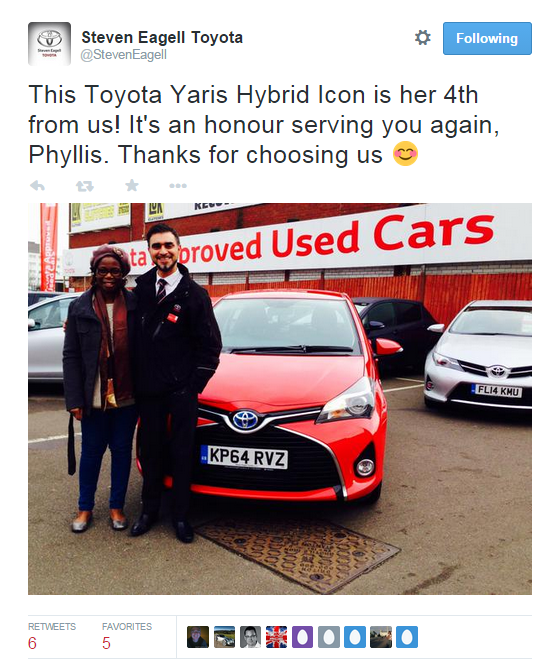 Autocar Next Generation Winner Jake Larsson
Jake Larsson spent a month working with us here at Toyota GB as part of a five-month industry placement he bagged by winning the Autocar Next Generation Award.
Launched in 2009 by Autocar in partnership with Courland International and the Society of Motor Manufacturers and Traders, and invites students to come up with an idea that they believe will provide a worthwhile benefit to the UK automotive industry. Jake's time with us obviously had a lasting impression – we're delighted to welcome him to the Toyota owner's fold!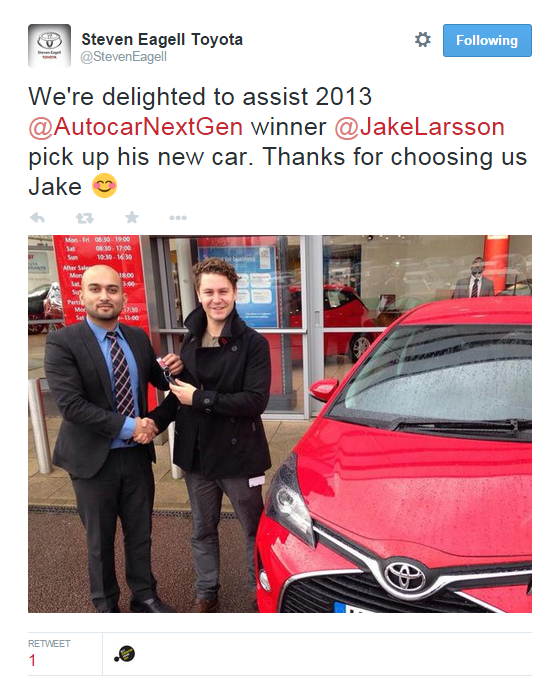 Mani's Christmas present to his wife
Don't get into a game of 'Christmas present top trumps' with newbie Toyota buyer Mani from Manchester's wife, because she was the lucky recipient of a Tyrol Silver Yaris Hybrid Icon this yuletide! We're not jealous, honest. Okay, we are.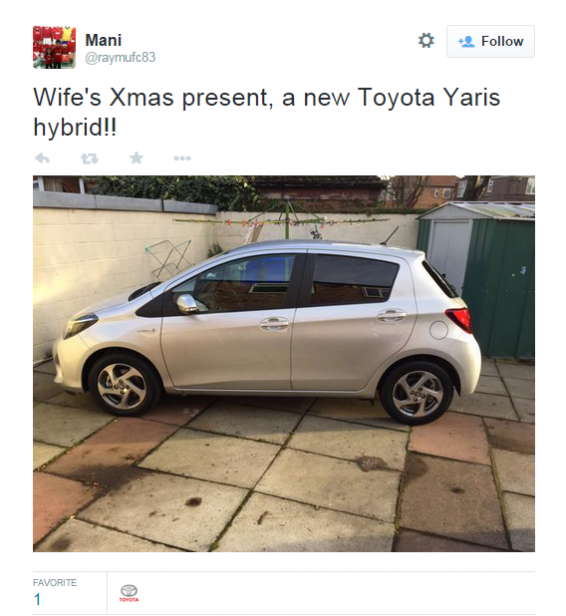 Thomas Clarke and Wayne Danby
As part of the Yaris' 2014 refresh, we introduced a new 'Sport' model, and after we photographed a Burning Red one in Britain's most haunted village – Pluckley in Kent – for Halloween, Thomas Clarke and Wayne Danby of Derbyshire and Newport, respectively, couldn't wait to tell the world just what they thought of theirs!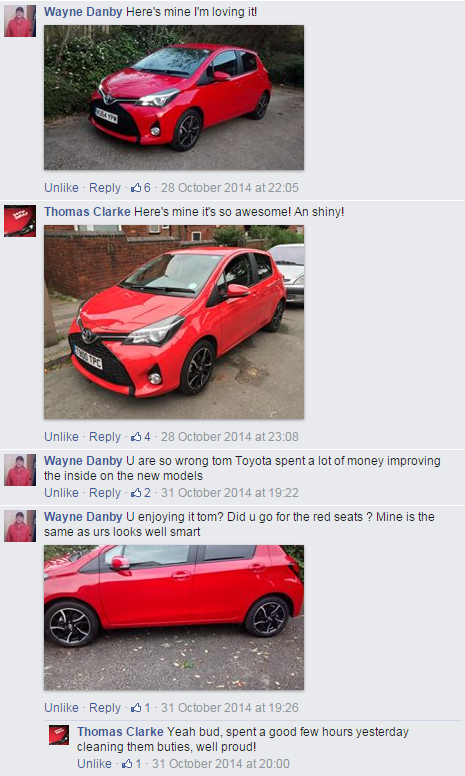 David Coulter
David Coulter purchased his Decuma Grey Yaris Icon in October. The eagle-eyed will spot that David is based in Northern Ireland by the car's registration plate. David snapped his Yaris in Co Fermanagh shortly after tweeting us in November to advocate it, he wrote: "Just say I have had my Yaris Icon for a month now and I love it." Happy motoring David!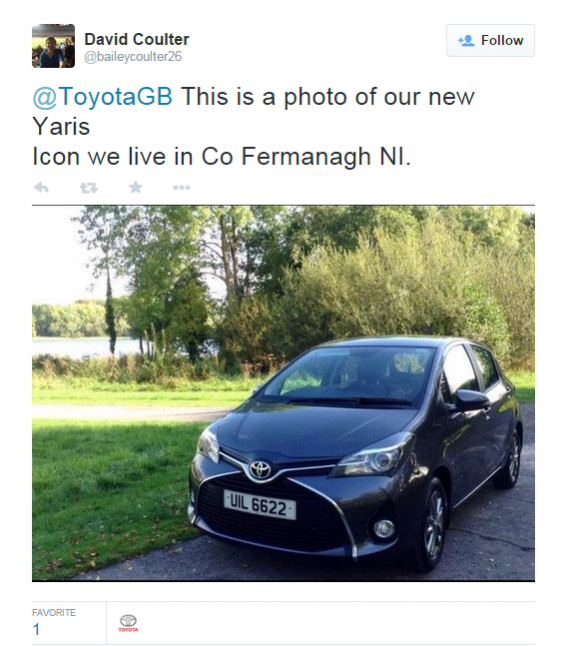 Pamela Palmer
Leicester-based dealer Farmer & Carlisle often share photos of customers picking up their new wheels; here's its latest – the visibly excited Pamela Palmer – whose coat matches the colour of her Yaris!