The UK's motoring press have been putting the Toyota C-HR through its paces. Here we round-up all of the coverage, from the compact SUV's launch event in Madrid to first drives on UK roads.
The following quotes are snapshots of their considered reactions. Click on the emboldened links to be taken directly to each full review.
UK road tests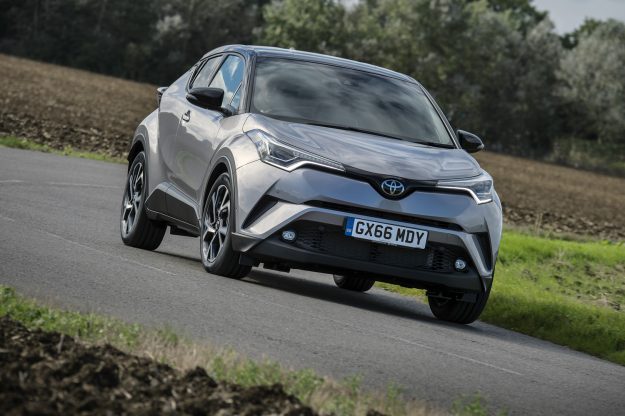 Andrew English, The Daily Telegraph (print): "Outside of a LaFerrari or the forthcoming Lexus LC, you'll not find a better example of a hybrid drivetrain than this. Around town it accelerates smartly and is frugal.
"The [Toyota] C-HR is set up soft but with good body control. So the car barrels down the road, breathing over undulations but not crashing through bumps. It's strange to drive something so softly sprung but with such good basic handling.
"The [Toyota] C-HR could have been ghastly, but to Toyota's credit it is not. In fact, it's likeable and in allowing a softer, more relaxed suspension, is good to drive, too."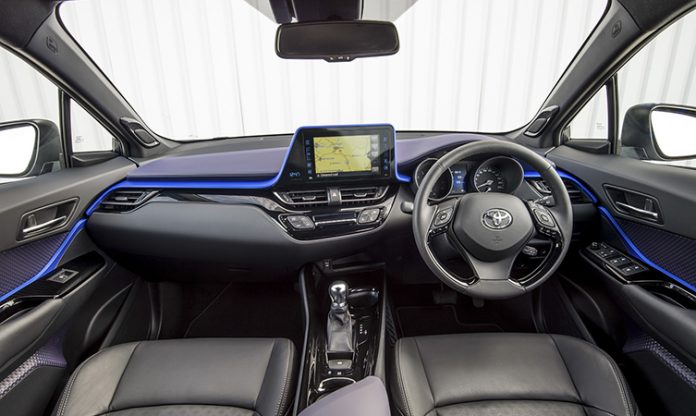 WhatCar?: "The 1.2-litre petrol is remarkably agile by small SUV standards, staying upright and hanging on gamely through tight twists and turns. Even its steering is accurate, delivering enough feedback to give you confidence through faster bends while staying light during low-speed manoeuvres.
"[It] rides quite well; it isn't soft and wallowy like some SUVs, so there's no nausea-inducing body bounce along undulating roads.
"The optional 10-speaker JBL system delivers good sound quality, even when you really crank up the volume.
"[The Toyota C-HR is] decent to drive, generously equipped and the hybrid version makes a lot of sense as a company car."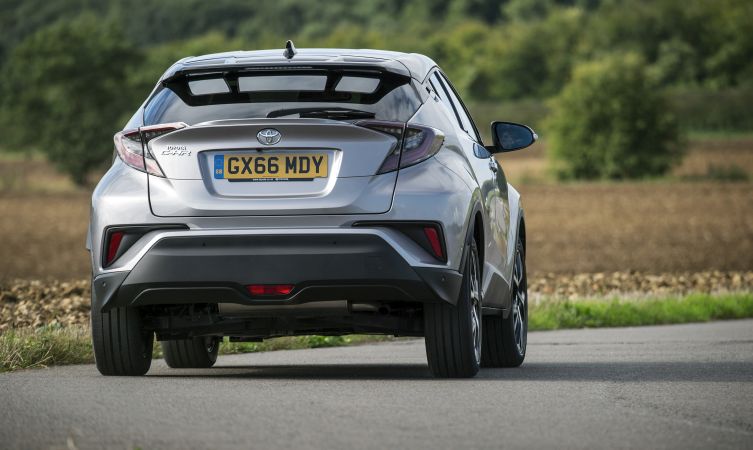 Matt Saunders, Autocar: "Thoughtful design and high-quality fit and finish are in plentiful evidence. We like the teardrop-shaped cupholders particularly, made to better admit a travel mug with a handle.
"The car steers with meaty feel and plenty of directional keenness, countering body roll well enough to maintain good resistance to understeer and responding as crisply when adding lock mid-corner as on initial turn-in.
"It rides with balance and sophistication – with just enough gristle in the gait to feel closely controlled over bigger bumps, but quietly and with decent suppleness."
European press launch – Madrid, Spain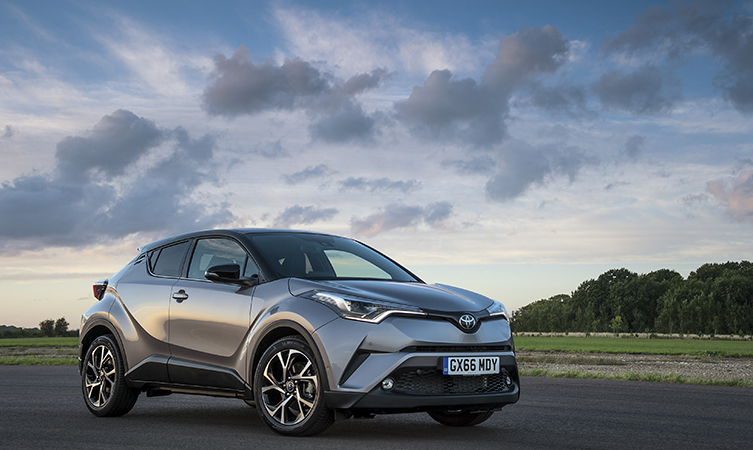 Maggie Barry, Daily Record: "[Toyota has] given the [Toyota] C-HR a distinctive look and added in a touch of quality that customers are going to love. And, of course, Toyota being Toyota, it is incredibly environmentally friendly.
"Inside, the [Toyota] C-HR is glamorous, plush and well finished – a bit of a gem actually, which might explain the diamond design cues throughout.
"The hybrid has a great turn of speed and is very well balanced [and] the 114bhp 1.2 petrol is a sweet performer, with impressive reactions on open roads or in town.
"This is a very important vehicle for Toyota and one that is going to challenge quite well-established rivals.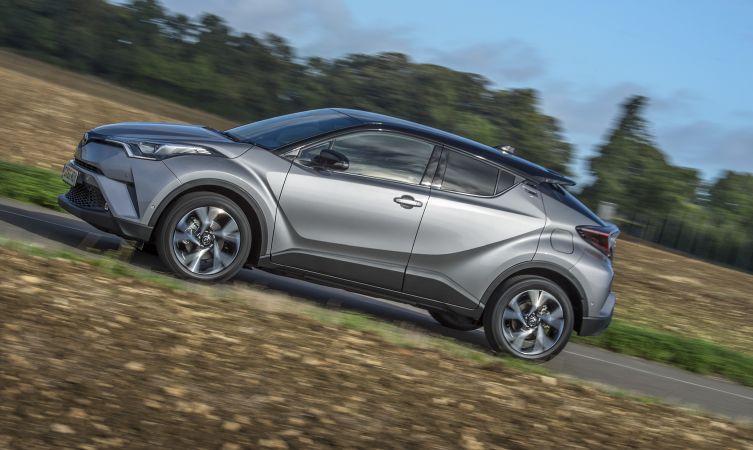 "It is the stranger in town, the newcomer roaming the streets as the dust stirs up the tumbleweed… you can very definitely drive happily off into the sunset with the [Toyota] C-HR."
Matt Prior, Autocar: "What did we do to deserve this? Be European, apparently, with our insatiable demand for nice things. That's where the design work has been done, and most of the chassis development, too.
"The [1.2-litre turbo] drives through its six-speed manual really sweetly but the real action for Toyota will be with the hybrid. Toyota's clever, compact hybrid system, which constitutes planetary gears so the electric drive motor and petrol engine can spin at whatever speed the car wants, is wickedly effective.
"The surprise… is that all of those Prius characteristics come in a package that looks and feels quite as funky as the [Toyota] C-HR."
James Disdale, Auto Express: "Walk up to the Toyota C-HR… and you'll be surprised by how big it is. Climb aboard and it's clear the designers' efforts haven't been limited to the exterior. Yet the most impressive thing about the interior is the quality.
"Engineers have spent a lot of time fine-tuning the car to European roads, and it shows. The steering is naturally weighted and progressive, there's strong grip, and body roll is well contained. There's also plenty of kit, with all cars featuring climate and cruise control, plus Toyota's Safety Sense set-up that brings adaptive cruise and autonomous emergency braking."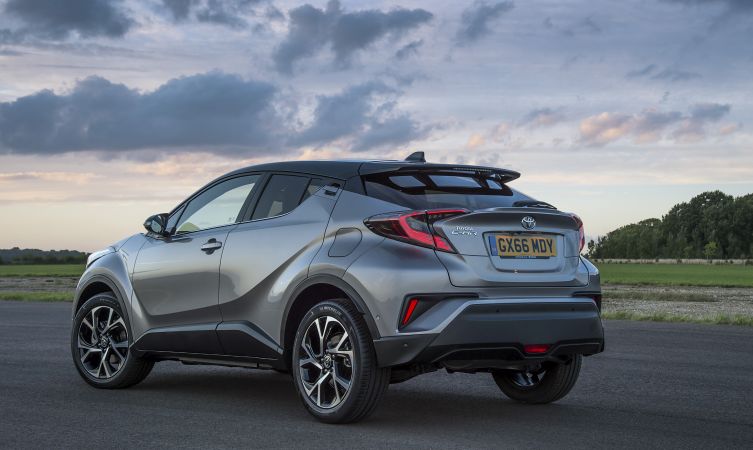 C J Hubbard, CAR: "It's like someone sent the unedited [Toyota] C-HR proof to the 3D printer, and Toyota's ended up accidentally putting a concept car into production. It's clear [who will be] the rock and roller among the parents outside playschool.
"The [Toyota] C-HR uses the… Toyota New Global Architecture platform, which is both usefully rigid and, thanks to some innovative suspension mounting points and a low-slung drivetrain, impressively vertically challenged when it comes to centre of gravity. Especially for a crossover.
"Accuracy and response are two words appropriate to the overall handling. This is an engaging device that punts round twisty roads and slices through city traffic rather nicely. Toyota says it was benchmarked against hatchbacks, not crossovers; we believe it."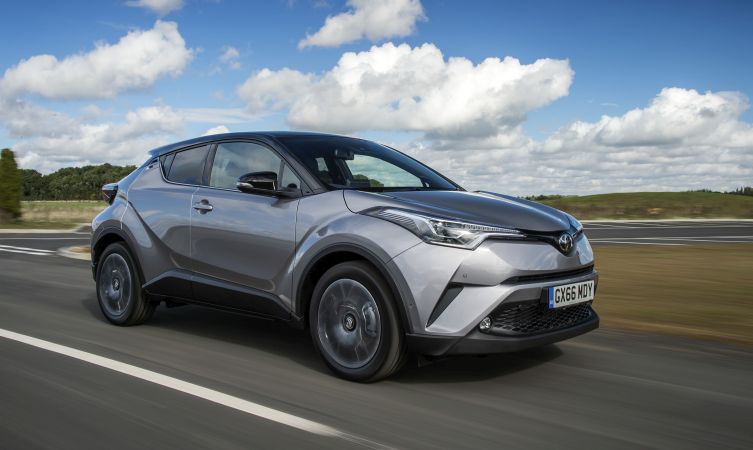 Contributor, Evo: "You can sit high as befits the high-rider idea, or you can set the seat and steering wheel lower and still see out properly.
"As for the 'response, linearity and consistency', they're actually very good indeed, as is the ride quality most of the time. Roll angles are low, the steering is very precise, front-end grip is terrific and there's a smidge of throttle-adjustability in the attitude. Job done there, then; few crossover-type cars feel as agile, connected and flickable as this one.
"The Toyota C-HR is… a bravely bold attempt to make crossovers more interesting. And chassis-wise, it feels the handiest of all of them."
Paul Horrell, Top Gear: "When we first saw it at motor shows, the [Toyota] C-HR made a big impression. Now we have reviewed it on the road, we can say this small Toyota crossover sure keeps its impact among traffic. Its striking looks are backed up by a genuine commitment in the dynamics and cabin quality.
"It's fun in a way we seldom get from crossovers. The [Toyota] C-HR rolls little and steers with consistent alacrity. It's very easy to place accurately on the road, and at the limit doesn't understeer much. It feels secure but will adjust its angle a little on the throttle. And yet the ride is pliable with little sideways rocking. That's the proof that the well-contained cornering roll is down to a low centre of gravity."
But before that they said…
All information is correct at the time of publishing