Alternative fuel types and environmentally-friendly ways of travelling were popular these in the entries for the 2016 Toyota Dream Car Art Contest.
Hundreds of entries were received for the competition, which encourages children aged eight to 15 to combine their imagination and creative skills to design what they think would be a great car for the future.
The best entries went on display at our Surrey headquarters, where staff members were able to vote for their preferences in each age group. Final judging then produced three winners in each of the three age groups, all of whom were invited to a prize-giving reception at the HQ building last week.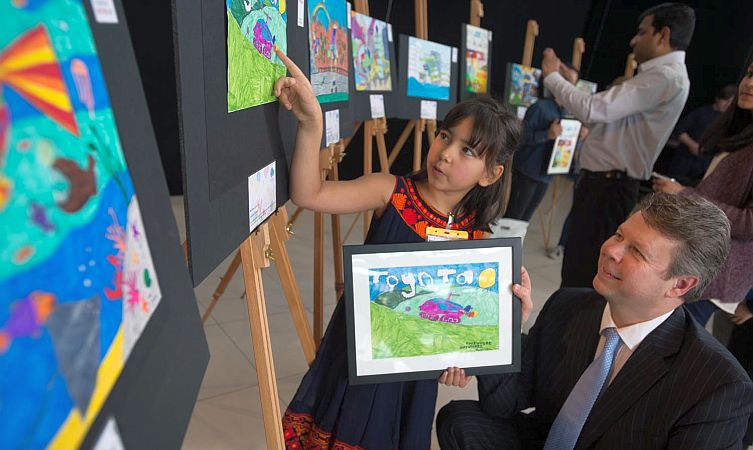 The occasion was hosted by Paul Van Der Burgh, President and Managing Director of Toyota GB, who congratulated the young designers on their skills and insights into how cars can be developed in exciting new ways.
The winners each received a framed copy of their work, Apple iPads, a goody bag and a certificate to mark their achievement. The winners of each age category in the UK competition will have their work entered into the global Toyota Dream Car Art Contest, with the chance of winning a trip to Japan.
Winners: under-eight category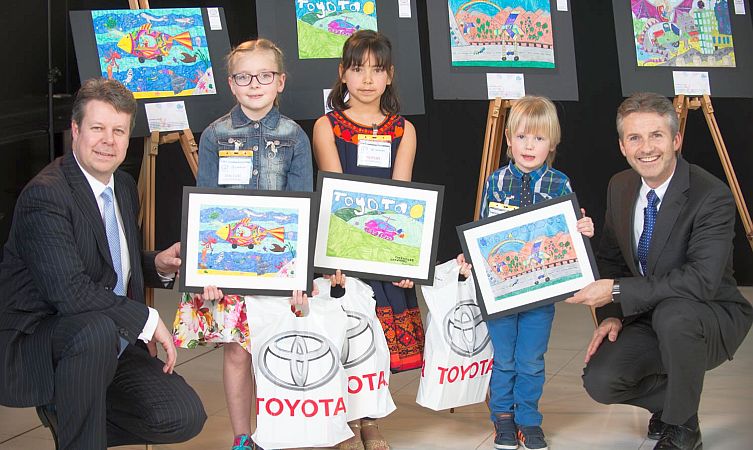 First place: Dominik Czopek, from Dumfries, Scotland, with Bubbly Jubbly Musical Car. A car with retractable wheels so that it can avoid colliding with other cars in accidents and wings to fly to avoid bad traffic. It uses dishwashing liquid for fuel so that bubbles are released instead of toxins. It also plays lovely music so that everyone is happy, healthy and safe, instead of making loud, bad sounds.
Second place: Maya Klein, from Ilford, Essex, with Everywhere, Anywhere. A car that lets Maya visit her grandma in Nepal at weekends, instead of every couple of years.
Third place: Tess Hudson, from Romiley, Stockport, with Underwater Fish Car. A car that is powered by water and uses the steering wheel to move the tail to steer underwater. It has a telescope and a bright light that shines so you can see deep underwater.

Winners: eight to 11 years category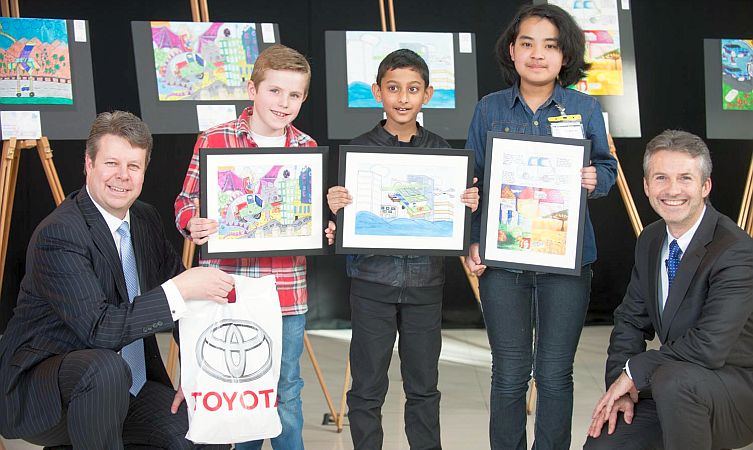 First place: Denisa Rissa, from Luton, Bedfordshire, with Camouflaging Car. A car that blends in with its surroundings to allow people to be able to study and look at animals without threatening them.
Second place: Advaidh Menon, from Palmersville, Newcastle upon Tyne, with Toyota Save Trooper. A flood rescue car with drone cameras to help rescue people from the recent flooding in the UK and other parts of the world. It can travel by road, water and in the air, and is powered by solar energy and hydrogen.
Third place: Archie Mills, from Lingfield, Surrey, with Minecraft Monster Machine. A cool gaming car that you can fly or drive. It takes you to your favourite Minecraft world and helps to avoid boredom when travelling in the car. You can sleep and play on the Xbox all in one car.

Winners: 12 to 15 years category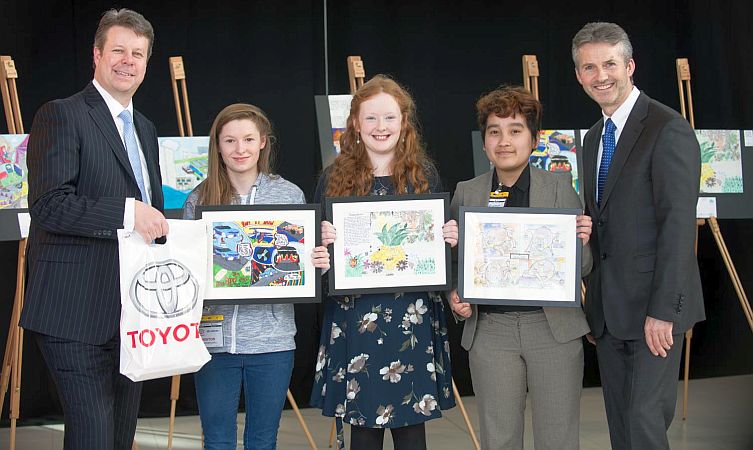 First place: Rachel Rissa, from Luton, Bedfordshire, with Toyota Strategy. Toyota Strategy (Specialised Traveller for Terrestrial Accessibility) is a car specially designed to tackle tracks with many obstacles, specifically mountains, cliffs, steep places and normally inaccessible grounds.
Second place: Elinor Whyte, from Helensburgh, Scotland, with The Pineapplelator. This car can help animals and the environment endangered by deforestation.
Third place: Amber Blake, from Tarbert, Scotland, with Change'o'matic. A car that can change its appearance on the outside.

Learn more: What concept cars will Toyota reveal at the Geneva motor show?