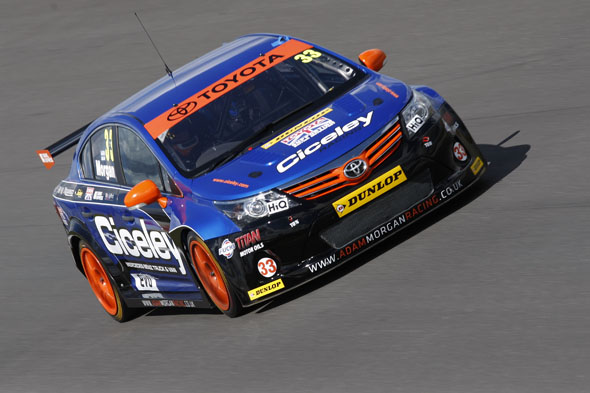 Adam Morgan blazed the trail for the Toyota men today, the Ciceley Racing BTCC Avensis driver claiming seventh on the grid at Snetterton ahead of Sunday's three races. It's the first time that 25-year-old Adam has turned out top of the Toyotas in official qualifying, and he achieved the feat despite a power steering glitch which spoiled a couple of his quick laps.
"The power steering seems to be struggling to cope with the demands of this circuit," said Morgan, who holds seventh place in the championship currently. "It is switching off and I have to reset the trip switches and start again, and then I was over-driving to compensate and I had a few off-track excursions. However, I can't argue with seventh – there are some good points to be scored from that grid position."
Adam's best lap of the session was completed in 1m 57.684s, four-hundredths of a second quicker than the lap time achieved by Speedworks Motorsport driver Dave Newsham, who will start race one from ninth position. Newsham made useful gains throughout the day but was disappointed that the fresh Dunlops used for qualifying did not result in a lower time: "We were P4 in the second practice session on used tyres… On the fresh tyres I haven't found nearly as much time as others. We found something, but I didn't expect so many people to go ahead of me. To be honest, the old tyres seem to have a better balance for us than the new ones, which may bode well for us come the races. We certainly have the pace to go well."
Dynojet Racing's Frank Wrathall was having to cope with a hard-to-handle Avensis. "We're struggling, simple as… We're a second away from our pace here last year and the car is just not behaving at all. We've changed a lot of settings today and it just feels the same. It's a strange one, and we are a bit lost…" Frank will go from 17th on the grid, one slot ahead of Speedworks racer Ollie Jackson who, said Speedworks boss Christian Dick, was unlucky not to finish higher up the order: "Ollie got held up on his quickest lap quite severely, and then on his final set of new tyres the yellow flags were out and he had to back off. It was a frustrating session for him."
The BTCC action, carried live on ITV4, starts at noon.