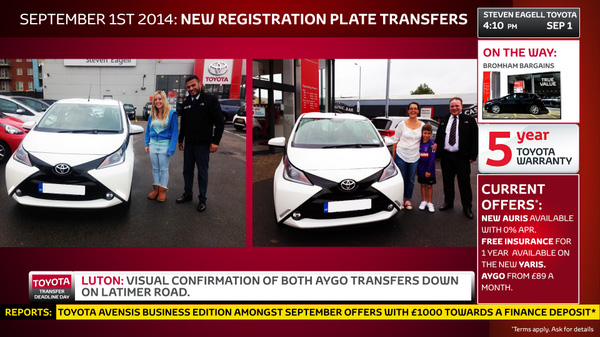 The football world may have gone mad on the final day of the transfer window, but for new car buyers, September 1st was the first day they can step into a new 64-plate Toyota.
In the best tradition of Jim White, Sky Sports News and the sports pages, our network has been getting into the spirit of #TransferDeadlineDay on Twitter – here's our look around the grounds at some of the lucky customers to make a move (into a 64-plate Toyota) on September 1.
Visit Toyota.co.uk for our latest deals and offers.
DONE DEAL: Signed Demi-Lee Smith past her test last week & now proud first car @ToyotaGB AYGO #transferdeadlineday pic.twitter.com/77YWwZ8iTR

— RRG Rochdale Toyota (@ToyotaRochdale) September 1, 2014
Transfer window closing in & we've signed Wasim Younis with the Real Deal @ToyotaGB GT86 #transferdeadlineday pic.twitter.com/OxmlDVu3mo

— RRG Rochdale Toyota (@ToyotaRochdale) September 1, 2014
It's September 1st – 64 plate handover day! https://t.co/EG6w5ok3z1 #Toyota @ToyotaGB pic.twitter.com/kNdygBqL9u

— Greenhous (@greenhous) September 1, 2014
#DeadlineDay they got it! Mr & Mrs Furmeston get their @ToyotaGB #Yaris! Can't wait to see how it does this season pic.twitter.com/XCXWKpXBoW

— Benfield Toyota (@BenfieldToyota) September 1, 2014
Go #Luton! #TransferDeadlineDay pic.twitter.com/zKvhDKKyoU

— Steven Eagell Toyota (@StevenEagell) September 1, 2014
DONE DEAL: Paul Whiston is moving from a Skoda to a new Toyota #Yaris for extra fuel economy #TransferDeadlineDay pic.twitter.com/Ez8fNMzW6v

— Westlands Motor Grp (@WMGtw) September 1, 2014
OFFICIAL: Mr & Mrs Casson have completed their move to a new #64plate #Yaris #Hybrid – #transferdeadlineday pic.twitter.com/CvRo4txMJu

— Snows Toyota (@SnowsToyota) September 1, 2014
DEAL OF THE DAY: Denise Hancox signs her FIFTH #Toyota from @ToyotaGB #Tamworth!!! #64Plate #TransferDeadlineDay pic.twitter.com/Jrv6BCba4d

— Vantage Motor Group (@VantageMotorGrp) September 1, 2014
DONE DEAL: Sheila Izadi is moving from a Rav4 to a new #Yaris for just £256 per month! #TransferDeadlineDay http://t.co/u7ee79w0de

— Jemca Toyota (@JemcaToyota) September 1, 2014
#Transferdeadlineday continues with Mr McQueen and his daughter picking up their new @ToyotaGB #Aygo. Deal done! pic.twitter.com/l4AtG0cTjK

— Arnold Clark (@ArnoldClark) September 1, 2014
#TransferDeadlineDay loyal @drivebenfield customers Mr & Mrs Szabo drive away with their #Yaris, their 7th @ToyotaGB! pic.twitter.com/JnQLTOeqjN

— Benfield Toyota (@BenfieldToyota) September 1, 2014
Its Official! This new Aygo has moved to Mrs Michelle Sanders for an undisclosed fee. #transferdeadlineday @ToyotaGB pic.twitter.com/tRqJGrUrOP

— RMB Automotive (@RMBAuto) September 1, 2014
Done Deal! Mr and Mrs Crouch(No relation to Peter) pick up their new Auris. #transferdeadlineday @ToyotaGB pic.twitter.com/3lbEHZVGt3

— RMB Automotive (@RMBAuto) September 1, 2014
DEAL OF THE DAY: The Needhams have snapped up an all new #AYGO from Grimsby Town #transferdeadlineday pic.twitter.com/WYTzKLNeuk

— John Roe Toyota (@JohnRoeToyota) September 1, 2014
DONE DEAL: Another move on #DeadlineDay as Mr Johnston collects his #Avensis at our @ToyotaGB Mount Vernon dealership pic.twitter.com/UB6hMVzAOL

— Arnold Clark (@ArnoldClark) September 1, 2014
DONE DEAL: Katherine Wilson makes the move from Fiat to @ToyotaGB Yaris #Hybrid #transferdeadlineday @wrinnywroo pic.twitter.com/vPwKcPg3Uq

— RRG Rochdale Toyota (@ToyotaRochdale) September 1, 2014
DONE DEAL: Mrs Crawford has snapped up her new @ToyotaGB Aygo from our Stirling Toyota branch #Transferdeadlineday pic.twitter.com/RrwoArYxqY

— Arnold Clark (@ArnoldClark) September 1, 2014
DONE DEAL: Jason Perks swaps his Audi A3 for a @ToyotaGB #GT86 on #TransferDeadlineDay in #Tamworth! #64Plate pic.twitter.com/IqhQAkPxL5

— Vantage Motor Group (@VantageMotorGrp) September 1, 2014
*Breaking News* Mr &Mrs Bajaj moving from a Prius to a Auris Hybrid! Fee undisclosed #transferdeadlineday @ToyotaGB pic.twitter.com/GvOe999xbF

— RRG Bolton Toyota (@ToyotaBolton) September 1, 2014
By Iain Reid