Toyota Racing's TS030 Hybrid makes its British debut at Silverstone circuit in Northamptionshire this weekend (August 25-26), aiming to take Toyota hybrid power to the podium in the fourth round of the FIA World Endurance Championship.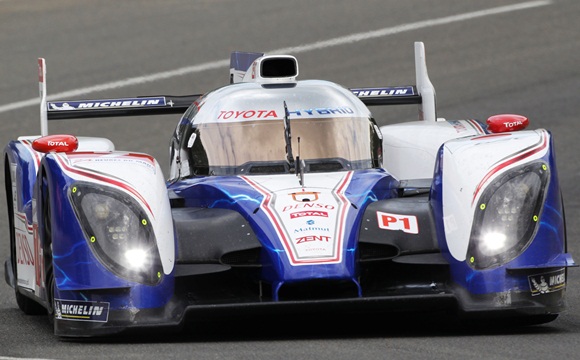 The team will join the six-hour race, looking to build on the car's strong performance at the Le Mans 24 Hours in June, where it led the race on its maiden outing. There was to be no glory on that occasion, however, as an accident and technical issues saw both Toyotas sidelined before the chequered flag.
At Silverstone, the team will field just one car; the No 7 driven by Alex Wurz, Nicolas Lapierre and Kazuki Nakajima. Their team-mate Anthony Davidson, who is recovering well after his Le Mans accident, will be lending them his support over the weekend too.
Alex and Nicolas prepared for the race with a two-day testing session (14-15 August) at MotorLand Aragonin Spain, where arevised aerodynamic package was put through its paces.
Simulation technology and the state-of-the-art wind tunnels at the Toyota Motorsport's base in Cologne, Germany, have been used to hone the car's aerodynamics to better suit Silverstone's 3.66-mile Grand Prix circuit, generating more downforce compared to theLe Mans specification.
[youtube width="580″ height="360″]https://www.youtube.com/watch?v=49xBMctH_0w&hd=1[/youtube]
The drivers also fine-tuned the TS030 Hybrid's handling with sessions inTMG's driving simulator, which accurately recreates car behaviour and the specific character and demands of the Silverstone track.
There will be four designated braking zones at Silverstone where the TS030 Hybrid will be able to recover up to 500Kj of energy, to be stored in super capacitors for automatic release as a power boost later in the lap.
Action at Silverstone begins on Friday with two 90-minute practice sessions (11.30 and 16.00). Final practice is on Saturday morning (11.00-12.00) before qualifying for LMP1 and LMP2 cars (15.20-15.40). Following Sunday morning warm-up (08.55-09.15) the six-hour race begins at midday with a rolling start.
Yoshiaki Kinoshita, Team President: "We are looking forward to returning to racing following a long break after Le Mans. As well as recovering our energies after a very tough build-up to Le Mans, we have used this time to prepare an update to the TS030 HYBRID and this ran well in last week's test. We learned a lot from our Le Mans experience which showed we have the potential to fight at the front of the WEC field. So we travel to Silverstone highly motivated to deliver a strong result; we're ready to race again and can't wait to see how our hybrid technology performs on this track."
Alex Wurz:"This is a learning season for Toyota Racing and we hope to take more steps in the right direction at Silverstone. We had an encouraging test in Spain last week which gave us plenty of data about the revised aerodynamic package. We have used this data, plus the experience we had on the TMG driving simulator, to prepare for Silverstone. But there is no substitute for practice time so we must make the most of the sessions on Friday and Saturday. We know we face some very tough opposition so it will not be easy but we will continue pushing and hopefully we can stand on the podium on Sunday."
Nicolas Lapierre: "It seems a long time since Le Mans but my memories of taking the lead are still very vivid. That was a great experience and can inspire us to give everything we have at Silverstone as well. From the work I have done in the TMG driving simulator, plus our test at Aragon, I think we can be really competitive. It's impossible to judge exactly where we are compared to our main rivals but we are constantly learning and improving. We aim to continue our progress this weekend and hopefully again give the fans some exciting moments."
Kazuki Nakajima: "Silverstone used to be my home track and it's one of my favourite circuits, although I haven't raced there since the big development was completed in 2010. It will be interesting to experience the new lay-out but I'm most excited about driving the TS030 Hybrid through Maggotts and Becketts on the old part of the track. These fast, sweeping corners should suit our car and I'm expecting it to be really good fun. Of course it was disappointing not to finish the race at Le Mans after we looked so strong but Silverstone is another race and we go there in an optimistic mood."