Why settle for just one Toyota RAV4 Plug-in review when we have collected all of the UK motoring publications reviews into one handy place? After being invited to test-drive our highly anticipated new flagship Toyota RAV4 Plug-in hybrid SUV around varied roads of the UK, the national motoring press has had its say. Scroll below to see who said what about our latest car.
The new Toyota RAV4 Plug-in takes its place at the pinnacle of the RAV4 range and as the flagship
of our hybrid model line-up, delivering a rare combination of power and efficiency.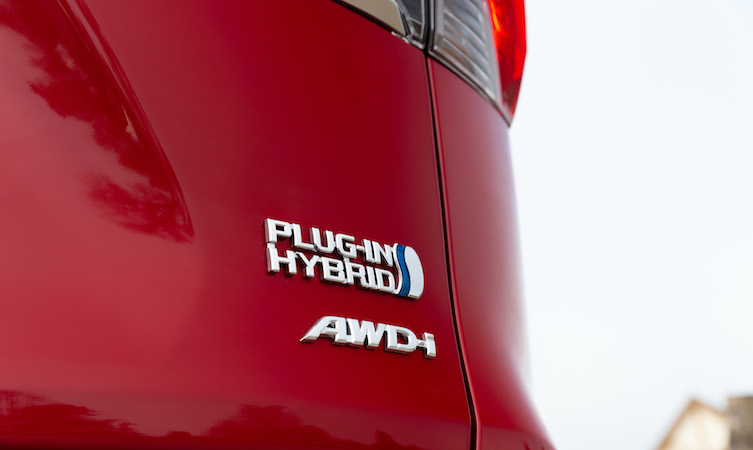 2021 Toyota RAV4 Plug-in reviews
"Mechanically speaking, it's not dissimilar to the standard RAV4. [But] there are some key differences. The petrol engine now develops 182bhp… and the front electric motor's output has been upped…to 180bhp. The rear motor still produces 54bhp but combined they lend the RAV4 PHEV a system output of 302bhp.
"The lithium-ion drive battery… is mounted beneath the floor to lower the car's centre of gravity. Toyota claims a WLTP-certified range of 46 miles, while a full charge can be delivered in 2.5 hours from a dedicated wall box.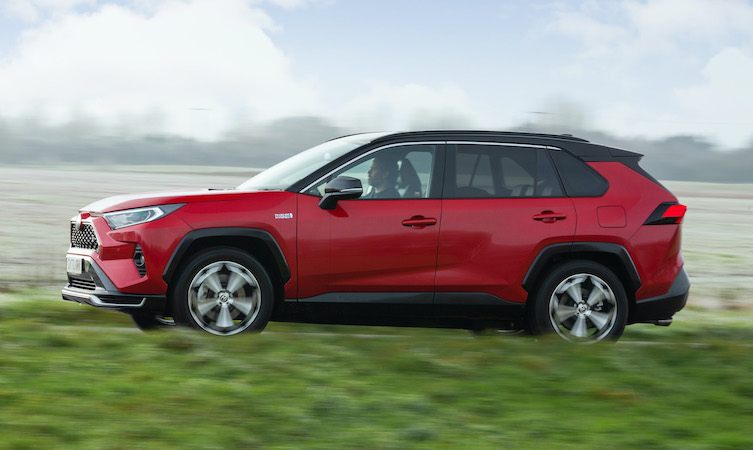 "You've got a choice of four different powertrain operating modes. Start the car and it defaults to pure EV. Provided there's enough juice in the battery you can travel at speeds of up to 84mph, and even if you hit the kick-down switch to summon a well of acceleration, the ICE motor won't spark up. Throttle response is excellent, and forward progress arrives in a smooth, seamless fashion."
"With two electrified axles, the RAV4 drives through its electric motors nearly all the time. The driver can flick through four modes – EV for pure electric running, EV/HV, which shuffles between fully electric and hybrid power automatically, HV for solely hybrid running, and a charging mode, which sees the engine top up the battery on the move.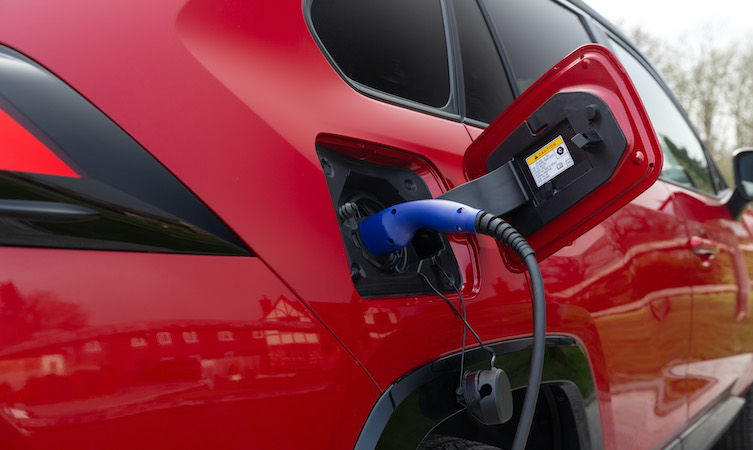 "From start-up, the RAV4 defaults to EV mode if there is enough charge in the battery. Keep the cell topped up – it can be recharged in 7.5 hours from a household plug or as little as 2.5 hours from a 7kW wall box – and there's plenty of all-electric range to lean on.
"EV mode really means just that, and little will provoke the engine into action. Toyota claims up to 46 miles of pure-electric running is possible, and we managed 35 silent miles with no real effort. The car is extremely smooth, and on electric power alone it's certainly fast enough for day-to-day life."
"The fifth-gen RAV4 is a great-looking thing inside and out, and the PHEV builds upon that with a black mesh radiator grille, dark plating under-runs front and rear, metallic bumper finishes and its own design of 19-inch alloys. Inside, there's plush leather with bespoke stitching, while the part-digital instrument cluster and switchgear on the centre console are both mildly altered to account for the plug-in set-up.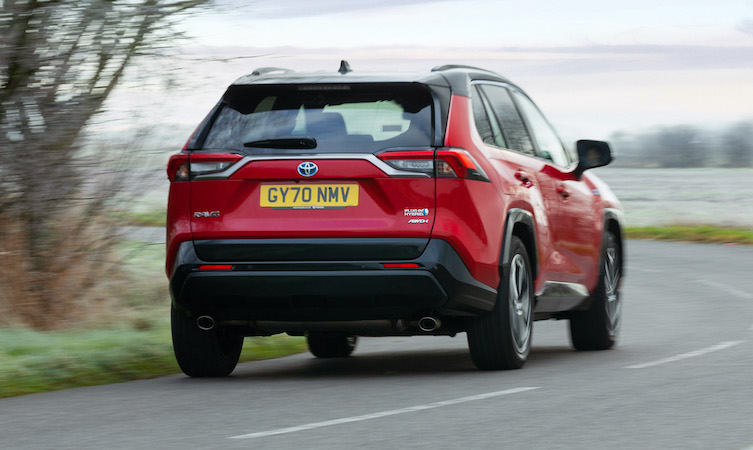 "Considering this is the marque's first plug-in hybrid outside of the Prius line-up, it's beautifully executed. It also rolls along magnificently, providing a cultured and hushed ride in towns while conducting itself equally elegantly on A-roads and motorways. The energy management of Toyota's system is exceptional and the decision to make it operate as an HEV after being a PHEV – or, more accurately, to ensure that the set-up always keeps more than the bare minimum reserves in the battery pack to allow for continuous HEV operation – reaps real benefits."
"The numbers… aren't exactly what you'd expect from a Toyota. This is a family SUV with a 2.5-litre petrol engine and an 18.1kWh battery. It's got 302bhp and a 0-62mph time of just six seconds. It'll do 46 miles on electricity at speeds of up to 84mph and emits just 22g/km of CO2 – putting it in one of the very lowest company-car tax bands. Charge it regularly and Toyota says it'll do 282mpg.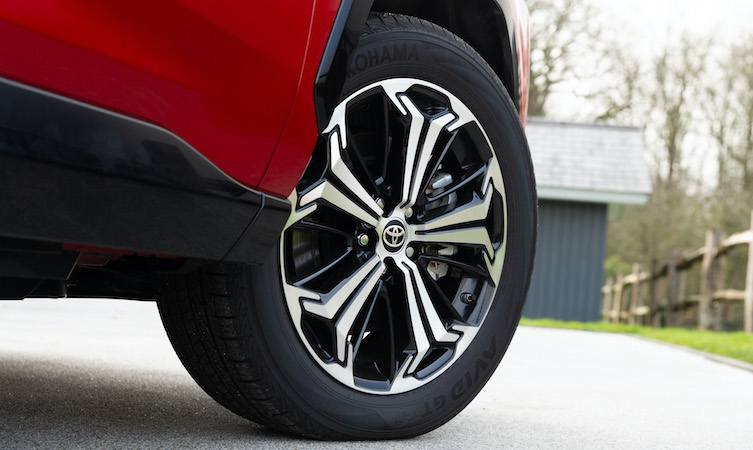 "Depending on your usage, the Toyota RAV4 Plug-In could save you thousands of pounds in running costs compared to a conventional petrol, diesel or hybrid car."
Fleet World: 4/5
"With 282.4mpg combined fuel consumption and BIK of just six per cent, Toyota believes this model will be justifiably popular with fleet when the first UK buyers get their hands on them in April. In EV mode, the RAV4 Plug-in starts and drives in eerie silence.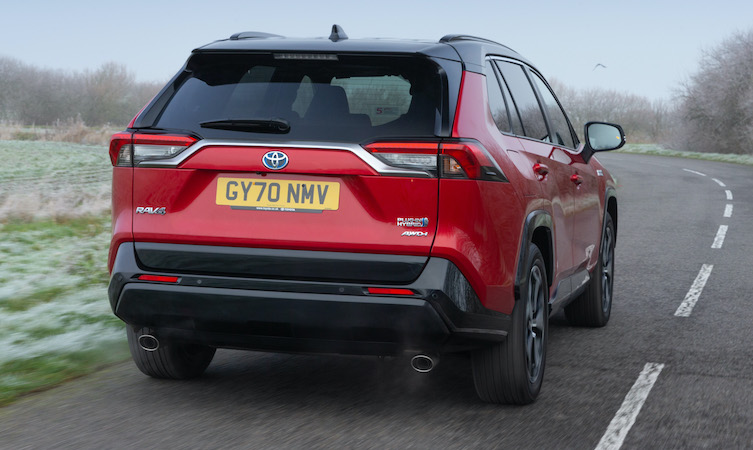 "With over 300bhp on tap, the Toyota does feel eager from the start, with speed building quickly on the move. This RAV4 is a keen handler too, the result of stiff suspension and the battery pack situated under the floor. The RAV-4 Plug-in is a welcome addition to the rapidly growing plug-in SUV sector. Powerful, good to drive and offering welcome BIK savings."
"The key point is that it defaults to being a hybrid when the batteries run flat. And that makes it very efficient indeed. Let's look at those efficiency numbers first, as any eagle-eyed fleet manager surely will. Here, the RAV4 plays its ace card, with an incredible 282.5mpg and CO2 emissions of just 22g/km… on the official WLTP fuel economy test.
"No matter how often you charge it, the RAV4 is extremely cheap to tax. The Dynamic model attracts a seven per cent Benefit-In-Kind rate for 2021/22, meaning a 20% taxpayer stumps up £663 and a 40% taxpayer owes £1,326.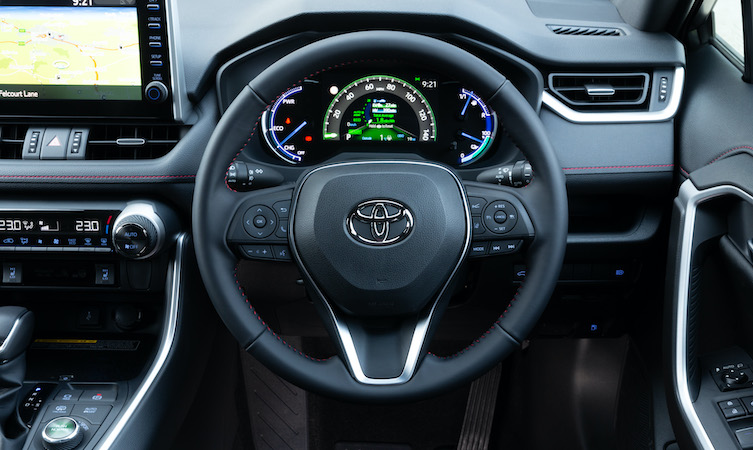 "[My] first 44 miles are completed in typical EV style, which is to say almost silently, with ever-present electric torque offering lively response and swift acceleration. As the range readout reaches zero and the RAV4 switches automatically into hybrid mode, I brace myself for the familiar drone of a petrol engine and CVT gearbox – but it never comes. Factor in extra sound insulation and acoustic front window glass and you have a mainstream SUV with a refinement of a fully paid-up luxury car."
"This is a whole other experience on the road compared to any other RAV4. That combination of electric motor and combustion engine is at times ferocious – in a very good way indeed. With up to 46 miles of [EV] range, it can head a fair distance on charge alone too. Plenty of other similar vehicles top out at 27 miles, so that's impressive innings from Toyota.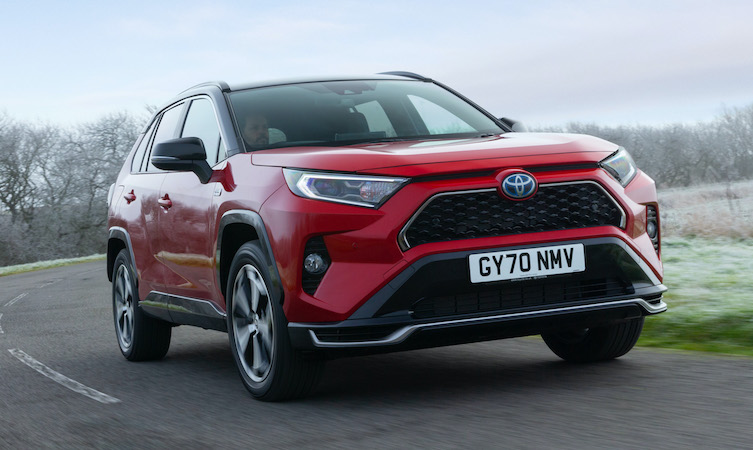 "The Toyota RAV4 plug-in is something of a revelation. So if you're realistically going to be driving 40 miles on the school/shopping run or nearby commute every day then, well, you'll rarely be burning any actual fuel."
"A plug-in hybrid with a massive (for the class) 18.1kWh battery pack and a total power output of 302bhp, which makes it, after the sporting GR Supra coupe, the most powerful car Toyota makes. It's a two-tonne hot rod, with five seats and a ground clearance of 130mm. You just don't expect a family SUV to be so vivacious.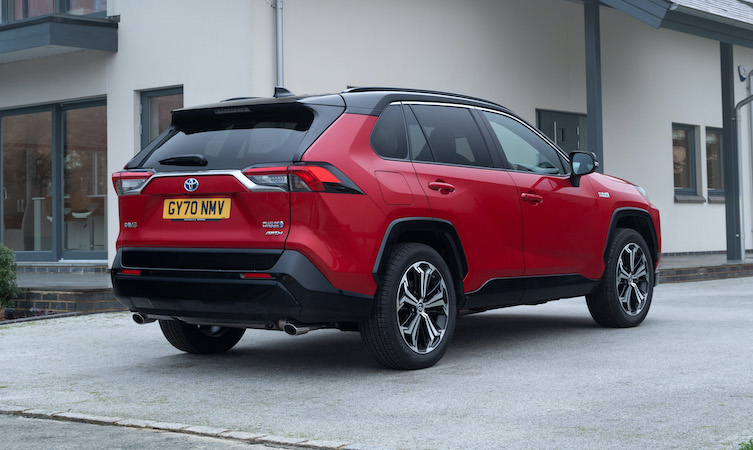 "There are all the modern toys you'd expect, with cruise control, wireless phone charging, a reversing camera and a powered tailgate. Toyota's Safety Sense systems are standard… [and] the towing weight is 1.5 tonnes. The rear seats are large and accommodating, with lots of leg and headroom. Compared with the regular RAV4, the plug-in version's larger battery doesn't compromise the overall boot space much."
All information is correct at the time of publishing.