Toyota Gazoo Racing clinched a podium spot in the opening round of the 2016 World Endurance Championship at Silverstone on Sunday, a second place finish earning driver Mike Conway the Richard Lloyd Trophy as the race's highest placed member of the British Racing Drivers Club.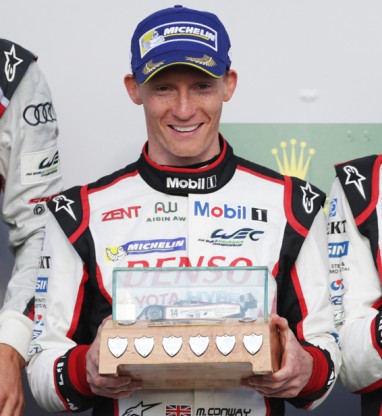 The No6 Toyota crossed the line in third, but the winning No7 Audi was subsequently excluded from the results due to a technical infringement. This decision gave the race victory to the No2 Porsche.
It was an encouraging start to the season for the team, who were fielding the new Toyota TS050 Hybrid race car for the first time. Conway was joined in the No6 car by Stéphane Sarrazin and by Kamui Kobayashi, driving in the championship's LMP1 class for the first time.
https://youtu.be/ITU8xJE51uI
Conway said: "This was a not an easy race and our second place was hard fought. Our speed on a single lap was quite strong, but we still need to work on the pace over a full driver stint to get closer to our competition. We know the areas we have to focus on, but this we scored solid points and in all it was a pretty good way to finish the weekend."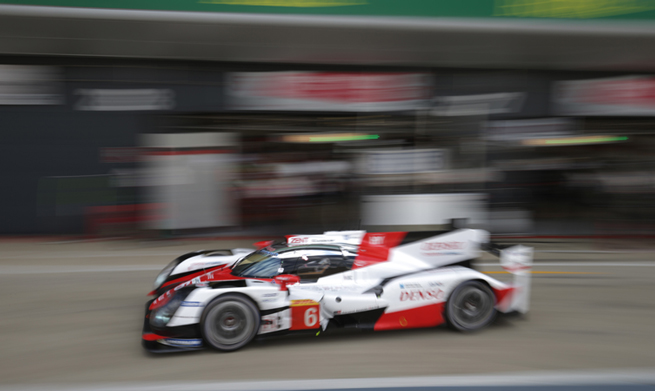 The No5 Toyota of Anthony Davidson, Sébastien Buemi and Kazuki Nakajima had also been on course for a strong result, until a puncture and consequent damage required a lengthy pit stop. The car finished in 16th place.
In dry, sunny conditions, the new TS050 made a solid debut and marked its potential by posting a lap just 0.354 shy of the overall quickest. The team will continue to improve the car's performance and extract the maximum from its 2.4-litre turbocharged engine and 8MJ hybrid system.
In the early part of the race, the two Toyotas ran close together after starting fifth (No6) and sixth (No5) on the grid. Buemi found his way past Conway, while incidents for the No1 Porsche and No8 Audi elevated the Toyotas to third and fourth.
At half distance, the No5 car was running third but encountered trouble of its own with a right rear puncture. Unluckily, the puncture occurred just after pit entry, meaning Kobayashi had to complete a full lap at slow speed, during which the damaged tyre ripped off significant amounts of rear bodywork.
Intense work by the Toyota pit crew got the car back on track after 41 minutes of repairs, with Buemi returning to the track in 29th, 24 laps down on the leader.
The No5 crew fought hard to regain ground in the search for World Championship points, while the sister car showed promising speed and matched the leaders' lap times in the closing stints.
Toyota Gazoo Racing are in action again next month at the 6 Hours of Spa-Francorchamps in Belgium on 7 May.