When Steve Handbury bought his 79-series Land Cruiser double-cab at the end of 2016, there was no plan to rebuild the truck as extensively as he has. Nor was there a plan for 'Skooby' – named for its number plate, which Steve has had since his Subaru rally days – to become an Instagram sensation, with the modified Land Cruiser's account boasting 38,000 followers and counting.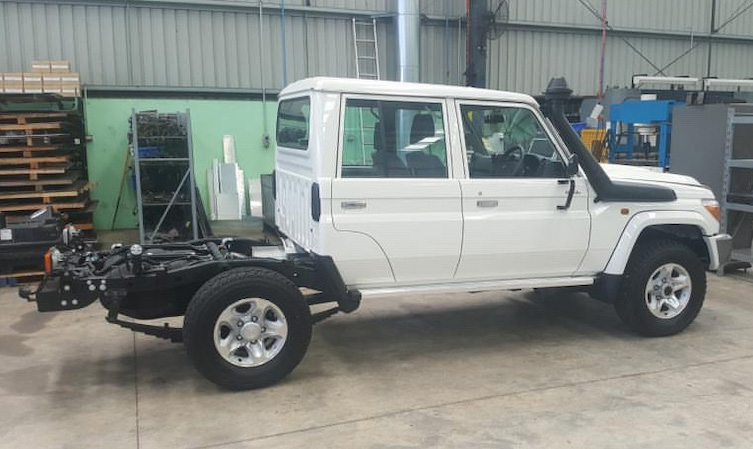 Until 2019, Steve and his family owned a large farm, two hours north of Melbourne, Australia, where they bred Angus bulls. The Land Cruiser was intended to be a farm ute – utility, or pickup truck – so was delivered prior to registration to Marks 4WD for fitment of the specialist company's portal axles. It was registered in March 2017 and delivered to Steve with basic ARB bull-bar work and Mickey Thompson AT tyres.
The Marks 4WD portal-axle package lifts the differentials by six inches: four inches from the actual portals and two more from upgrading to 35in tyres. A further body lift is gained from a simple 2in suspension lift. The portals are reduction-geared to turn the larger tyres like the normal-sized ones, so no work is required to recalibrate the speedometer.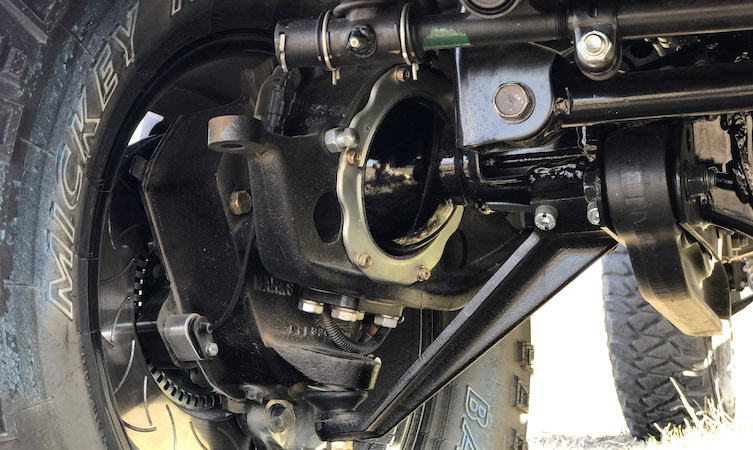 "The 79-series Land Cruiser comes standard with a narrower rear track," says Handbury. "The front-axle track was made wider when the V8 was installed [from 2007] but the rear was left as it was. The bonus of the portal-axle package is that it corrects this, so that the front and rear are matched, and stability is improved. Also upgraded is the handbrake, which is removed from the wheels and placed on the propshaft at the end of the gearbox."
The modifications kept on coming. In April 2017, Handbury fitted a 9,000-lb Warn Zeon winch, ARB BP-51 suspension, Recaro seats and Roadvision spotlights. He installed Dynamat sound deadening, and roof and centre consoles from the Department of the Interior, increasing the cupholder count from one to two! That September, he made the trip to Superior Customs – which is sadly no longer in business – to have a custom tray with a jack-off canopy installed in place of a temporary one he'd been running.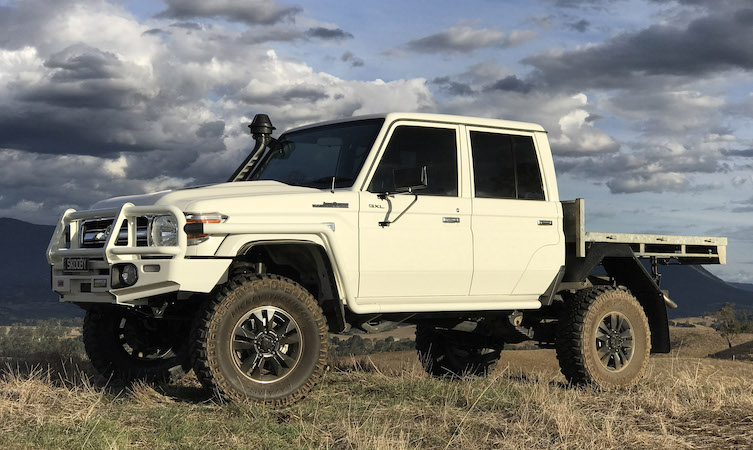 Modified Land Cruiser: under the bonnet
Skooby's engine modifications initially consisted of a basic tune by Power Torque in Silvan, Victoria, using stock components, which raised the V8's torque to 740Nm. In 2018, it was back at Power Torque for more serious upgrades and a custom tune: a GTurbo Power-Pipe high-flow intake, GTurbo Red Wheel G350 turbo and a larger intercooler and fans.
"The fans greatly assist airflow over the intercooler in summer when in the high country in low range," Handbury explains. "The engine now makes 282bhp and 890Nm of torque at the wheels." That's quite an increase on the standard 79's 202bhp and 430Nm.
With more weight regularly on the back, Handbury started to notice the stock 79's tendency to pitch back and forward while driving, due to the long rear overhang. He researched chassis extensions and settled on the Boss Aluminium company in Bayswater, Victoria. The 300mm extension was carried out in February-March 2019.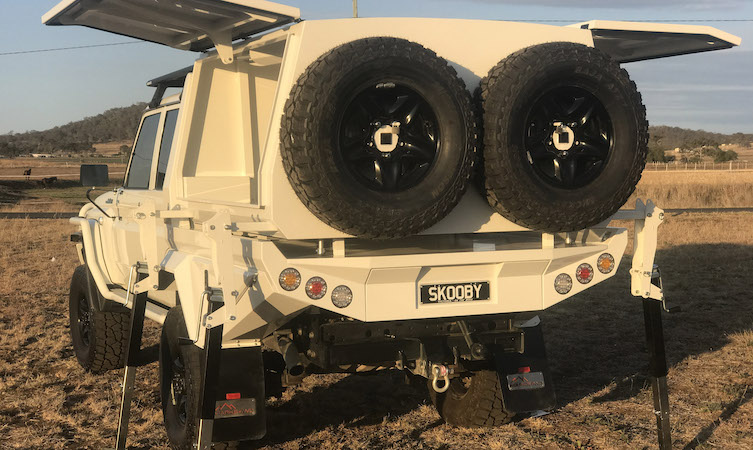 "By this time, I had sold my farm and was doing more touring, including trips to Cape York and Tasmania in 2019. We'd also moved to Healesville on the edge of Melbourne due to my son's autism and the need to access better services. The stickers on Skooby's bonnet are a reference to him and his condition: Until the Pieces Fit," he says.
"For these reasons, I went to a full-time canopy – a custom rigid body – rather than rebuild the current tray to fit the extension. I worked with Hunted Engineering in Alexandra, Victoria to do this, running another temporary tray while it was being built. I also changed to Opposite Lock bar work so that I could run spread lights on the bull bar and added a Marks 4WD power-steering cooler kit."
The wheels and tyres changed to suit Skooby's new life, too. Handbury switched to ROH Octagon rims, as they have superior rating capacity in the +40-offset he requires with the portal axles, and Maxxis Razr MT tyres, which impressed on their first trip to Cape York.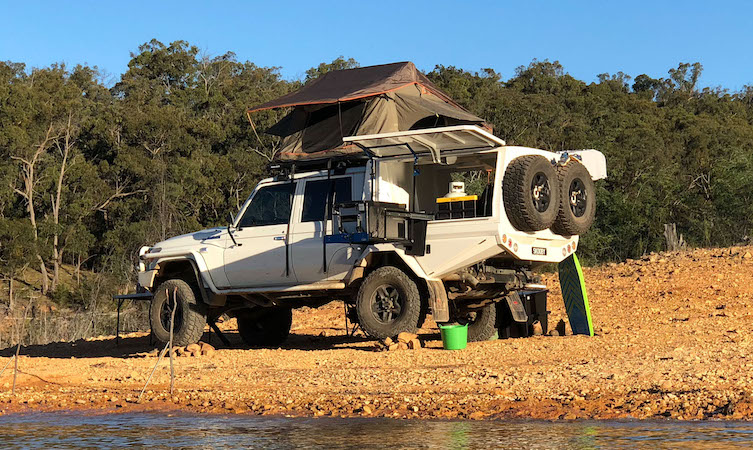 Modified Land Cruiser: new body is fitted
The new rigid body went on in August 2019 in time for the Melbourne 4WD show, where Skooby starred as a guest of Opposite Lock. The canopy's specs are impressive, incorporating home comforts like a 60-litre ARB Elements fridge, twin-Travel Buddy 12V ovens and a Hunted Engineering hamper box. There's also a 60-litre stainless water tank (the pump is in a side box) and a 165-litre ARB long-range fuel tank. The rear doors are on linear actuators to make them easier to reach when fully open.
Inside the front of the canopy is a spare tyre on a Hunted Engineering automatic lifting arm. Placing one spare in the centre of the truck (the other is on the back) improves weight distribution, enables a narrower canopy to fit flush with the body and provides Handbury – who's had back surgery – with assistance in getting the tyre to the ground.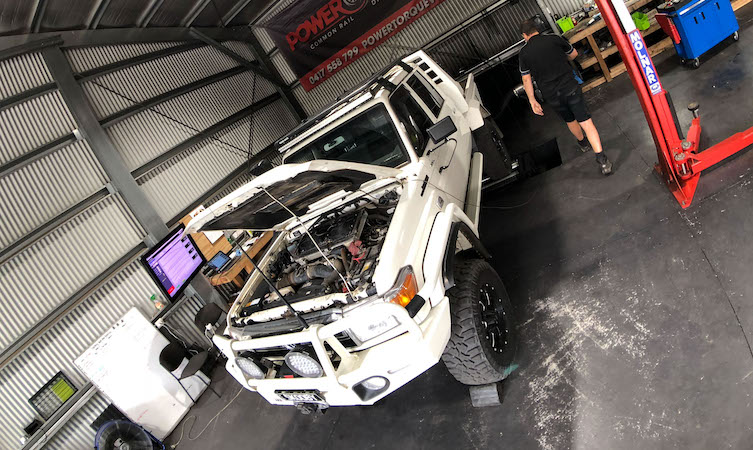 Also new at this time was a Yakima roof rack. Handbury worked with Yakima in Australia to develop a size that suited the 79 Land Cruiser better than Yakima's off-the-shelf unit. The new design is about to be launched as a production model.
The rack isn't the first piece of off-road equipment in whose design Handbury has participated, however. His day job is director of product development for Saber Offroad, which is also based on the outskirts of Melbourne. As such, Skooby often puts new pieces of equipment to the test, such as its prototype rear winch, aluminium-alloy rear hitch and patent-pending, soft-shackle-friendly recovery points, which will launch in 2021 – on Land Cruisers first, of course!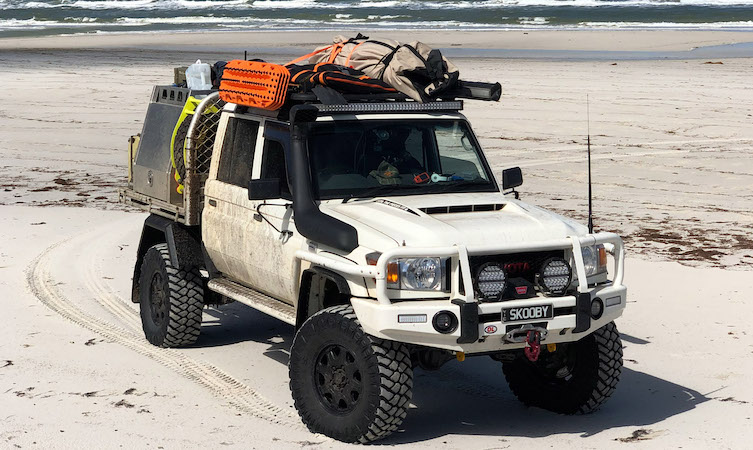 Modified Land Cruiser: present and future
One of the most recent upgrades to Skooby came earlier in 2020, when Handbury returned it to Boss Aluminium for its new clamshell rooftop tent, although it wasn't used as much as he'd hoped in 2020 due to COVID-19.
"You get speed with the bonus of comfort," he explains. "We work to my son's schedule and this tent makes the whole process of setting up so much faster and more enjoyable. It's also more comfortable because you can store a proper mattress, pillows and all our sleeping gear in the tent."
For the future, Handbury wants to upgrade Skooby's rear diff housing and perhaps modify the front bull bar and rails to run 37in Maxxis Trepador tyres. But another project is also receiving some Handbury-style TLC: a 1977 FJ55 Land Cruiser that he picked up at auction in April.
"The plan is a cab-off rebuild and a return to its Toyota lineage by replacing the current 350 Chevy motor with a 1HD-FTE that I recently obtained," he says. "Other than that, it will be kept reasonably stock."
We believe you, Steve… maybe!
Lead image credit: Justin Cooper via Steve Handbury
Blog images credit: Steve Handbury
Follow Skooby's progress on Instagram @79skooby.
Toyota People… is a series that celebrates individuals with a special enthusiasm for Toyota, whether that is related to its vehicles, philosophies, or manufacturing processes. Read more Toyota People articles here.