When booking a honeymoon destination, newlywed couples often think about enjoying a once-in-a-lifetime celebration in an exotic or romantic destination. For some, that might mean a tropical island retreat or an indulgent stay in a luxury five-star hotel. Peter and Jenny Jonwood had a very different idea, however.
While their honeymoon could never be described as luxurious, the Jonwoods' decision to travel across the world in a 90-series Land Cruiser Colorado delivered adventure in abundance and the sort of sights usually only experienced through television documentaries.
What is remarkable about this ambitious journey of self-reliance is that sales manager Peter and radiographer Jenny had no previous experience of overlanding. But with careful research and implicit trust in their Toyota's abilities and resilience, what they came home with was the very definition of a once-in-a-lifetime experience. This is what they had to say about their trip.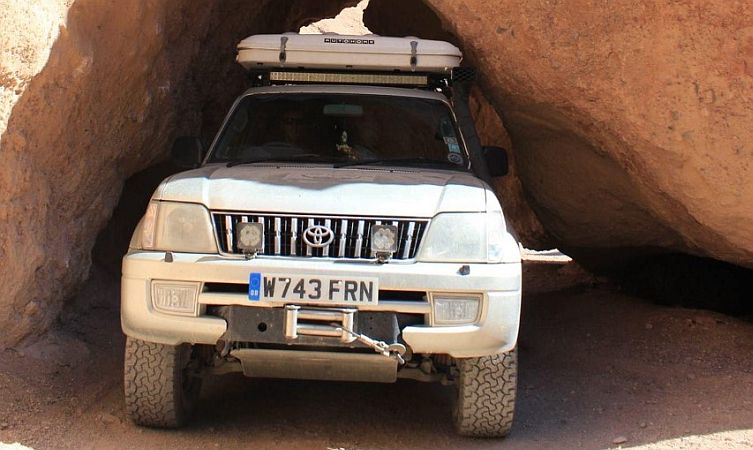 Where did the idea of this honeymoon adventure come from?
Peter: It all started back in 2015 when we heard that some friends in Australia were going to get married. We initially talked about flying there and having a fortnight's road trip, and that quickly developed into the idea of driving all the way from our home in the UK. However, in researching the practicalities, we discovered that it would be difficult to get a vehicle through Australia's strict customs regulations.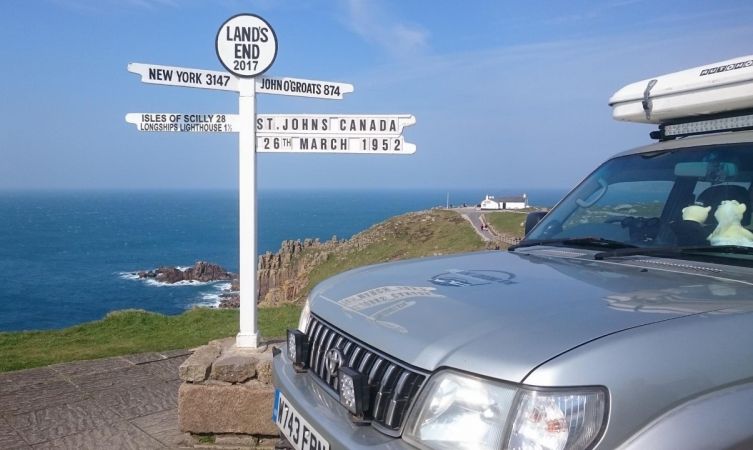 Exciting times leaving Land's End in Cornwall and heading east, with the initial destination being St Johns in Canada.
But we assume that by now the thought of a road trip had captured your imagination…
Jenny: Absolutely. Neither of us needed persuading that a big driving adventure would be a lot of fun. So we bounced ideas between us to work out where we should go and how we could make it happen. In the end, we decided to drive to Mongolia and back.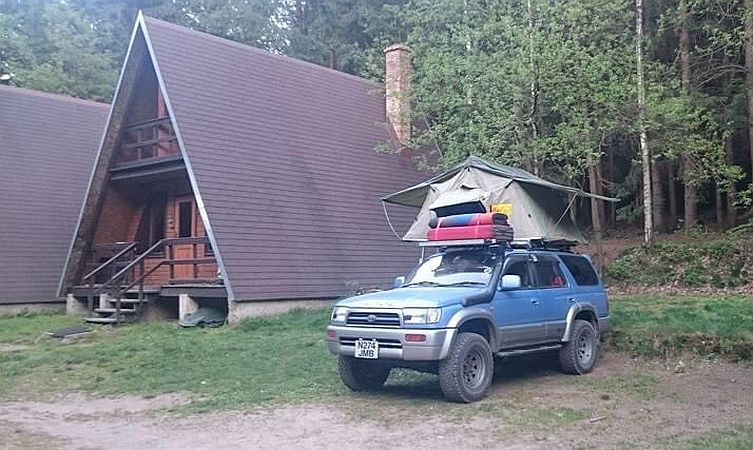 The original Hilux Surf was given a shakedown in Poland by combining a friend's wedding with a rock climbing adventure.
How did you decide that a Toyota would be the perfect vehicle for you?
Peter: Once again we knuckled down to some research, and it became clear that a four-wheel drive Toyota would be the best option. We bought a JDM-spec 1996 Hilux Surf and spent around nine months preparing and modifying it, before taking it on a trial run to another friend's wedding in Poland.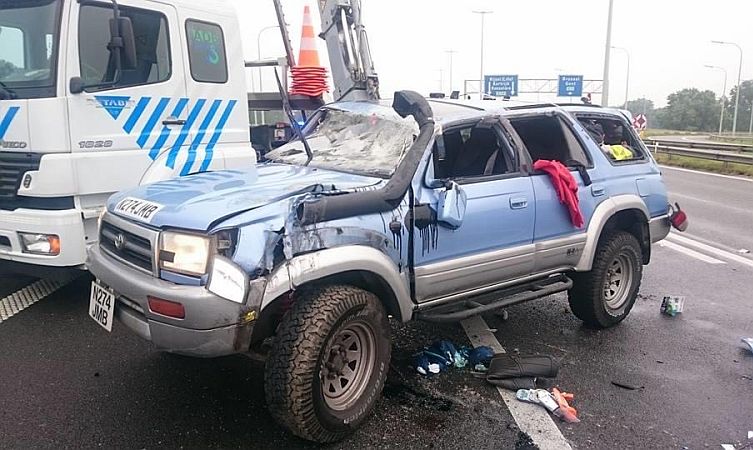 An accident on the way back from Poland destroyed the Hilux Surf but the vehicle protected the Jonwoods so that they walked away unharmed.
Jenny: Unfortunately, we had an accident in Belgium on the way home and the Hilux was destroyed. But the way the car kept us totally protected convinced us even further that we needed another Toyota for the next trip.
Peter: We actually stumbled across the Land Cruiser by chance on our way home from Belgium. It was on the forecourt of a car dealer in Sheffield and we bought it straight away knowing that many of the upgrades we had already purchased for the Hilux could be transferred directly over and not wasted. We even adapted the fuel tank from the Hilux to use as an auxiliary tank for the Land Cruiser as they're in different places on both cars. This would give us much more range to tackle remote places and help us capitalise on cheap fuel, such as 28p per litre in Azerbaijan.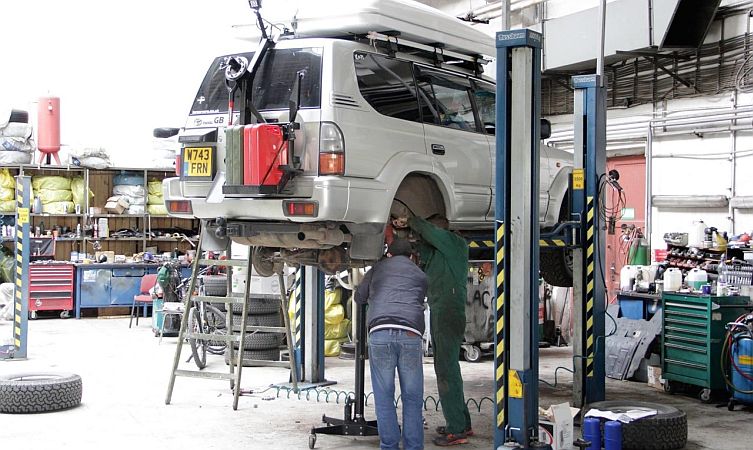 After driving through seven countries it became clear that the Land Cruiser needed uprated suspension, so air bag helper springs were ordered on the move and shipped to a garage in Slovakia for installation.
What further preparation was needed for overlanding?
Peter: Apart from general maintenance – such as making sure the alternator and starter motor were healthy – we concentrated on preparing the chassis to improve ground clearance and carry the extra weight. So we exchanged the shocks and springs for heavy-duty versions with a two-inch lift. We also fitted a snorkel for crossing water and to reduce dust being sucked into the air filter in sandy conditions. Then we installed a front winch to help drag us out of difficulties, extra driving lights for night-time travelling, and a roof tent to sleep in. Last but not least we bolted on an external racking system to carry two 20-litre fuel tanks, a shovel, high-lift jack and sand ladders.
A camping spot overlooking the Gergeti Trinity Church in Georgia. The following day the Jonwoods crossed into Russia and opted to drive around the Caspian Sea.
Jenny: Inside the Land Cruiser we removed the third row of seats and made a shelving system to store all our stuff. We wired in a leisure battery on a split-charge system to power a fridge and a load of USB points so that we could charge our phones and other equipment. As a security measure, we put a switch in the roof tent to a set of additional camp lights so we could see what was going on around us in the dark.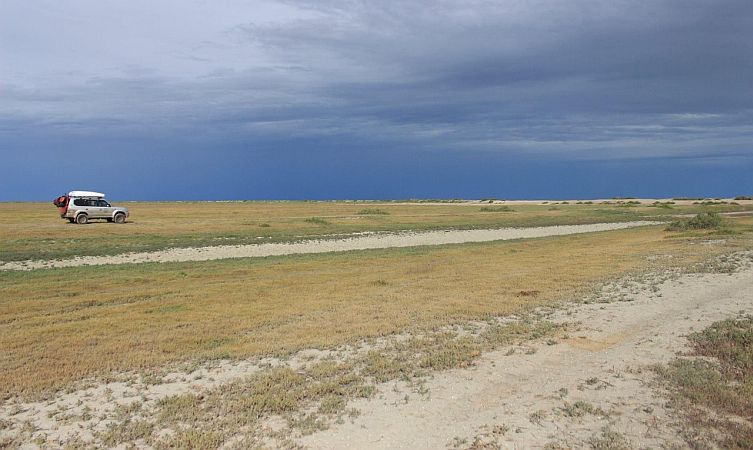 No place to hide in the vast Kazakh Steppe (above). Some of the bridges in Tajikistan were worse for wear (below). Even motorcyclists crossed one at a time.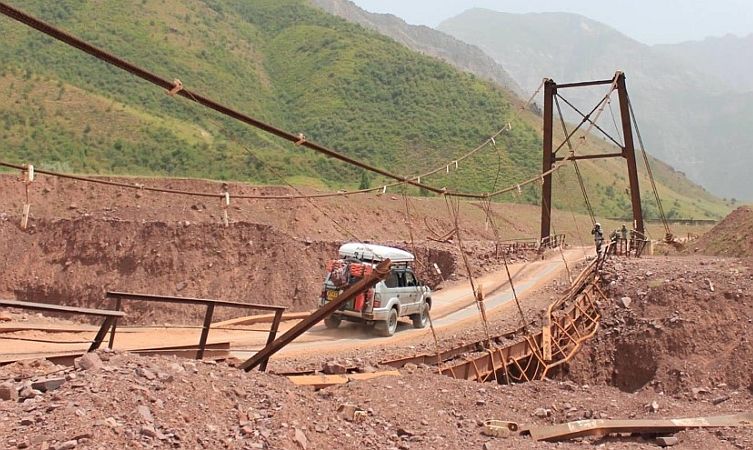 Peter: In fact, we were so well kitted-out that after leaving we discovered we were carrying too much weight, even for the uprated suspension. So we solved that by getting a set of air bag helper springs sent ahead of us to Slovakia in preparation for fitting. They worked a treat.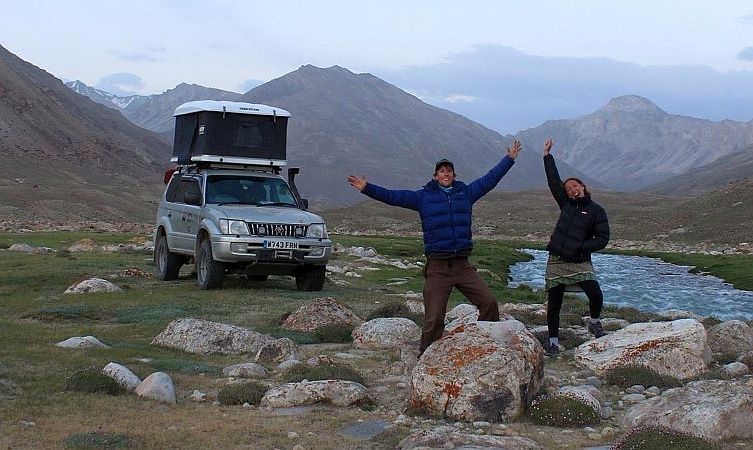 Fellow overlanders recommended a route just off the famous Pamir Highway. Trusting their advice delivered some of the most memorable views and camping spots. Below is a view overlooking Afghanistan and in the far distance Pakistan.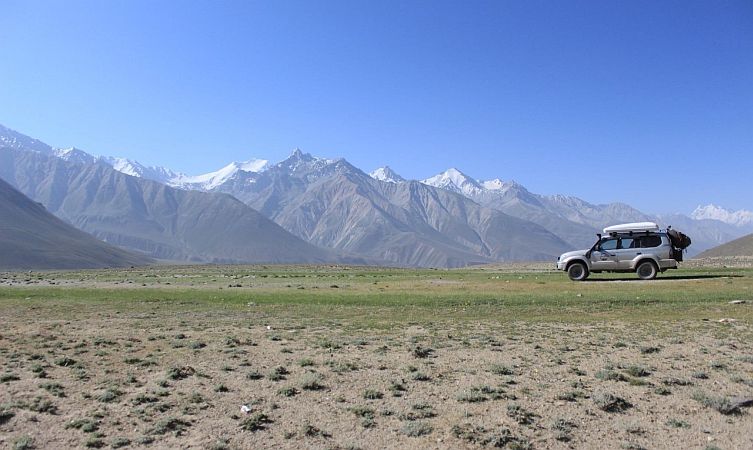 What route did you decide to take to Mongolia, and how long did it all take?
Jenny: From start to finish it took seven months, from March to October 2017. We began by taking the ferry from Plymouth to Roscoff and headed straight to Peter's dad's place in the south of France. Then we headed north-east to Switzerland and up through Germany to Hannover where I have some relatives. From there we took a meandering route that passed through the Czech Republic and Poland, then on through Slovakia, Austria, Slovenia, Italy, Croatia, Bosnia and Herzegovina, Montenegro, Kosovo, Macedonia, Greece and Turkey. We then drove round the Black Sea to Georgia and headed through Azerbaijan, Russia, Kazakhstan, Uzbekistan, Tajikstan, Kyrgyzstan, Kazakhstan for the second time, Russia for the second time, and then finally into Mongolia.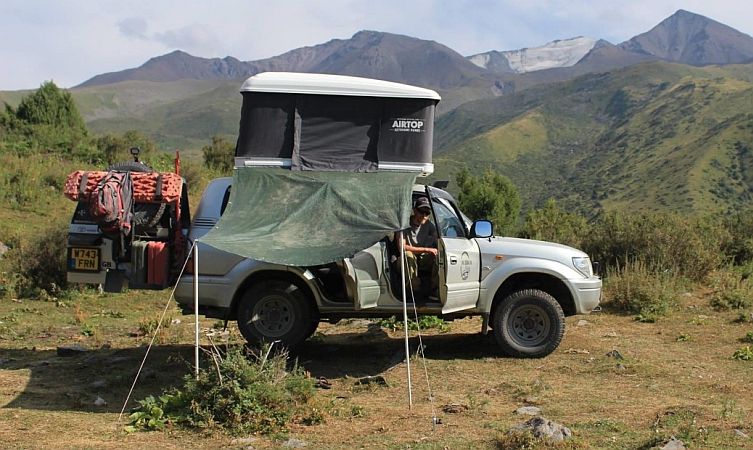 A stopover near the 11th century Burana minaret led to a beautiful diversion into the mountains of Kyrgyzstan.
Peter: But then to get back we decided to take a quicker and more direct route home. We blasted through the 5,000 miles from Ulaanbaatar in Mongolia to St Petersburg in Russia in just ten days. From there we spent a few days in Finland before catching a ferry across the Baltic to Germany, where we dashed through the Netherlands, Belgium and France to catch the ferry home.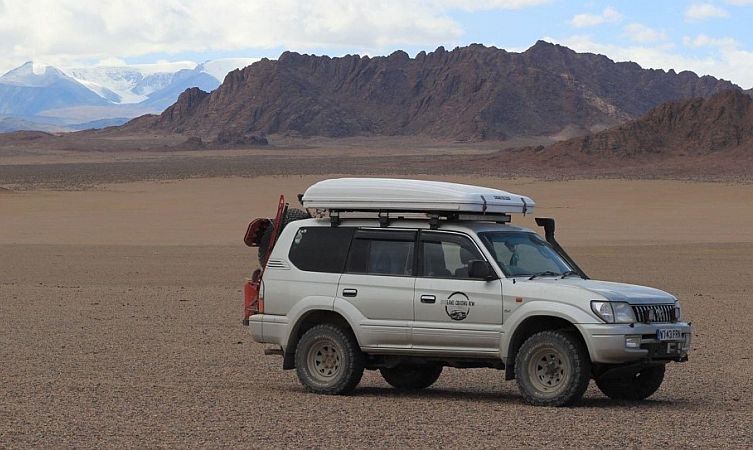 Exploring the western Mongolian desert
Jenny: Throughout the trip we were always thankful that we had chosen a Land Cruiser. We were never left stranded at the side of the road. The occasional maintenance parts we needed were easily sourced thanks to Toyota being such a global brand. We couldn't have chosen a more perfect vehicle.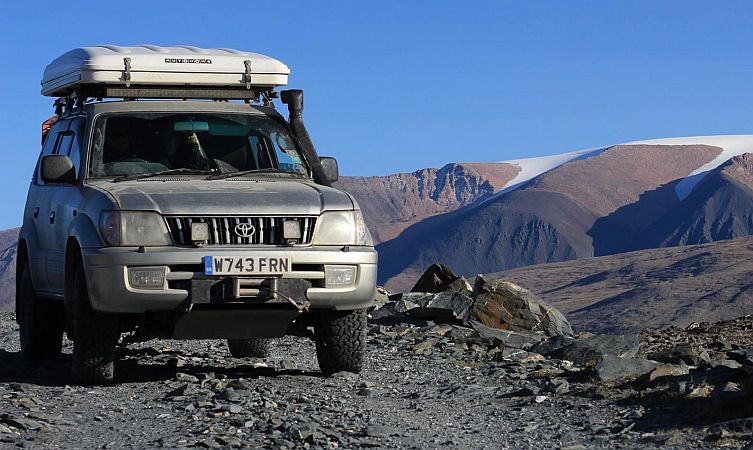 Getting totally lost on a Mongolian mountain (above) and then losing a suspension bolt in the middle of nowhere (below) led to friendships being forged with fellow overlanders who stopped to help.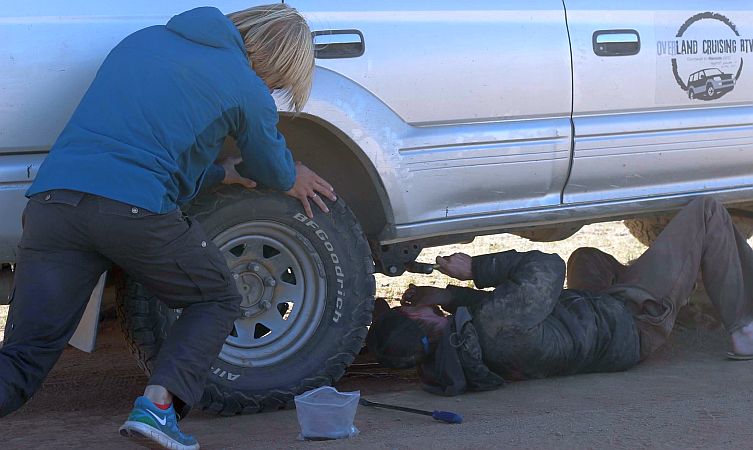 Can you share any particular highlights from this epic journey?
Jenny: To be honest, there were so many that our highlights change every time we talk about the trip. But if we had to distil these into a few words, it would revolve around the amazing natural surroundings and the strangers that helped us out through pure kind-heartedness.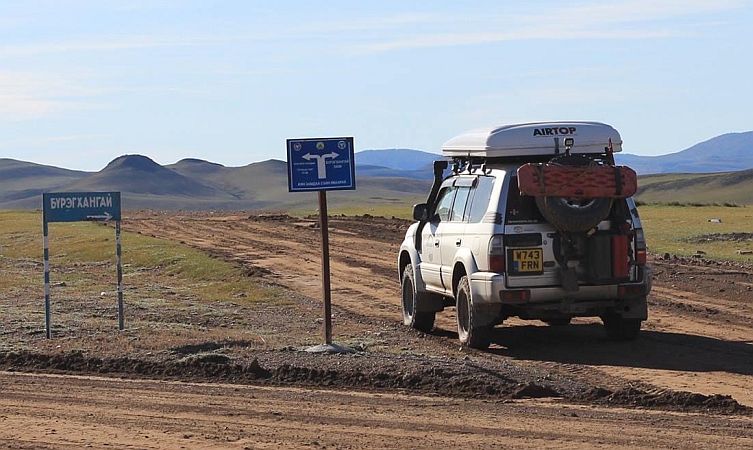 It's rare to find a road sign in Mongolia, and it was a good job it was there as the Jonwoods actually needed to turn left! Below, the huge statue of Genghis Khan in Ulaanbaatar, Mongolia.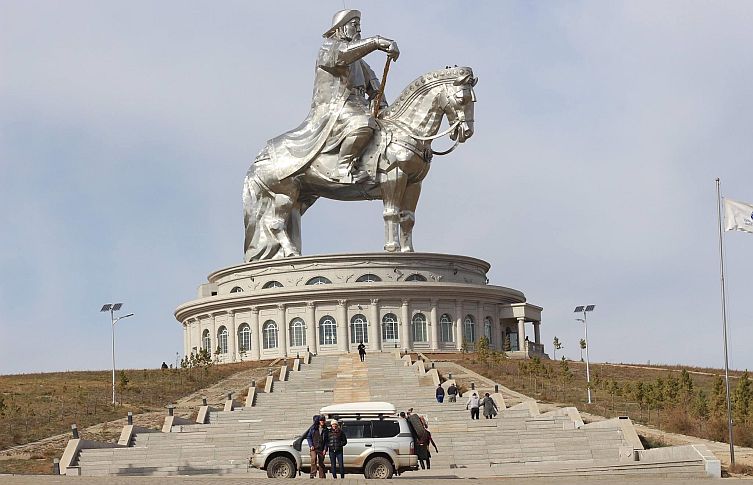 Peter: In Europe, the Slovak Paradise National Park was stunning, especially as we only visited because we were waiting for our air bag suspension helpers to arrive. Then we saw Montenegro's black mountain, which was absolutely beautiful with very few people around. We were also in Istanbul during Ramadan, which offered a brilliant atmosphere and incredible architecture, and we particularly enjoyed the friendly people and bright colours emerging out of the desert-like surroundings of Uzbekistan. All very mystical!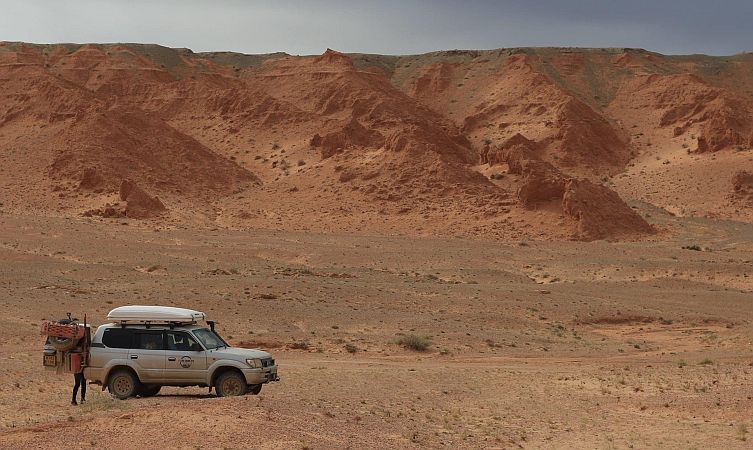 The Flaming Cliffs of Bulgan, Mongolia, famous for its dinosaur remains.
Jenny: Eastern Kazakhstan also held plenty of delights for us, with canyons, Lake Kaindy's spectacular sunken forest, the city of Almaty, the 'singing' sand dune in Altyn Emel national park to mention just a few. And then in Mongolia, we experienced long, mountain-climbing drives, getting lost, punctures, on-the-road fixes, yurts, and never knowing what to expect at the end of the next valley, gobi or dune.
Peter: Tajikstan was an amazing country to explore, offering so much variety within a relatively small place and incredible mountain views across Afghanistan and even into Pakistan. The route along the Pamir Highway was definitely a top highlight for me.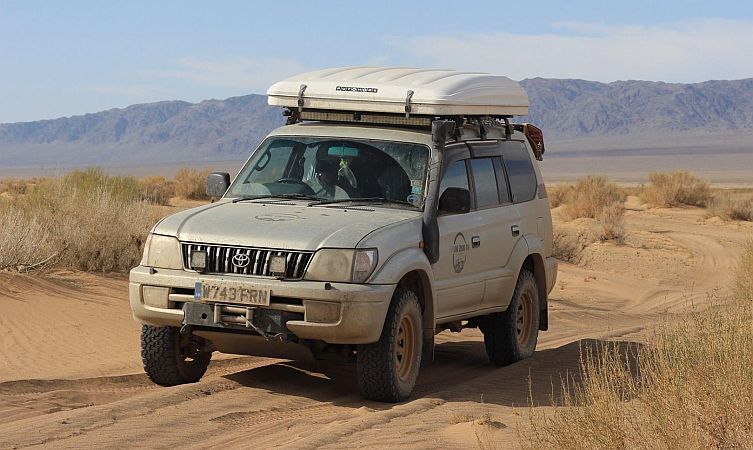 Driving through the soft sand of the Gobi desert (above), the furthest point from home. Taking to gravel tracks (below) to visit the eagle hunters of Western Mongolia.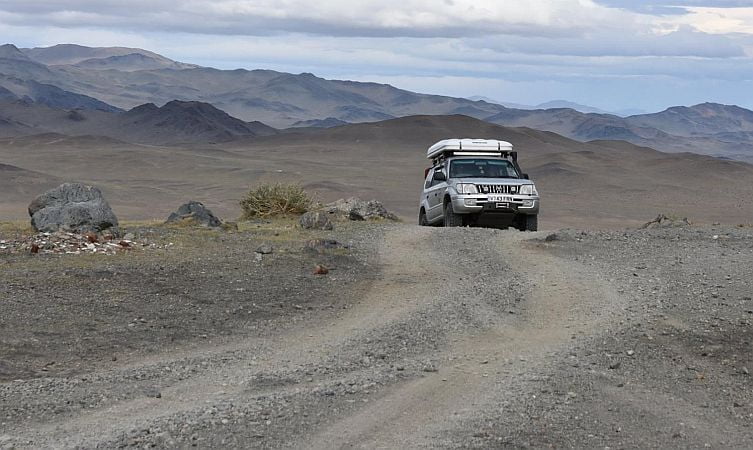 Did you have a particular plan for when you arrived in Mongolia?
Peter: We originally planned to circumnavigate the world by shipping the Land Cruiser to Canada and drive over to the east coast and jump on another boat back home. But by the time we got to Turkey we realised there wasn't enough time; we'd be travelling through Canada in the depth of winter, which didn't hold much appeal for us in a roof tent. Instead, we decided to get back home as quickly as time and money allowed. We had £500 left in cash and knew it would cost around £1,000 in fuel to drive back. So we sprinted back through Russia, spending as little as possible and then bunging the rest on the credit card. It got a bit abused during that fortnight or so.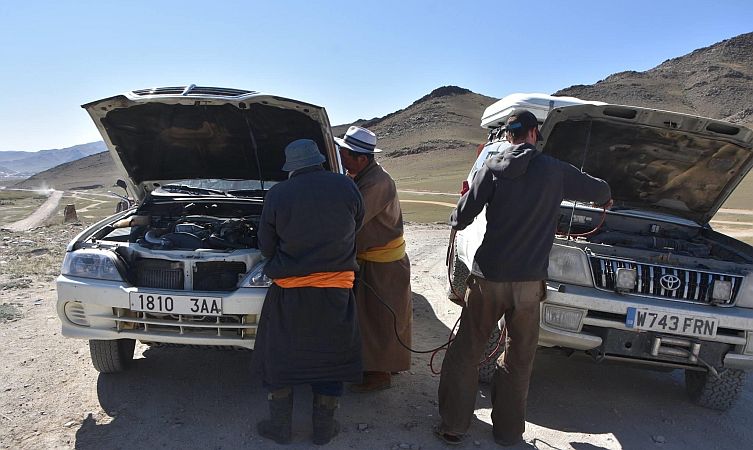 It is rare to see another car off the beaten track in Mongolia, so these locals were delighted the Jonwoods were able to stop and get them going again with a quick jump start.
What has happened to the Land Cruiser since you got back?
Peter: The Land Cruiser has settled back into normal life, being used for work as well as camping holidays in the UK, which has included a much less ambitious road trip to the Outer Hebrides. Since our daughter Skye was born in October 2019, we've removed all the overland gear to make space in the boot for all her baby clobber. The Land Cruiser is now our do-it-all family car and holds a special place in our heart – not only because we've experienced so much together but also because it is the car we brought Skye home in.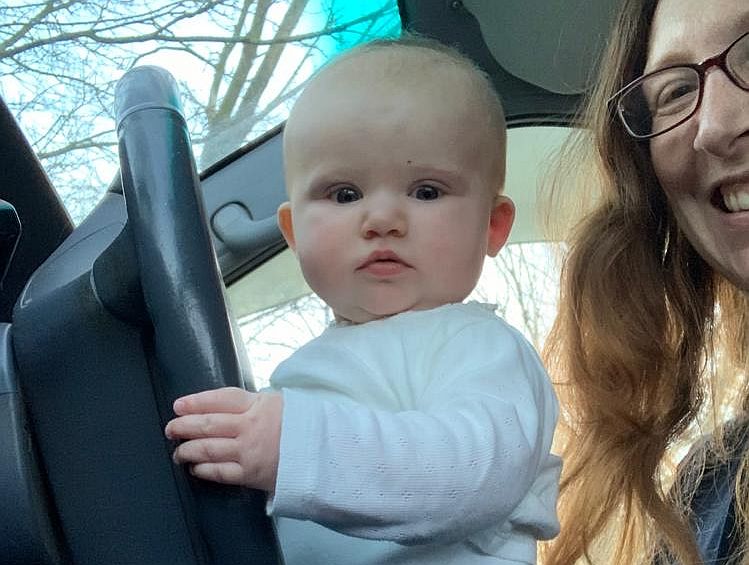 Skye Jonwood starts her adventure training in Peter and Jenny's beloved Land Cruiser.
Thank you so much for recounting your amazing experience with us. It's given us lots to look forward to after adventure travel resumes again.
Toyota People… is a series that celebrates individuals with a special enthusiasm for Toyota, whether that is related to its vehicles, philosophies, or manufacturing processes. Read more here.