In a motorsport career spanning 45 years, Rod Millen has written himself into the record books time and time again. His prowess on loose-surface rallies and hillclimbs is renowned, as five victories on the challenging Pikes Peak International Hill Climb in Colorado attest.
A long and fruitful collaboration with Toyota yielded the outright Pikes Peak course record in 1994 in a stunning all-wheel-drive Celica. Although the record has subsequently been eclipsed, Rod's standard was set when the 12-mile road was gravel, whereas faster times occurred after it had been partially paved. For this reason, his 1994 effort of 10min 04.06sec remains a heroic one.
Now 69, Rod remains deeply involved in motorsport, and has established an annual event called the Leadfoot Festival on his own ranch in New Zealand. We caught up with him to hear his story.
How and when did you discover your talent, and taste, for racing?
"I grew up on a farm in New Zealand, and my dad built a go-kart which my brother and I would tear around on, so you could say that was my first taste of motorsport. Then when we sold the farm and moved to the city, close to the beach, I took up sailing and surfing.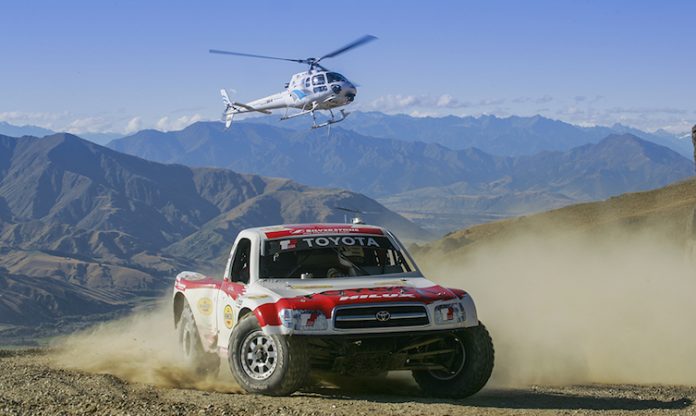 "In the Auckland area it was only a 45-minute drive from coast to coast, so as the wind changed I would go from side one side of the island to the other to catch a better wave. In the late Sixties those roads were gravel and I found myself balancing and sliding around the corners. I've done a reasonable amount of road racing, but I was always attracted to being on the limit of control on a gravel road."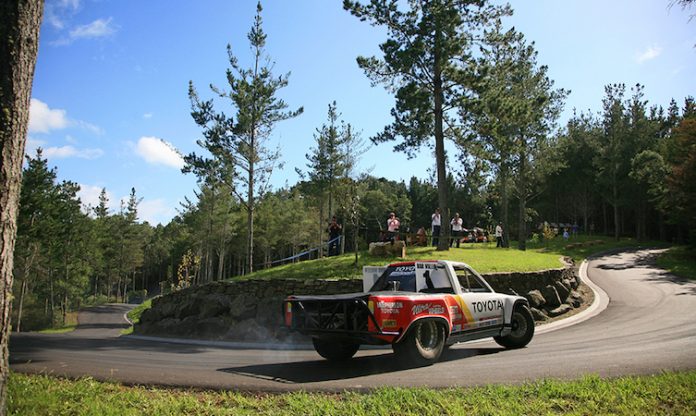 When did you first start working with Toyota?
"I competed against Toyota in the Mickey Thompson Off-Road Series in the late Eighties, in Southern California. I got along well with the team owner, and a couple of times he'd asked if I was interested in driving for him. So I started driving for Toyota in 1991, and won [the Mickey Thompson series] in 1992, 1993 and 1994. I also did a lot of testing [with Toyota], a desert programme, Pikes Peak and numerous others, building concept vehicles and things like that."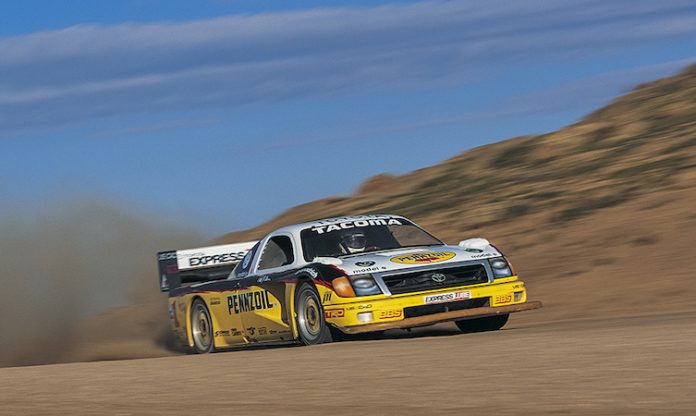 What inspired you to take on Pikes Peak?
"Because there was no driving school in New Zealand, I had to do three hill climbs to get my competition licence. So I cut my teeth on hill climbs, but I also read about Pikes Peak and thought it would be a wonderful event to do. I was part of getting the organisation to accept rally cars [as a class] in 1981, so I would go virtually every year. It was a unique challenge."
How did Toyota support your Pikes Peak record attempt?
"It was never part of my programme, but it was something I wanted to do. The TRD [Toyota Racing Developments] folks said we're going to have a lot of the Dan Gurney [Eagle MkIII] four-cylinder engines available in 1994, because that programme has finished with the IMSA [GTP] series. Meanwhile Chevrolet was trying to hire me, and Toyota said they would support the Pikes Peak effort if I stayed with them. That's how we got the programme going.
"In those days Toyota was selling the Celica with four-wheel drive, [which] we knew we needed having raced at Pikes Peak for over a decade, and TRD had a light weight motor that would give 850hp at altitude. [Then] got the help of an IndyCar designer and well-known aerodynamicist who modelled the Celica and we changed some of the shape, and the underneath of the car, to produce an under-wing."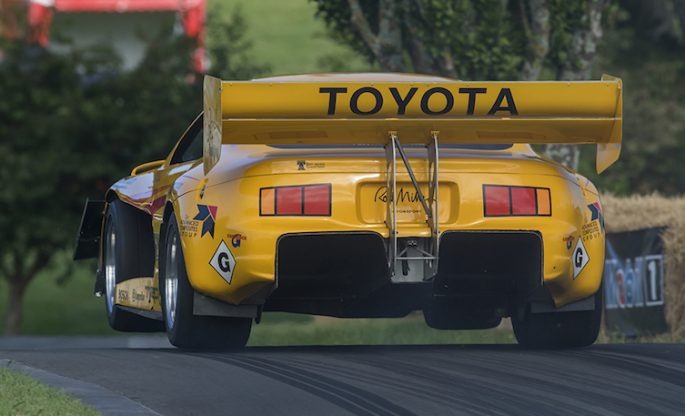 What advantage did the aero package offer?
"Because we were running on gravel at high altitude, the aero effect had to be large. We did a lot of 100mph runs at a local dry lake in Southern California to understand what the aero package would do, not just in total downforce but how we could adjust the centre of pressure towards the front or rear to get far better traction. That lake was our full-scale wind-tunnel – we ended up achieving 2,000lbs of downforce at 100mph.
"We were never going to see more than 140mph at Pikes Peak, so the aero package had to work between about 70mph and 140mph. I couldn't drive it like a traditional rally car on a dirt road, it had to be a lot straighter and more controlled so the aero package could give the maximum effect. I could still rotate the car in the hairpins but was told I could go through the high-speed corners a lot faster at less than a 15-degree slip angle. During practice we were 10-15mph faster coming out of the [highest-speed] corners than competitors, so that made a huge improvement to the times."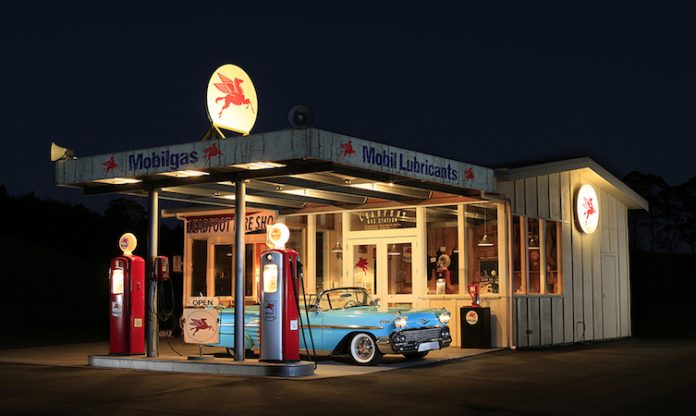 How did your career influence the design of your Leadfoot Ranch home?
"When I was rallying I'd often tell co-drivers that I wanted a long road that goes to a house way in the distance, or out of sight. My wife and I were in New Zealand about 20 years ago, and we found a property on the coast with a quarter-mile driveway. I talked to the neighbours and, six acquisitions later, I had enough property to get to the highway. The road would be a mile and a half long, and I looked at this and said I could turn it into some of my favourite roads that I've raced on; a forest section like a rally course, switchbacks like Pikes Peak, a Daytona corner with a lot of banking.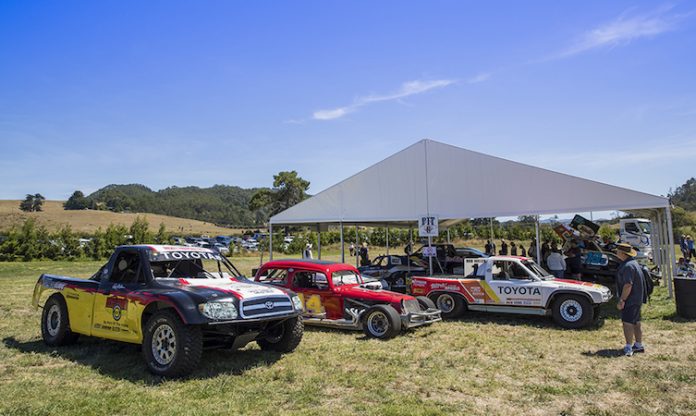 "For my 60th birthday we had about 25 of my friends come along with their race cars, we spent a day and a half racing up the driveway and had a party in one of the barns. My wife put it all on. It was a private event but the media all wanted to show up, and we had a lot of people saying what are the chances of doing a full-on invitational hill climb – similar to Goodwood Festival of Speed. We set about making even more improvements to the property and held our first Leadfoot Festival a year later."
Which of your Toyota race vehicles now live at the ranch?
"I have the Pikes Peak Celica, and I run that every year. About three years ago it went back to California for a total rebuild. I also have the [Championship Off Road Racing series] Tundra which I don't pull out very often, it gets an oil change but that's it. Then I have the Mickey Thompson stadium truck. I had Ivan Stewart driving it [at Leadfoot Festival] this year, and it was fun to see him in it. That's planned to be freshened up this year."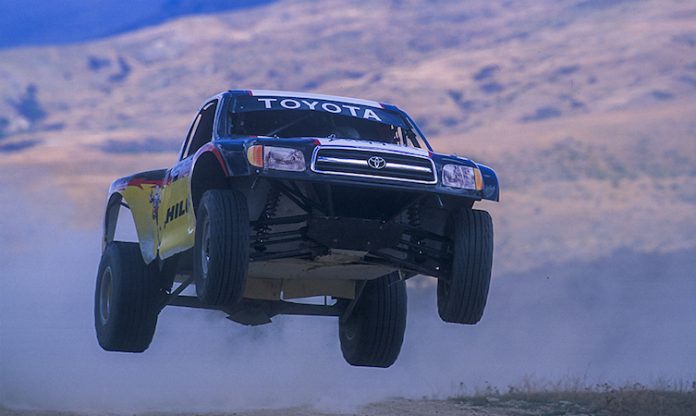 Having tried multiple disciplines, which is your favourite motorsport?
"I love the adventure of rallies. It would take you to places that you wouldn't normally go, those events would last for days and I quickly learned you didn't have to win every stage to win the rally. Some of those disciplines helped me in my whole career – the journey is long, you've just got to be patient."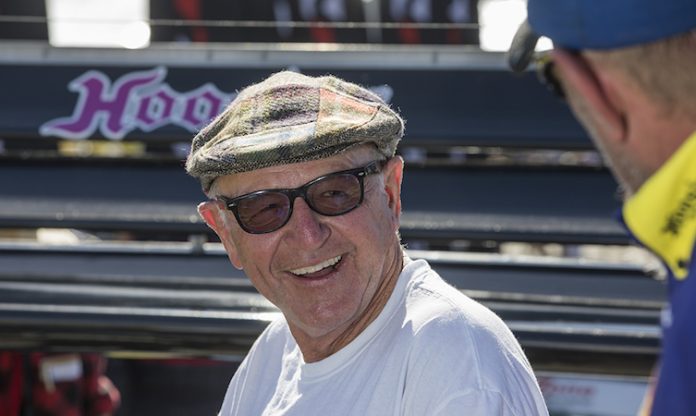 Rod Millen was talking to Alex Grant
Images by Alastair Ritchie
Toyota People… is a series that celebrates individuals with a special enthusiasm for Toyota, whether that is related to its vehicles, philosophies, or manufacturing processes. Read more here.