London's first hydrogen-fuelled private hire car has taken to the streets: a new Toyota Mirai fuel cell saloon, operated by greentomatocars. The first customer to experience Mirai was Holly Tucker, who travelled emissions-free the 10 miles from her home in Wimbledon to the West End.
It was a perfectly timed debut for the advanced Mirai. With increased traffic from thousands of Christmas shoppers and deliveries in London, it is one vehicle that won't be adding to pollution levels in the capital, as the only emission it produces from its tailpipe is water.
Holly Tucker commented: "It was really exciting to travel in the Mirai and I would definitely want to ride in it again.  The fact that you only have water coming out of the exhaust is amazing and it's especially beneficial for London, as it's important to keep our city clean."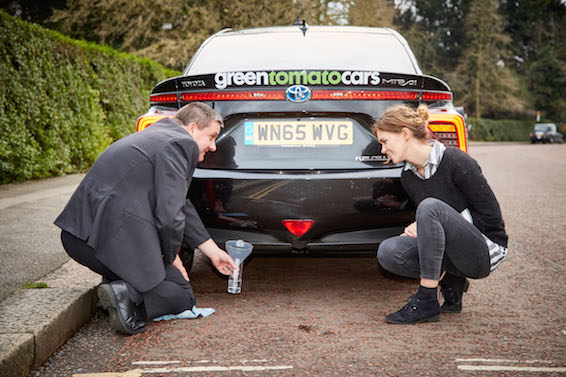 Mirai is the world's first hydrogen fuel cell saloon, using hydrogen gas to generate electricity inside a fuel cell stack. This power is used to drive the car's clean, quiet and powerful electric motor, with no harmful emissions and no need for plug-in recharging
Spacious, refined and comfortable, it combines its advanced technology with superb practicality: a full-tank driving range of around 300 miles bears comparison with a petrol-powered car and the refuelling process only takes about three minutes to complete.
Greentomatocars is one of the first European customers for Mirai, taking two cars from the initial 12 that Toyota expects to be on the road in the UK before the end of this year.
Julia Thomas, greentomatocars Managing Director, said: "We are thrilled to announce that the first hydrogen powered fuel cell Toyota Mirai are now actively on the road and servicing our greentomatocars clientele as they travel around London.
"As London's own original eco passenger car service, we strive to support the latest in environmental transport technology and we are extremely excited to have these vehicles join our fleet, to delight our customers and to lead the way towards a cleaner city and world. Keep an eye out to catch a glimpse of these technological marvels on the road or even picking you up for your ride."
Read our other Toyota Mirai articles here.