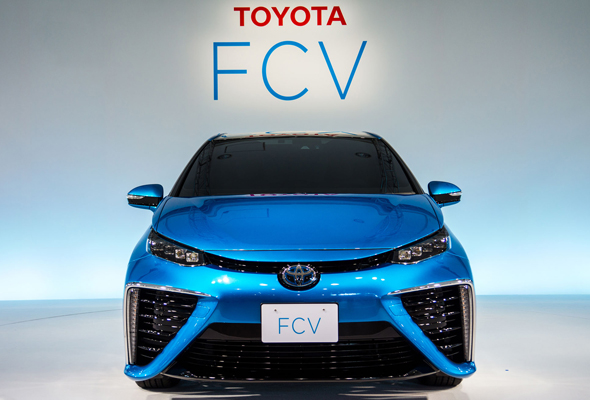 The Toyota Mirai was designed with safety as a top priority, with the fundamental approach of ensuring the hydrogen that powers the car does not leak.
In the unlikely event a leak does happen, measures are in place to ensure immediate detection, stoppage of the flow and the prevention any build-up of hydrogen in the car.
Steps taken to achieve this include the development of high-pressure hydrogen tanks with excellent permeation prevention performance, strength and durability, and new hydrogen sensors to provide warnings and shut off the tanks' main stop valves.
Finally, the location of the tanks and other hydrogen-related parts outside the cabin, so that if there is a leak, the hydrogen will quickly disperse.
Using features such as a body structure that efficiently disperses and absorbs impact energy across multiple elements provides excellent protection for the Toyota FC Stack and hydrogen fuel tanks in front, side or rear impacts.
The Toyota FC Stack's frame is made from a new thermoplastic carbon fibre-reinforced plastic which is light, strong and easy to mass produce. This protects the FC stack by absorbing impact shock from bumps and other road interference.
Advanced safety equipment
The Toyota Mirai is also equipped with a full range of advanced safety equipment. Standard features include:
A pre-collision system with millimetre-wave radar which helps prevent collisions, or reduced damage in an impact by triggering driver alerts and, if a high collision risk is detected, brake control.
A lane departure alert which uses a camera to detect white or yellow lane markings and warns the driver if the car is about to deviate from its lane.
Drive-start Control limits sudden starts or acceleration when making gear shifts.
A blind spot monitor which uses radar to detect vehicles in adjacent lanes and helps the driver with rear-view checks when changing lanes.
Click the following links to find out more about the Toyota Mirai.
Toyota Mirai fuel cell car: technical specs and release date
Toyota Mirai: Environmental performance and convenience
Toyota Mirai: Exterior and interior design
Toyota Mirai: Handling stability and outstanding quietness
Toyota Mirai technical specifications vs FCHV-adv