On 4 June 1990, this humble spade was used to break ground on Toyota's new facility at Burnaston, one part of its grand plan to establish a manufacturing base in the UK.
TMUK developed two sites: an engine manufacturing site at Deeside, North Wales, and the car production and assembly site at Burnaston, Derbyshire. Construction began on the Deeside engine plant first ( pictured below) and was joined a few months later by the start of development at Burnaston.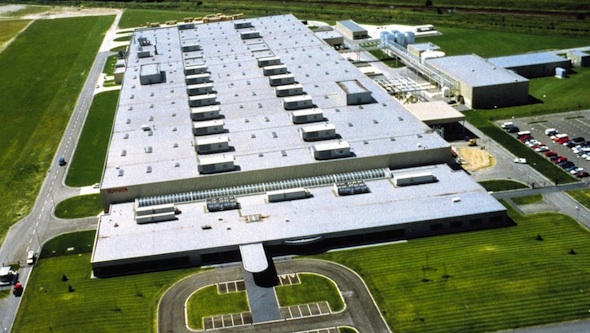 After more than two years of hard work, the Deeside plant began production in August 1992, with the engines manufactured there destined for the engine bay of Toyota's new Carina E, which entered production at Burnaston (pictured below) in December 1992.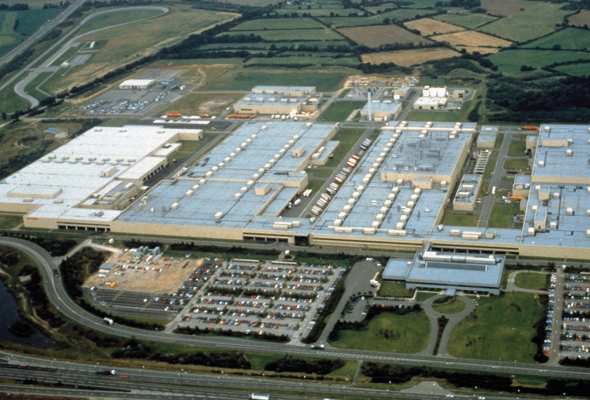 The decision to develop two separate sites enabled Toyota to plan for future expansion of its production facilities and capacity.
At the start, Burnaston was producing around 35,000 vehicles each year, a figure that grew to more than 180,425 vehicles in 2016.
The Deeside plant covers 115 acres and employs over 500 people – known as Toyota 'members' – who built more than 280,000 engines during 2016. As well as conventional petrol engines used in models such as Auris and Avensis, Deeside was the first plant outside Japan to produce Toyota's 1.8-litre petrol-electric hybrid engine, a unit that is used across a number of different Toyota models including the new CH-R. It also recently started production of the supercharged 1.8-litre petrol engine that powers the limited edition Yaris GRMN hot hatch.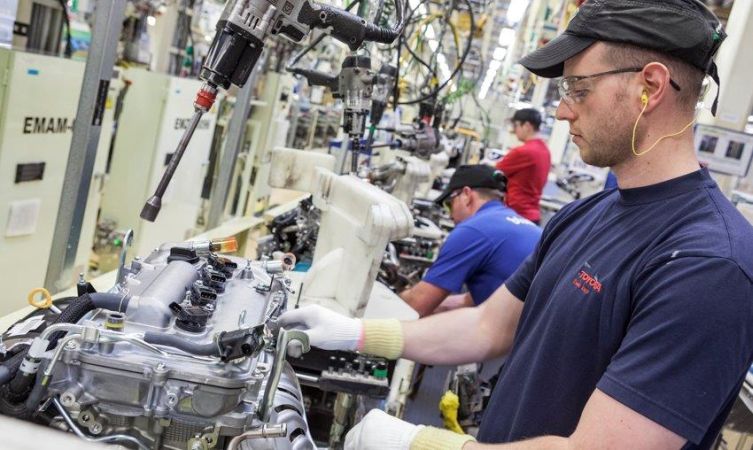 At Burnaston, TMUK's site encompasses 580 acres of land that is shared by the manufacturing facility itself and a mix of green open spaces, wetlands and a registered nature reserve. The location reflects Toyota's global commitment to the environment and developing sustainable facilities that are in harmony with the natural world around them.
TMUK's facilities have the distinction of being selected as Toyota eco-plants, pioneering best practice and sustainable processes to cut pollution, reduce waste and make efficient use of natural resources.
In harmony with this status, TMUK became the first manufacturer in the UK to achieve the internationally recognised ISO 14001 accreditation for environmental management.
It also sends zero waste to landfill, with the by-products of manufacturing recycled in a variety of ways so that the environmental impact of production is minimised. Since 1992, the amount of energy and water used to build each vehicle has been reduced. Energy, water and VOC emissions are down by 75 per cent, While waste is reduced by 66 per cent.
Across the two sites, over 3000 Toyota team members work hard to ensure that every Toyota is built to the highest standards of quality and sustainability. It may not be your first thought when you sink into the driver's seat each morning, but it's reassuring to know that your Toyota has been built in an environmentally responsible way.
To discover more about TMUK at 25, see 25 Objects: Celebrating Toyota Manufacturing UK's 25th anniversary