For Toyota members, their uniform is more than simply something to wear while at work – it signifies their status as a valued member of Toyota's 360,000-strong global workforce.
For an added sense of pride, every Toyota factory around the world has its own uniform design, and the TMUK plant at Burnaston is no exception. TMUK's grey jacket bears three stripes on its right sleeve, a detail that you won't find anywhere else in the world and one that acts a visual reminder for all the members at TMUK.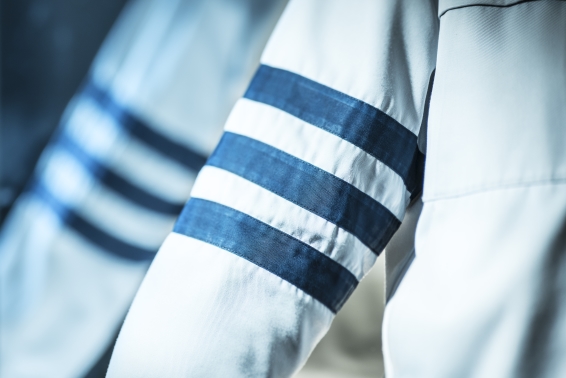 Known as the 'three stripes of quality', they refer to three fundamental statements that underpin the manufacturing process at TMUK:
Customer expectation determines the quality
High quality is 'built in' at every stage
Quality is continually improved
Firstly, consider customer expectations. Toyota has built a reputation over decades of making high quality, reliable and dependable vehicles – that's why so many owners keep coming back, and why you will find different generations of the same family all driving Toyotas.
Since the 1960s, customer preferences and opinions have been fed back to the design teams and factories so that Toyota vehicles are constantly improved to meet their expectations. Team members are motivated to achieve the highest quality in their work by their desire to meet the high demands of Toyota customers and the importance of maintaining Toyota's longstanding reputation for excellence.
Secondly, TMUK follows a practice of 'building in' quality at every stage of production. This means that even in the unseen areas – the parts of the vehicle that you'll never even think about – Toyota pursues outstanding quality.
This concept dates back to 1960 when Eiji Toyoda – then Executive Vice-President of Toyota and later its president and chairman – established the principle of maintaining the highest possible standard of quality at every step of the production process. To that end, all Toyota employees consider the next stage of the production line as their 'customer', ensuring they always pass on high-quality work in a timely manner.
Thirdly, if a team member identifies a flaw or defect at some point in the production process, this is immediately investigated, rectified and the process improved. It is a demonstration of Toyota's 'Kaizen' principle of continuous improvement: viewing a problem as an opportunity to make an improvement, getting to the root cause of the issue by persistent enquiry – asking 'why?' – and then taking the required action to prevent the situation recurring.
Even though that process may initially be time-consuming, the end result is that the issue is eliminated rather than repeated, meaning that owners can have confidence that their Toyota has been carefully constructed from start to finish to give a lifetime of reliable service.
<<<PREVIOUS 15: Paint Shop Mister and Water Trap
To discover more about TMUK at 25, see the full list of 25 Objects.