Toyota is treating the drivers of tomorrow to a hands-on experience that lets them take the wheel of a colourful car at the International Tokyo Toy Show. The Camatte Journey gives youngsters the chance to take a simulated trip through some of the world's greatest travel destinations, the central feature in Toyota's presentation at the exhibition next week (7-10 June).
It's the latest in a series of Camatte models and activities Toyota has showcased at the fair since 2012. These are designed to help children learn about the basics of driving and how cars work in way that builds interest and excitement for the next generation of motorists.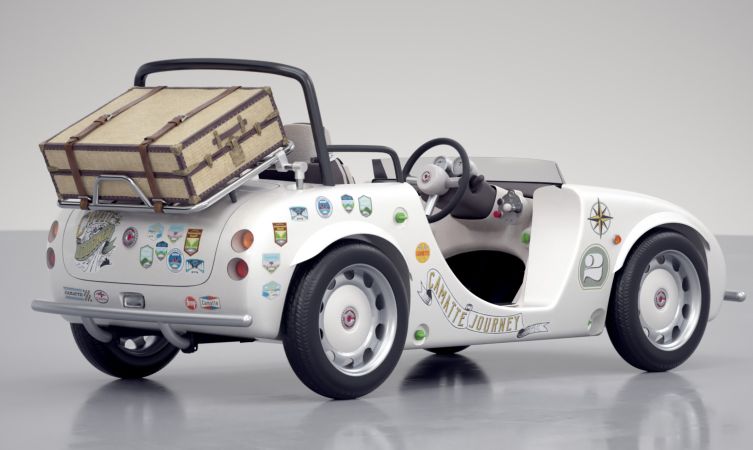 The Camatte Journey mixes both real and virtual experiences. Children will be able sit inside an adapted version of the Camatte Petta miniature car, decorated with colourful stickers from worldwide travel destinations and even featuring a vintage trunk mounted on the boot.
They will learn about the position of the brake and accelerator pedals using a tablet before moving off in the car down a short course, with changing landscapes projected onto a 220-degree screen to create the effect of going on a real journey. The Camatte Petta is an open-top, three-seater car, measuring a little over three metres long and powered by an electric motor.
This year's Toyota stand will also feature the Camatte57 Sport, with rides available for those young visitors who aren't able to take a ride on the simulated Camatte Journey.
Overview of the Toyota Camatte series
Toyota exhibited its first Camatte vehicle in 2012, the Camatte Sora. This was designed to be easy for children to drive and to customise, with different colour body panels that were simple to install and remove.
The following year the Camatte 57s was revealed, featuring 57 small, detachable panels that can be assembled like a puzzle. In 2014, the Camatte Lab allowed children to display pictures they had drawn on the car's bonnet and take a close-up look at its inner workings. The Camatte Hajime and Camatte Vision appeared in 2015, which used augmented reality technology to give children a simulated experience of driving through a town in car they had specified to their own designs.
Next came the Camatte Capsule, with a customisable interior space, followed by the Camatte Petta, which debuted in 2017.