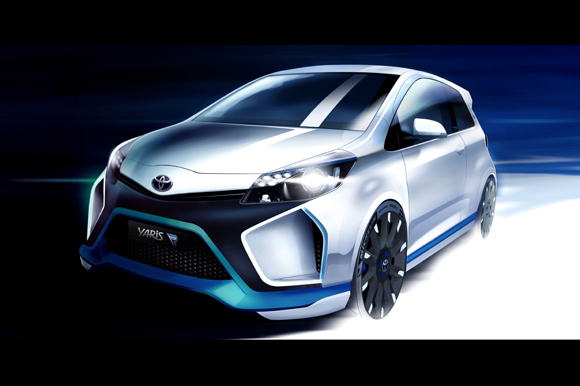 The waiting is almost over! We can finally reveal more pictures and new details of the thrilling new Toyota Yaris Hybrid-R concept.
Based on the the three-door Yaris, Hybrid-R features a new 1.6-litre GRE (Global Race Engine) developed by Toyota Motorsport. The 1.6-litre petrol engine is combined with two powerful electric motors that give the car intelligent all-wheel drive capability.
Inspired by Toyota's TS030 Hybrid race car, energy recovered under braking is stored in a super capacitor, a unit that's particularly suitable for use in a sports car thanks to its high power density and quick charge and discharge speeds.
The result is a highly focused machine, designed to deliver the maximum driving pleasure, both on road and track.
Created as a showcase for possible future hybrid development ideas that can deliver greater performance and driver rewards, the Toyota Yaris Hybrid-R will make its world debut at the 2013 Frankfurt Motor Show on September 10th. For more on Toyota's plans at this event, don't miss our show preview.