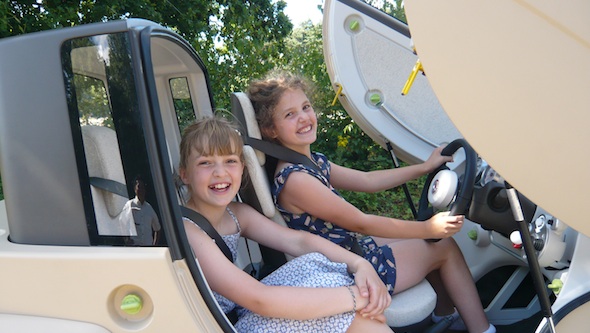 Letting your children get behind the wheel of a fully-functioning car is normally an ill-advised move – especially if the car in question is a concept car worth half a million pounds – but in this case the concept is designed for kids, and the track was private, wide – and with a big run-off. Safe, surely?
Down in leafy Surrey two under-10 girls are about to undertake their very first test drive. The car is the Toyota Camatte – a fully-electric car concept first shown at the 2012 Tokyo Toy Show and designed to be driven by kids in a bid to get the younger generation more interested in motoring.
It's no kid car-sized coupe though. Longer and lower than a Smart, the three-seater has an adjustable pedal set-up to help shorter-legged drivers reach them and a driver's seat that rises up and forward to be closer to the steering wheel. It also has interchangeable panels using big green Fischer Price-style screws and nuts, if you fancy a different body colour.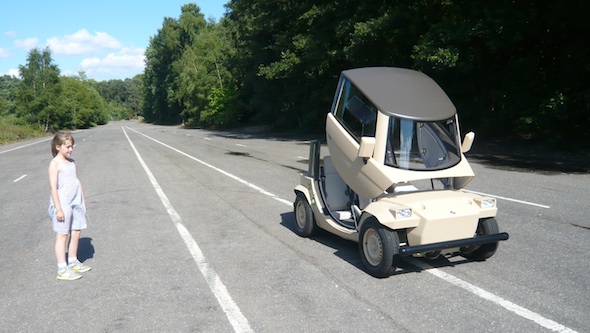 Initial impressions are promising. The concept doesn't have regular side-hinged doors. Instead, a front-hinged canopy made up of the roof, windscreen and side doors rises up on struts to allow entry. "This is so awesome!" enthuses my nine-year old daughter, Alex.
Inside, the seating layout is McLaren F1 supercar style, with a central driver's seat plus two outriding passenger seats sat slightly behind on each side. This allows kids to get a flavour of real motoring while an adult passenger can keep within reach of the controls if things start to get out of shape. There are two handbrakes too, one to the right of the driver and one between the two rear seats for easier access by rear passengers. Safety first.
Once seatbelts are securely fastened – and we've run through the Camette's super simple controls again – the 'On' switch is selected, the two-gear selector pushed down for forward (reverse is the only other option) and my eight-year old daughter Carmen puts the pedal to the metal.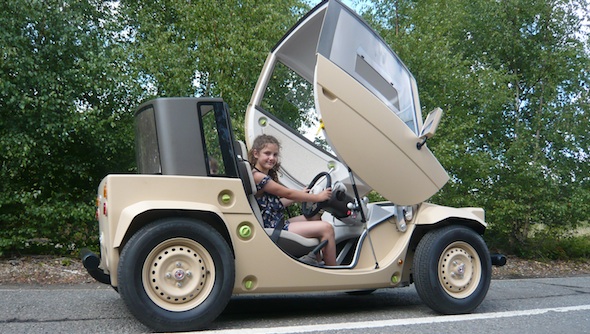 Not a lot happens until she's urged to press it down a bit more firmly and then we're off with a few surprisingly loud putt-putt-style noises while the 12hp electric motor gets going. Once in motion the car picks up pace to about 15mph, and she's already getting (over) confident, weaving about and exclaiming, "Let's go fast… let's go fast, yee-ha!"
With three bodies on board driving over flat rather than downhill terrain, the car's 35mph top speed seems unlikely – which is a good thing from back-seat perspective – and the brakes work well, as my leaden-foot daughters find out as we lurch into several emergency stops and one unintended 720-degree, double loop. "Straighten Up!"
All too soon the test is over, but these two under-10 girls have learned that cars can be fun, eco-friendly and safe, but that driving them takes skill and practice. It's been a day out to remember and certainly piqued their interest to find out more as their final words confirm: "Awesome! Can I drive it again?"
The Camatte has generated huge interest, but at this stage it remains a concept car and there are no immediate plans to offer it for sale.