The countdown has begun. Toyota has finally unleashed the TS030 Hybrid endurance racer at the Le Mans circuit in France.
For the first time ever, both Toyota Hybrids entered into this year's event took to the track at the same time. The action took place as part of a special pre-event test on Sunday June 3rd. The race takes place on June 16th-17th.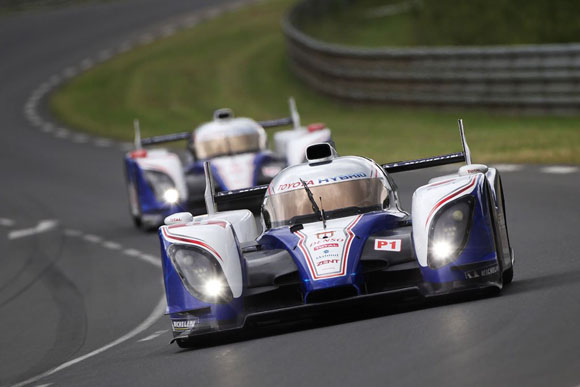 A 28,000 strong crowd watched the number 7 car, driven by former Le Mans winner Alex Wurz, Nicolas Lapierre and Kazuki Nakajima set a best time of 3minutes 27.204seconds – just 1.277secs down on the pace-setting Audi R18 e-tron, driven by Alan McNish.
McNish later said "The Toyota was a real surprise, at top speed it was a lot quicker than us."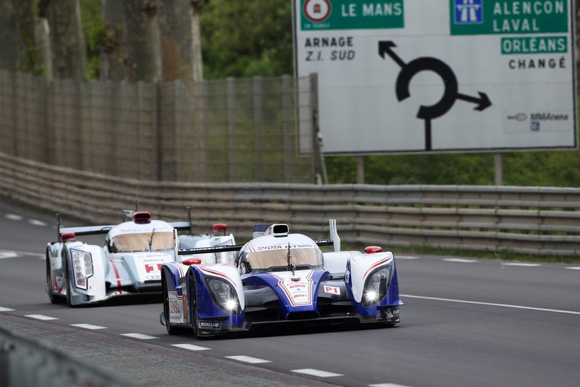 Wurz played down the result, pointing to this year's focus on development. "Generally this was a good test day," he said. "But we must remember that we are new in this game and have plenty to learn;"
"Now we have our homework to do. There is so much data to analyse but the Le Mans story for 2012 has begun, so far so good." 

The number 8 car, driven by Anthony Davidson came in just behind the lead Toyota with a lap of 3mins 28.298s.
Anthony Davidson said: "It was great to be back at Le Mans, especially with this new car and the hybrid technology."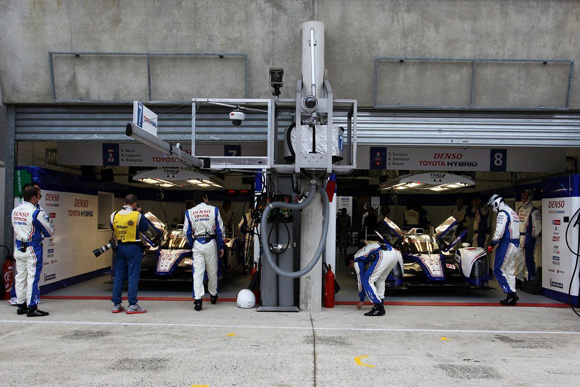 "The car responded well and I felt we had pretty good speed which allowed us to set some competitive lap times. It is nice for all the team to finally get to Le Mans and see two cars in action; it's a good reward for all the effort they have put in. First impressions are encouraging."
The new-look cars – featuring a blue and white livery – lapped closer to the pace than some had expected.
Team president Yoshiaki Kinoshita said he was pleased with the way the team had performed.

"Today was a significant step for us because it was our first chance to see the car on track against our opposition at Le Mans," he said. "It's hard to judge lap timesbut it certainly strengthens our racing spirit. Overall we are satisfied to complete a full day's running with both cars without any significant issue; the only interruptions came with some minor bodywork damage."
Hisatake Murata, Hybrid Project Leader: "To see the TOYOTA HYBRID System – Racing on track at Le Mans is a day we have been anticipating for a long time. We are continuously adjusting and improving the system, so each test day brings a step forward and that was true again today. The combination of downshifting, braking and charging is really working in harmony; it's like an elaborate dance. I would like to express my thanks to all the guys at Cologne and Higashifuji who have worked so hard to prepare for this. From a personal point of view, today really brought back memories of my last time working as part of a TOYOTA team here. I was engine engineer for the #33 TS010 back in 1992 when we finished in second place, so after a 20-year break it's great to be back."