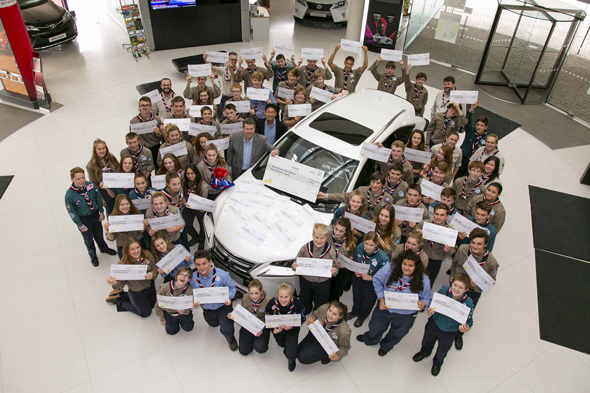 More than 50 Surrey Scouts and Explorers were given an insight into Japanese culture as part of an activity day hosted by Toyota GB PLC at its headquarters near Epsom in Surrey recently.
The event helped them prepare for their journey to Japan for the 23rd World Scout Jamboree next year and gave them the chance to boost their personal fund-raising for the trip.
Toyota GB was pleased to support the Scouts with donations totalling more than £19,000. Each of the boys and girls who took part received £200 towards their jamboree journey, given in reward for their help clearing areas of overgrown woodland in the grounds of the office complex, as part of Toyota GB's on-going ECO-HQ project to promote biodiversity. In addition, a contribution of £8,000 was made towards the Surrey County Jamboree Fund, which will help meet general equipment costs.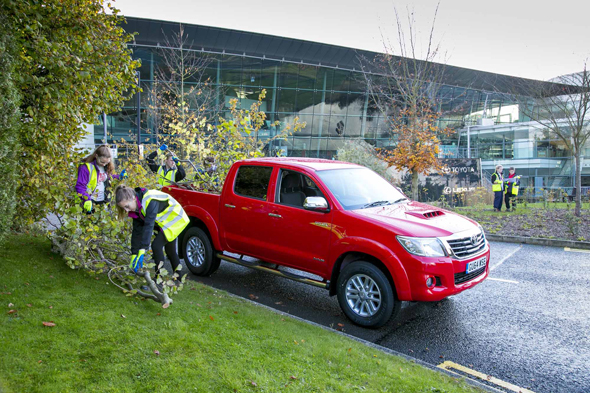 During the morning the group enjoyed a presentation from Masa Nohara, Toyota GB's Executive Director, introducing them to some of the cultural differences they will encounter. The insights were designed to help them prepare for staying with host families in Japan as part of their jamboree experience. Rob Giles, Toyota GB's director responsible for corporate social responsibility, gave a colourful presentation more about Toyota, its history and its status as one of the world's largest global manufacturing businesses. The young guests were also able to enjoy a taste of sushi on the lunch menu.
Rob Giles said: "At Toyota, supporting and contributing to the local communities where we live and work has always been at the heart of our operations and we have helped a number of Scout groups in the area through the Toyota Fund for a Better Tomorrow. However, the occasion of the World Scout Jamboree has allowed us to make a bigger contribution for Scouts across the whole of Surrey.
"The young people who took part in our activity day will be excellent ambassadors for the Scout movement in the UK, and for their individual groups, and we are delighted to have helped forge new cultural links between young people in our country and in Japan. The Scouts and Explorers also did a fantastic job helping us clear part of our site for our ECO-HQ project."
Bryan Chatbourn, leader of the UK Scout Association's contingent to the World Scout Jamboree, said: "The World Scout Jamboree in Japan is an incredible experience that will change the lives of all the 30,000 young people who attend. Not only is it an adventure, but meeting and working with young people from almost every nation on earth helps foster intercultural learning and tolerance which is badly needed in today's world. Toyota's support in helping young people from across the globe build more peaceful and tolerant communities is greatly appreciated."

See also:
Toyota donation helps Staffordshire Wildlife Trust visitors to explore
From Burgh Heath to Brussels: 26 Toyota staff raise thousands on charity cycle
Toyota takes on the Ice Bucket Challenge