A key strategy within the worldwide expansion of Toyota's motorsport activities was the establishment of a second base for the Toyota Racing Developments (TRD) arm in North America.
The IMSA Celica enjoyed an incredible life, recording seven pole positions, three fastest laps and two outright wins in 1983
TRD USA was inaugurated in 1979 and given the power to operate almost autonomously with full engine design, development and assembly facilities that would help it make a more efficient assault on the world stage.
In order to get the ball rolling, two cars based on the third-generation Toyota Celica were prepared by TRD Japan for FIA GT racing and sent to TRD USA. There they were modified to GTU (under 2.5 litres) regulations and tentatively entered in the International Motor Sports Association (IMSA) GT Championship in the latter events of 1981.
Kent Racing took over the programme in 1982 after Toyota Motor Corporation officially lifted the ban on its worldwide motorsport activities. Little success was forthcoming, so TRD USA switched to embark on what would become a very fruitful alliance with Dan Gurney's All-American Racing (AAR) team for the 1983 season.
Refined under the care of both TRD USA and AAR, the IMSA GTU Celica enjoyed an incredible new lease of life, recording seven pole positions, three fastest laps and two outright wins that year. The following year it continued its performance with four event wins, and then came second in the championship in 1985.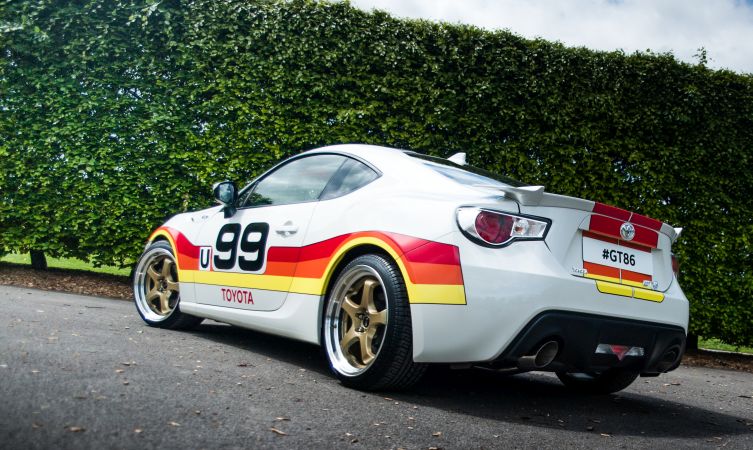 Towards the end of the 1985 race season the Celica's role altered somewhat as it began a test programme for an upgraded engine that would power the team's campaign in the higher GTO division the following year. Toyota followed up on this promise by returning to the IMSA GT Championship in 1986, but this time with a car based around the fourth-generation Celica.
Toyota GT86 Specification:
Motor Mode vinyl graphics, 9.5×18″ (ET38) Rota D2EX gold finish alloy wheels with 235/35 R18 Pirelli tyres, V-Maxx -40mm lowering springs, Miltek Sport stainless steel exhaust system
Also see:
Yatabe Speed Trial Toyota 2000GT
Shelby Toyota 2000GT
Ove Andersson's Toyota Celica 1600GT
Castrol Toyota Celica GT-Four
Esso Ultron Tiger Toyota Supra
Making of our fleet of retro-tastic Toyota GT86 race replicas
Build your own IMSA-livery Toyota GT86
Would you like to build your own scale cut-out model of the IMSA-livery Toyota GT86? Click on the following link to download and print our specially prepared high-resolution PDF document