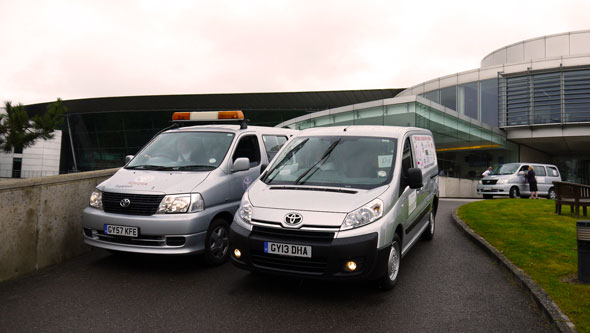 A team of 19 Toyota GB staff set out on a 250-mile cycle ride to Brussels in aid of charity the Lily Foundation this morning.
The Lily Foundation funds research into Mitochondrial disease and to give support to sufferers and their families – you can find out more about their work on their website.
The team will ride from our Surrey HQ to Dover today, stopping off at Toyota Beadles Maidstone and Toyota Motorline Ashford en route. Saturday's ride will take in Calais to Ypres, while they will arrive in Brussels on Sunday night. The finish will come at Toyota Motor Europe in Brussels on Monday morning.
There's even a UK first – the support team is using the country's first registered Toyota Proace commercial vehicle.
Before setting off, John Ryan, who organised the ride, said: "I'm glad it's starting now, it's been a quite long time in the planning and now we've just got to get our heads down and pedal.
"The charity does some fantastic work so we're delighted that we can try and help out."
The team has already raised more than £5,500. You can find out more about the ride by following the #ToyotaOaks hashtag on Twitter, and you can donate on the team's JustGiving page.