In April 2017, Toyota GB entered into an official charity partnership with The Guide Dogs for the Blind Association, following a shared ambition to grant mobility for all.
Guide Dogs for the Blind Association is a people charity, not a dog charity. They provide mobility, freedom and independence to people who are blind and partially sighted. Breeding and training guide dogs is one part of this, but the charity also delivers confidence-building rehabilitation services to adults, young people and children.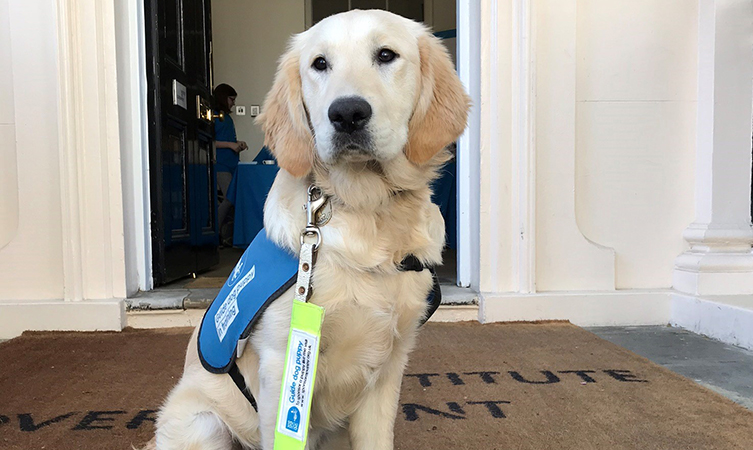 How are the Toyota Guide Dog puppies doing?
Banjo, the Guide Dog puppy named by our Twitter followers, is now halfway through his training with his Puppy Walker, Fiona.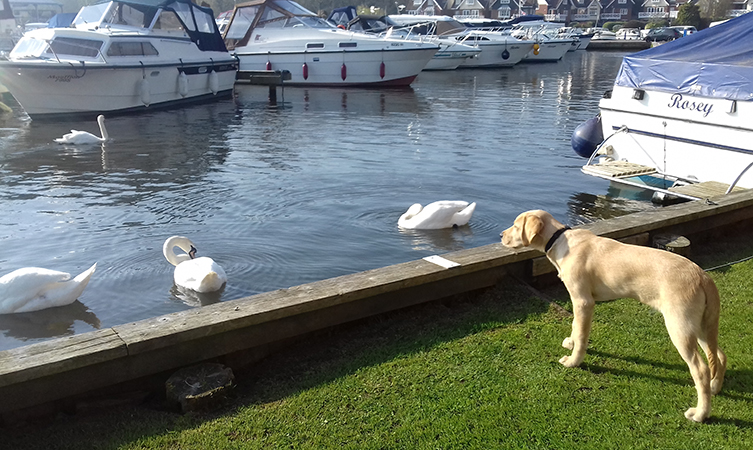 "Banjo is doing really well," reports Fiona. "He's eight months old now and developing as expected. He copes with everything really well. We've been on buses, trains, the Underground and even boats!"
Banjo is already showing a flair for being a high achiever, after being awarded a Silver Good Citizen Award from the Kennel Club. There are still a few areas he needs to work on, however. "He loves people and dogs, and loves to play with toys," says Fiona. "His biggest problem can be dog distraction and scavenging wood and leaves – we're not looking forward to Autumn!"
He's also proving to be a real charmer. "He is very affectionate and is happy to lie on your feet," says Fiona. "We've been on holiday with him this past week and he's adapted to the change of circumstances really well. Everyone we meet has said how handsome he is, too."
The other three Guide Dog puppies, Genchi, Poppy and Elsie, are also progressing well.
Fundraising activities
Since the start of this partnership, Toyota GB has raised £144,472.62 for Guide Dogs, granting 28,895 days or 79 years+ of mobility.
Among the many fundraising activities has been the RideLondon 100, in which intrepid members of staff and friends braved an unseasonal bout of wind and rain to cycle 100 miles through London and the Surrey Hills. Our academy also coordinated the live performance of the song You've Got a Friend in front of staff and Guide Dogs visitors. Meanwhile, the company directors challenged themselves to scale the length of Hadrian's Wall – an accomplishment that raised over £31,000.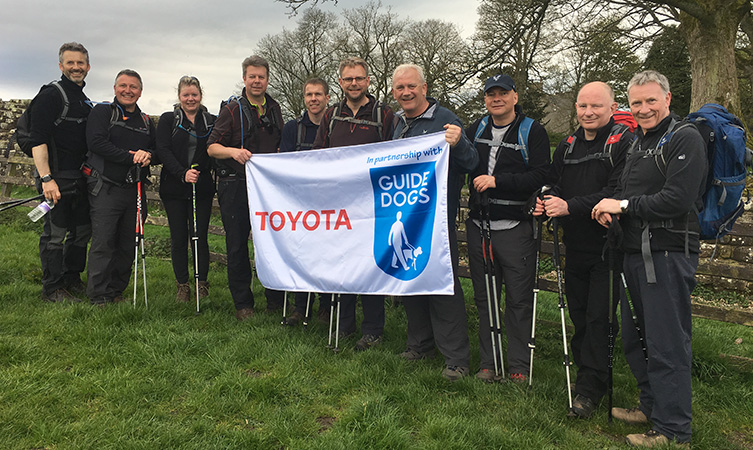 In addition to these large-scale events, staff raised significant funds by taking part in dress-down days, bake-offs, sporting sweepstakes, and the sale of honey produced our very own TGBees.
Received by Guide Dogs: £144,022.62
Equivalent mobility: 28,805 days or 79 years
Guide Dog Week
In commemoration of 18 months of charity partnership, a special Guide Dog Week will be held at Toyota GB's head office in Surrey. During that week in October our aim is to increase awareness of the work accomplished by Guide Dogs through numerous talks, interactive events and further fundraising activities. Staff will also have the opportunity to meet the four Toyota-supported Guide Dogs: Genchi, Banjo, Elsie and Poppy.