We all knew it was only a matter of time before the motorsport community welcomed the new Toyota GR Supra into their hearts. But the speed of this particular conversion from road car to fire-breathing drift machine has taken the scene by surprise – even more so when you realise what transformation has occurred under the bonnet.
Toyota GR Supra: drift machine
Toyota Gazoo Racing has revealed its sponsorship of professional drift driver Daigo Saito, who will compete in the D1GP All Star Shoot-out event in a specially prepared version of the new Toyota GR Supra.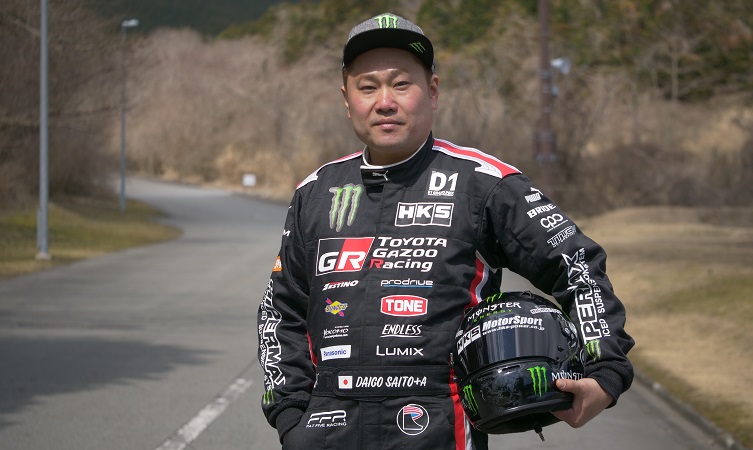 Saito (above) is a multiple championship-winning drifter from Japan, and is renowned for being the only driver to have won major drift series in both Asia and America. With that in mind, Toyota's sponsorship is intended to convey the passion and tuning potential of the new GR Supra, while simultaneously reasserting the model's domination on the global motorsport scene.
The Toyota GR Supra drift car will make its public debut at the D1GP All Star Shoot-out presented by Monster Energy. The event will be held in Odaiba, Tokyo, on 23-24 March. Following this appearance, Saito will use the car to compete in the entire 2019 D1 Grand Prix series, which starts in June.

Toyota GR Supra: becoming a drift machine
In order to be competitive in professional drift events, the GR Supra has been extensively modified by Saito's own Fat Five Racing team.
Although the exact specifications have yet to be officially revealed, our main image appears to show the first installation of a new Pandem wide-body conversion from renowned automotive stylist Kei Miura.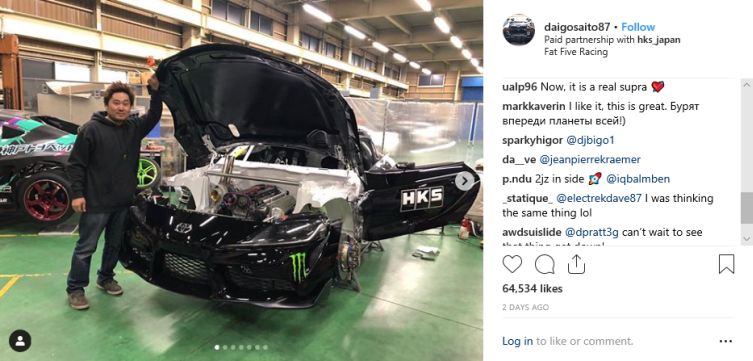 Posts from Saito's social media channels also suggest that the GR Supra drift car contains yet another industry first, having been converted to run a 2JZ-GTE motor – the revered straight six that powered the previous generation Supra.
Further sponsor stickers and a reported engine size of 3,352cc also point towards the fact that the engine has been rebuilt with an HKS 3.4-litre capacity upgrade. Saito is said to be targeting an output of 800bhp for this unit. That's a phenomenal amount of power yet safely shy of the four-figure capability of the engine's internals.
Learn more: History of the Toyota Supra