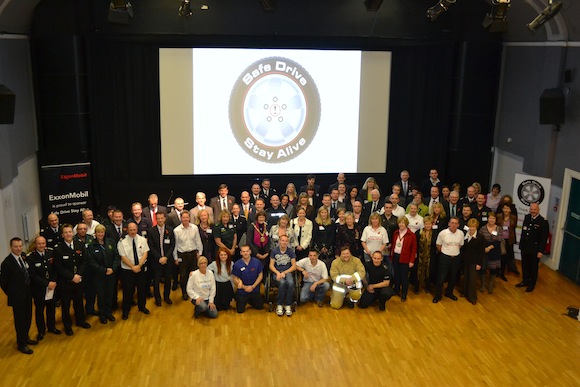 'Safe Drive Stay Alive' is an award-winning campaign that aims to educate young people about safe driving.
Led by Surrey Fire and Rescue Service, it is just one of the projects supported during the first year of the Toyota Fund for a Better Tomorrow.
Find out more about the Toyota Fund for a Better Tomorrow here.
Aimed at audiences of 16 to 19-year-old school and college students, the hard-hitting film and stage performance sees emergency service workers and people affected by road collisions take to the stage to tell their stories, backed up by a film that showing four young people involved in a road traffic collision.
The high impact performance traces events leading up to a road traffic collision and then follows the actions of the emergency services dealing with the incident. At appropriate moments the film is paused whilst emergency service staff and volunteer members of the public speak of their own experiences at the scene and of the aftermath.
The real-life stories impress upon the audience that their future is in their hands.
The show has been performed 137 times since April 2005, and seen by 80,000 young people. Performances for 2013 are already scheduled for November, and you can find out more about booking places on the Surrey County Council website.
Thomas Rosselle, manager of corporate and social responsibility for Toyota GB, said: "With passing your driving test comes the freedom that all teenagers crave. Safe Drive Stay Alive is a powerful voice to help young road users understand the responsibility that comes with driving a car.
"As Toyota has its UK headquarters in Surrey, helping to support the work of Surrey Fire & Rescue is a natural continuation of our global commitment to improving road safety."