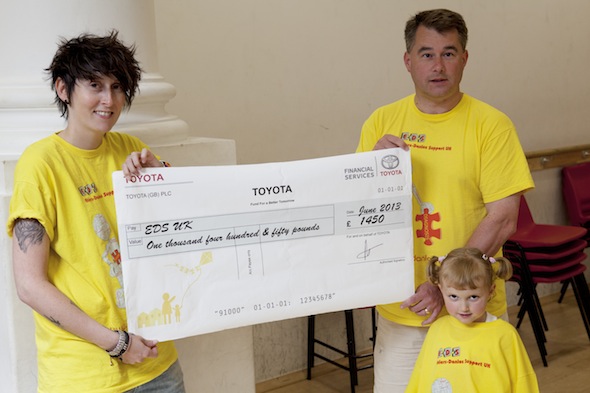 Toyota has added £6,000 to the coffers of the Ehlers-Danlos Support UK charity after staff from RRG Toyota Rochdale took part in the Great Manchester 10k Run earlier this year.
Ehlers-Danlos Syndrome is a genetic connective tissue condition that is a multi-systemic syndrome. The charity was set up in 1987 to support, advise and inform those living with Ehlers-Danlos Syndrome and help them to live a full, active and positive life.
Earlier this year RRG Toyota Rochdale staff donned their trainers and took part in the Great Manchester 10k Run including centre principal Jared Griffin, whose 4 year daughter Annabelle has been diagnosed with the life threatening and incurable Vascular type of EDS.
They raised a total of £4,550, which was added to by a £1,450 grant from the Toyota Fund for a Better Tomorrow.
RRG Rochdale also supported Annabelle's Challenge with a Toyota GT86 'EDS awareness car' to help raise the profile of EDS UK and also raised awareness of EDS within the centre.
Due to the generous donations raised, EDS UK is able to train 42 new volunteer area contacts and their trustees, so that they can provide support and help run events for EDS members all over the country.
Toyota Fund for a Better Tomorrow
Charities, schools and good causes across the country are receiving valuable support from the Toyota Fund for a Better Tomorrow.
The fund, set up and administered by Toyota GB, works at grassroots level, involving Toyota centres in projects that help improve the quality of life and the environment in their local communities.
Grants are available for Toyota centres and their partners in their local community. Each submission is judged on the positive impact it can have on the community and how this can be measured.
The degree of team-work involved in the activity is also considered, together with the project's focus – such as the environment, education, well-being or road safety. In 2012, more than 50 projects received help.
Read more about the causes that have been helped by the Toyota Fund for a Better Tomorrow by clicking here.
Find out how to apply through your local Toyota dealer here.