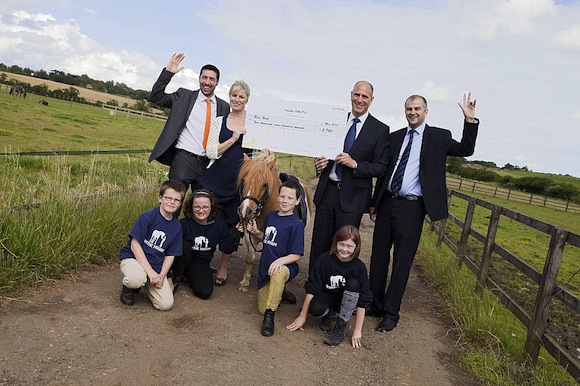 Milton Keynes horse riding charity Ride High was given a funding boost to the tune of £2,700 by Steven Eagell Toyota (Bedford) in 2012, through the Toyota Fund for a Better Tomorrow.
We're taking a look back at the projects supported by the Toyota Fund for a Better Tomorrow in 2012 – read more here.
Ride High aims to help disadvantaged children by giving them the opportunity to learn to ride and look after horses and ponies. It used the money to purchase an interactive whiteboard, to help the children work more creatively, give presentations and watch videos.
Steven Eagell Toyota (Bedford) was one of the first Toyota Centres to secure funding through the Toyota Fund for a Better Tomorrow. Presenting the cheque in July, Steven Eagell, Managing Director, said: 'We'd like to congratulate everybody at Ride High – we are proud to be involved and be able to support their excellent work. As a local company, we are committed to supporting the local community where possible.'
Thomas Rosselle, CSR & Environmental Affairs Manager at Toyota GB added: 'The Ride High Goes Interactive project shows what can be achieved when local businesses such as Steven Eagell Toyota take an active part in their community. We have established the Toyota Fund for a Better Tomorrow precisely to encourage such activities at local level and we are delighted with the outcome.'
Rachel Medill, Chief Executive of Ride High said: 'At Ride High we develop children's skills through a range of creative and team working projects. The whiteboard will be a huge step forward for us. Toyota's programme is outstanding in that it encourages projects which involve a range of local supporters and the Ride High children themselves. This team effort will benefit around 500 disadvantaged children over the next few years.'
The Toyota Fund for a Better Tomorrow was set up by Toyota GB to support charity and community initiatives in local communities served by Toyota and Lexus Centres around the UK.