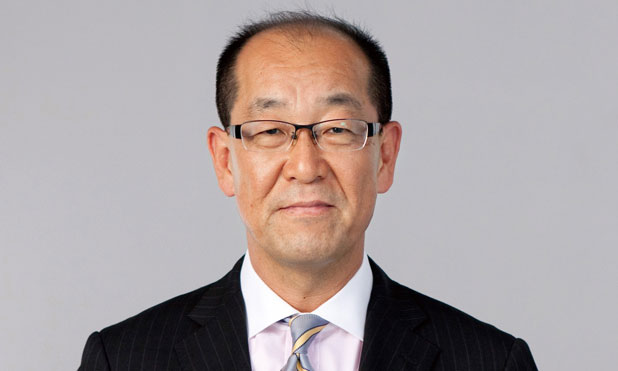 Toyota plans to launch a production hydrogen fuel cell vehicle in 2015. The vehicle that offers a broad insight into this new-generation car is the FCV concept, seen for the first time in Europe at the 2014 Geneva Motor Show.
The FCV is the result of pioneering work undertaken by Toyota's Product Planning Group, led by Yoshikazu Tanaka as Product General Manager. A man with an impressive CV, Tanaka-san was the engineer responsible for planning and developing the Prius Plug-in, so he knows a thing or two about creating cars with the future in mind. We decided to catch up with him to get an inside line on the FCV and Toyota's vision for future mobility.
Blog: Why does Toyota consider fuel cells to be the best solution for future mobility?
YT: Fuel cell vehicles are environmentally friendly, with high total energy efficiency. Hydrogen is an important energy resource for the future because it can be manufactured from solar, wind, and other natural energy sources. It has a higher energy density than electricity stored in a battery, and is easy to store. The specific merits of these vehicles include energy diversification, zero emissions, and the same usability as current petrol vehicles. We think fuel cell vehicles have the potential to become the ultimate environmentally friendly vehicle of the future and have the capability of achieving sustainable mobility.
Blog: How does a fuel cell vehicle compare to other environmentally-friendly vehicles?
YT: Hybrid and plug-in hybrid vehicles match the everyday usability of petrol cars, and are seen as the mainstream environmentally friendly vehicle. Electric vehicles are suitable for short-distance commuting because of their short cruising distance and long charging time. On the other hand, fuel cell vehicles are extremely versatile, offering a long cruising range and a short fuelling time but the hydrogen infrastructure needs to be developed. At the moment, each environmentally friendly vehicle has its own shortcomings, and it is up to our customers to decide which vehicle is best for them.
Blog: Toyota began work on fuel cell technology in 1992, and will put its first FCV on the market in 2015. Can you tell us what the main issues you have had to tackle were, as well as the biggest evolutionary steps?
YT: For a full-scale market launch of an FCV, the most important issue is the reduction of the fuel cell system cost and, therefore, the retail price. We've worked on making FC systems more competitive; higher-powered, smaller, lighter and cheaper. Our current system has a world-class output power density, which is twice as high as that of our previous concept, the Toyota FCHV-adv. Also its output power is more than 100kW, despite significant unit downsizing.
We designed a new fuel cell stack that allows water to recirculate within, from cathode to anode, humidifying internally and maintaining the proper moisture balance. Eliminating the need for a humidifier allowed us to simplify the structure of the fuel cell system, making it lighter, smaller and more cost-effective. For a full-scale market launch in 2015, the cost of the fuel cell system will be 95 per cent lower than that of the FCHV-adv.
Blog: Is there a link between Toyota's expertise in hybrid technology and the FCV? If so, did it help you in the development of the FCV?
YT: We regard our hybrid systems as the core component technology necessary to develop eco-cars such as the plug-in hybrid, electric vehicle and FCV. We've been able to readily and rapidly apply the technical know-how acquired through the development of hybrid technology to other eco-cars. In the case of the FCV concept, we used the current hybrid system's electric motor, power control unit and other parts and components. By using these we aim to improve reliability and minimize cost.
Blog: Do you think a fuel cell vehicle can match the everyday usability of today's gasoline cars?
YT: FCV has the same cruising range as a petrol car and needs an equally short fuelling time, making it every bit as convenient for day-to-day use. Also, its long range makes it possible to apply FCV technology to larger vehicles such as buses and heavy trucks.
Blog: How do you expect fuel cell technology to evolve between in the next five years or so?
YT: In preparation for a period of full-scale FCV popularisation after 2020, we have placed a high priority on the research and development of fuel cell vehicles to enable sales of several tens of thousands of vehicles per year. We will accelerate our efforts to increase the commercial appeal of fuel cell vehicles by lowering the vehicle price through reducing the costs of the FC system, improving durability and so on…
Blog: Are there other fuel cell-related initiatives within the Toyota group?
YT: Toyota Group companies will be conducting research and development into fuel cell buses, stationary fuel cell co-generation systems for residential use, and fuel cell forklifts and other industrial vehicles. Actually, a new fuel cell bus jointly developed by Toyota and Hino Motors will be launched in 2016.
Blog: How do you see hydrogen production evolving in the next few years?
YT: Hydrogen can be manufactured from a variety of natural energy sources. We should choose the most cost-effective and least CO2 emission-heavy way to manufacture it, based on the specific circumstances of each region.
Blog: What about the evolution of the fueling infrastructure?
YT: Moves to introduce a hydrogen fueling infrastructure in the United States are advancing in California. Progress is also being made in Europe, particularly in Germany and Scandinavia. Development of a hydrogen infrastructure will be essential for the widespread adoption of fuel cell vehicles, and we expect that infrastructure development to advance through the efforts of related industries with government support. If consumer support for fuel cell vehicles can be obtained, this will provide impetus for further development of the necessary infrastructure.
Blog: The lack of an adequate charging network is currently handicapping electric vehicle development. Do you think that the FCV will face a similar issue?
YT: Because the FCV has the same cruising range and refuelling time as a conventional petrol car, the situation is different to that in which the EV currently finds itself. In terms of FCV infrastructure development, the strategic locations of refuelling sites are far more important than the number. Even if it is not as convenient as today's petrol station, some 200-300km between each station is a reasonable starting point.
Blog: Are there any safety issues regarding the use of hydrogen in a car?
YT: Toyota's safety concept for hydrogen is primarily to prevent leakage by design and material selection. In the event of a leak, the gas is detected and the tank's main shut-off valves are closed immediately to prevent a larger leak. Our design stops leaked hydrogen from accumulating, or entering the cabin. We have conducted a variety of strict tests, including crash tests, and the safety of this system has been confirmed.
Blog: Are there any specific recycling issues?
YT: Regarding parts we utilise from the existing hybrid system, we will recycle them in the same way as before. We will also aim for the same level of recycling for any fuel cell-specific components.
Blog: Regarding the FCV concept itself, what are its particular merits?
YT: A fuel cell vehicle has four merits. Firstly, usability: a long, more than 500km cruising range and a short, three-minute fuelling time. Secondly, driving pleasure: strong, smooth acceleration and silent operation. Thirdly, zero emissions. And, finally, energy diversification.
Blog: What are the main design features of the Toyota FCV concept?
YT: To create a vehicle that expressed a sense of values never before available. Our aim was to come up with a design that let people recognise at a glance that this car offered the practicality of a saloon, the joy of driving, the experience of high environmental performance and the new values of an FCV. With the theme, 'giving shape to the wisdom of fuel cells', we sought a new genre of design. For the front, we expressed an image of breathing in air and emitting water and used a design that emphasises two grilles either side of the vehicle.
Blog: What is the status of development of the fuel cell vehicle scheduled for launch in 2015?
YT: We are in the final stages of development, conducting all kinds of tests on ordinary roads and in cold and extremely hot climates. While continuing these road tests and other testing, we will continue to develop the vehicle until we achieve a standard that will satisfy consumers and further improve its reliability.
Blog: How closely does the exterior or chassis of the Toyota FCV concept resemble that being used for the vehicle scheduled to launch in 2015?
YT: We are thinking of using the basic packaging. The concept's exterior design does take a commercial launch into consideration; however, there are design elements that are specific to the show model only. As such, the FCV will not be launched exactly as it appears in Geneva.
More from 2014 Geneva Motor Show
All-new Toyota AYGO revealed
12 Toyota AYGO models light up Geneva show
European debut of Toyota FCV concept
Geneva debut for Toyota FV2 concept