It's only natural that if your work confines you to the city, you feel an urge to escape the urban environment whenever you can, whether it's to climb a mountain or simply enjoy a great view. Toyota has picked up on this mood among millennial-age professionals to produce its new FT-4X (Future Toyota – Four-Wheel Drive Crossover) concept.
Dubbed a four-wheel drive 'toolbox', the concept was penned by Toyota's Calty design centre in California. Its styling is defined as Rugged Charm, while its capabilities are 'casualcore' rather than hardcore, making the FT-4X suitable for any kind of outing, any time.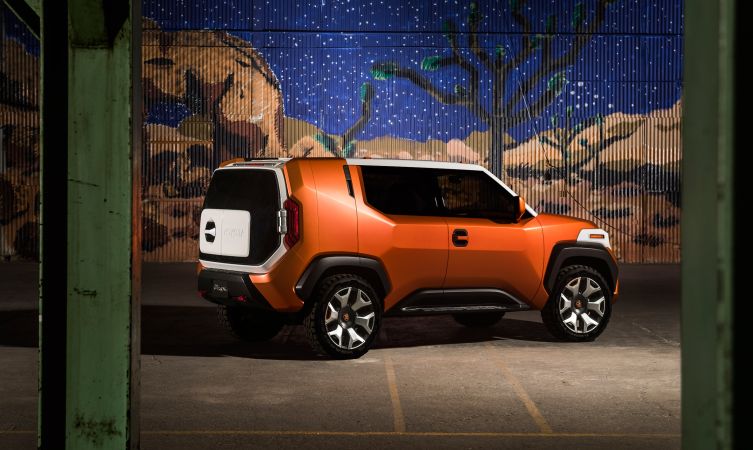 Kevin Hunter, Calty President, introduced the concept: "The Toyota FT-4X is not simply a concept where style meets function; it is a thoughtful, charming and engaging experience that adds real pleasure and convenience to the journey. We focused on how a crossover vehicle can add fun and value to casual adventures both in and out of the city."
Toyota FT-4X: 'casualcore' exploration
The Toyota FT-4X concept's 'casualcore' quality addresses the growing popularity of spur-of-the-moment trips among young urban people.
It could be dinner on the beach, heading into the country for a run or a walk, camping under the stars, or time spent shooting the breeze and listening to music with a group of friends sitting on the tailgate of your vehicle. It's the kind of get-away that can be inspired by social media, moving on from liking a digital snapshot to going somewhere to create your own lasting impression.
Toyota FT-4X: Rugged Charm persona
Rugged Charm places value on simplicity, capability, durability and Toyota heritage. It takes into account compact, sturdy dimensions and the provision of a wealth of tactile grips, handles and controls to give the user a satisfying sense of mechanical reaction to their input.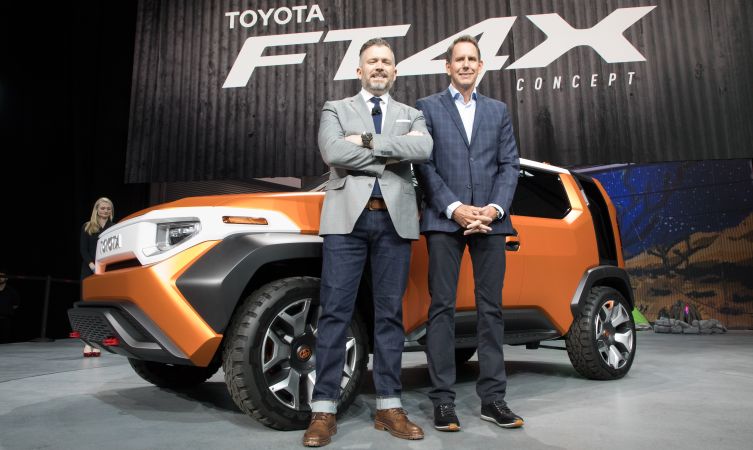 "You can really tell we had a blast designing the FT-4X because it looks fun to use and fun to drive," said Ian Cartabiano, Calty Studio Chief Designer (above left, with Kevin Hunter). "I love this idea of mechanical satisfaction because while we're living in today's digital world, we took something that's based on physical movements and made that a large part of what this vehicle is."
The designers took an unconventional approach to their work, starting with the rear of the vehicle rather than its nose or profile. This acknowledged how the target explorers make the tailgate or hatch of the car the centre of activity.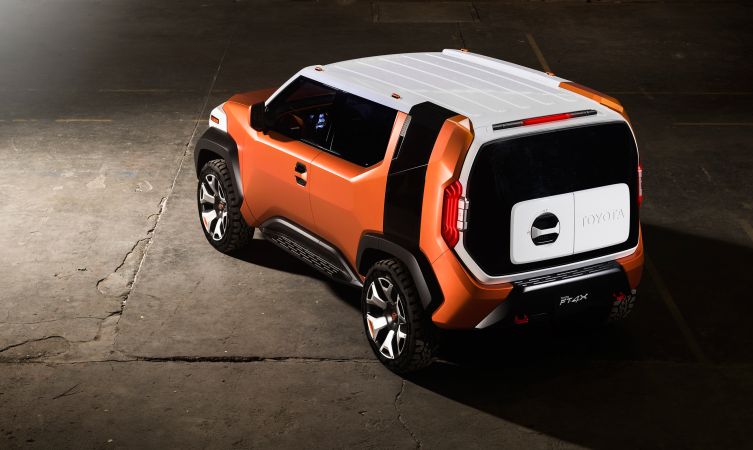 For the exterior, the stylists applied an 'X' theme throughout the car's Toyota New Global Architecture platform. For example, a door handle is located at the centre of a vertical, bowed 'X' at the widest point of the vehicle. This places driver and passenger within the broadest area, creating a natural protective zone. A similar bowed 'X' shape can be seen in the rear hatch design, again with the door handle centrally located.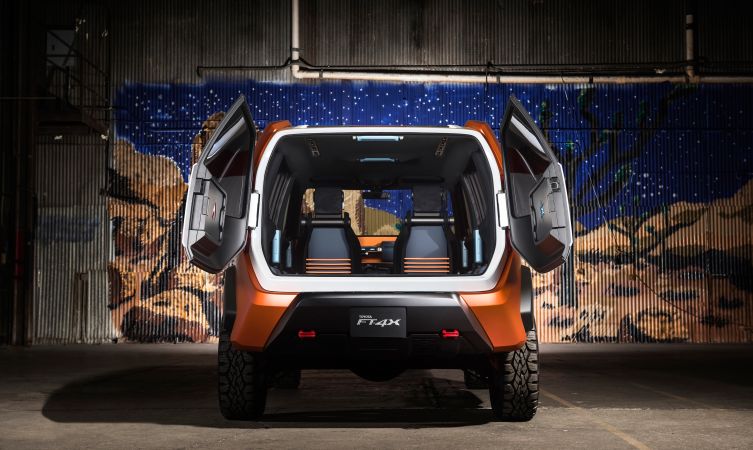 The rear Multi-Hatch can be opened in Urban Mode (horizontally), or in Outdoor Mode (vertically). The former splits the hatch in half for easy kerbside loading when space is tight, while the latter opens the hatch upwards in one piece. The door's design has a satisfying mechanical touch: a rotating handle that's turned to select the opening mode and which is deep-set so it's easy to operate when wearing thick gloves.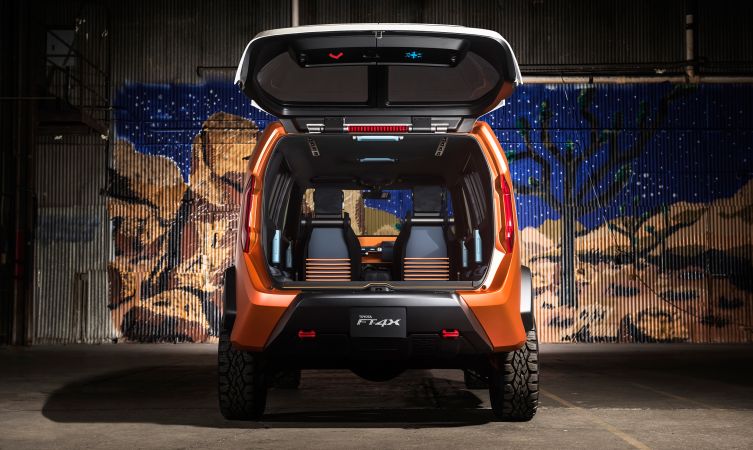 The flat roof is reinforced so that big items can be carried, with tie-down hoops located at each corner. Power outlets are integrated into the base of the tie-downs for use with camping or roof rack accessories.
Generous approach and departure angles ensure that FT-4X can tackle both on- and off-road conditions – capability that is reflected in the bold wheel arch mouldings. A vertical window above the offside rear wing pays homage to the design of Hilux Extra Cab and original 4Runner models, with removable glass that can be replaced with tinted or opaque options.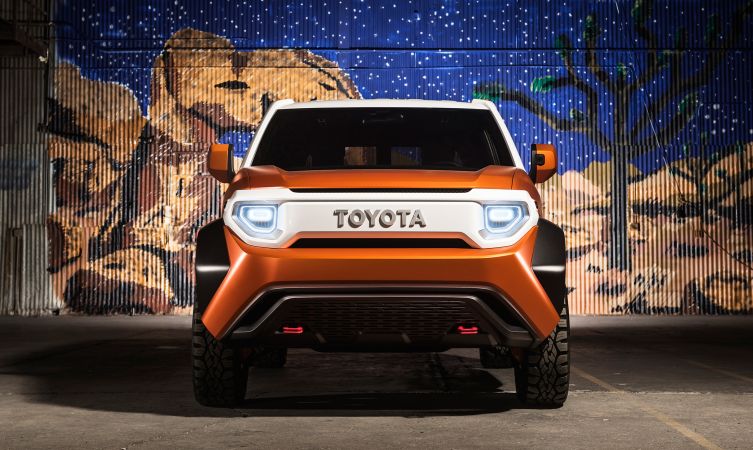 Sculpted rocker panels enhance underbody protection and durability when venturing off the beaten path. And whenever the FT-4X does find some heroic scenery, a camera built into the driver's side rear-view mirror can capture it all.
The 'X' theme is captured in the front design, too. Classic, extra-large Toyota lettering is set dead-centre, flanked by LED headlamps. The horizontal orientation of the grille, headlights and bumper nods to popular Toyota FJ and Hilux models of the past.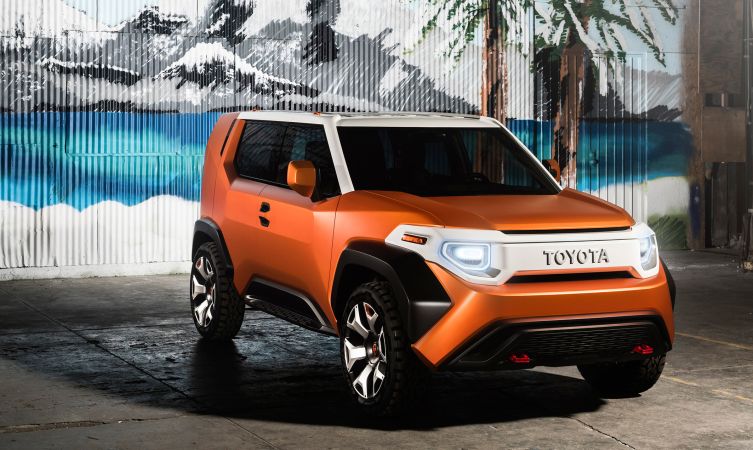 Toyota FT-4X: multi-tool cabin
The cabin has been conceived as a large open space fitted with easily accessible storage for all kinds of kit. Areas are colour-coded: blue for closed and orange for open storage. Meanwhile, the inside of the hatch features two boxes, one warm, one cold, to warm or cool items as required.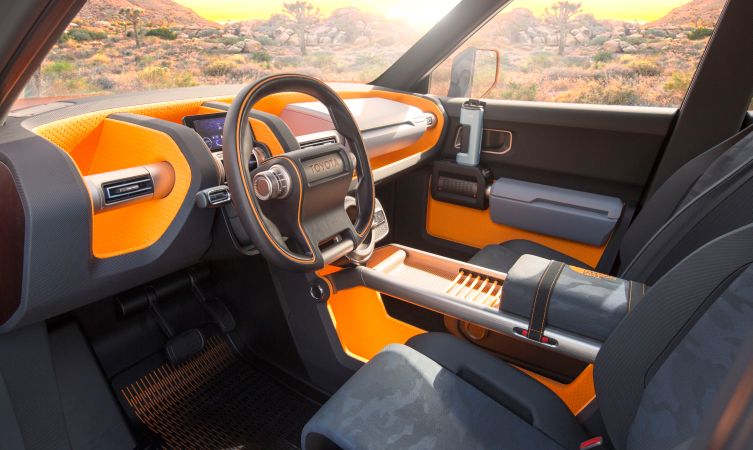 The cabin is divided into three zones: Clean Zone, where the driver and front passenger sit, with rugged floor mats and sills inspired by Japanese sunoko slotted wood flooring; Wet Zone, with all-weather mats where damp or muddy kit can be stowed just behind the front seats and below the rear bench; and Rear Cargo Zone.
The Rear Cargo Zone has a completely flat floor with a concealed deep storage compartment accessed by sliding the floor section towards the Rear Multi Hatch (doing this transforms the floor into a tray). Extra space can be gained by folding the rear bench and there are plenty of tie-down hooks to hold items in place.
An ultra-compact The North Face sleeping bag fits neatly between front passenger seats, and functions as an armrest that is strapped atop an extra-large dividing console. The console can fold upward, revealing additional storage capacity for medium-sized gear. Its breathable, high-grip, hybrid mesh surface allows for wet items to dry quickly, and its bungee cord lattices keep small items in place.
Clever touches abound: the interior lighting can be removed and used as a torch; the side and rear door handles also serve as water bottles; and the armrests are fitted with USB ports and large rotary window switches. The centre dome light can be taken out to use as a locating light or beacon.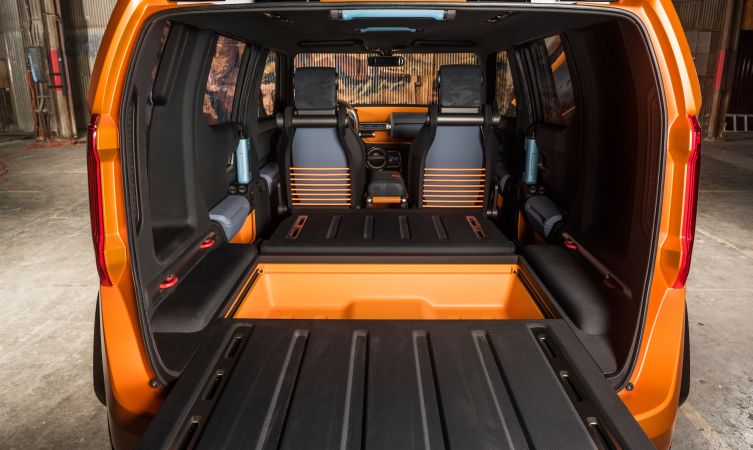 The multimedia audio system can also be removed and is designed with an extra-large handle grip. There is no traditional navigation screen; instead there is a mobile phone mount immediately above the cylindrical digital instrument cluster, the thinking being that owners will download apps for both navigation and off-road instrumentation.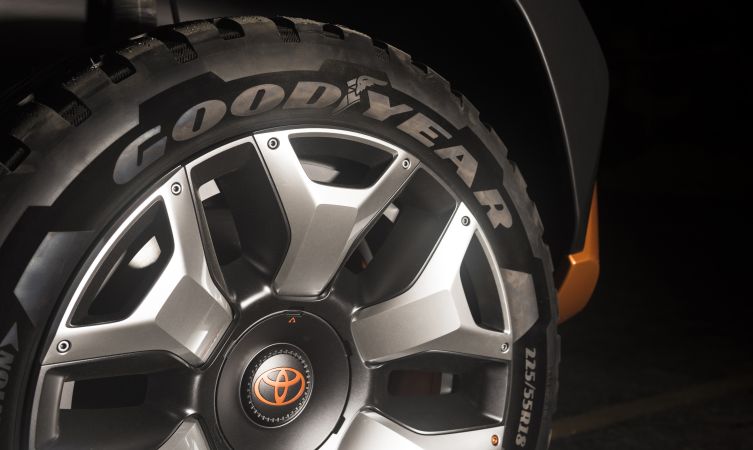 The concept is fitted with 18-inch wheels and custom 225/55 R18 Goodyear all-season tyres. It stands 1,623mm tall, measures 4,249mm long and has a 2,639mm wheelbase.
Click here to learn more about other Future Toyota concepts