Toyota has revealed a new type of spray head that atomises vehicle body paint using static electricity instead of air.
This newly developed airless spray head is a world-first and achieves 95% coating efficiency – in other words, 95% of the total volume of paint actually adheres to the vehicle body. This is a remarkable improvement on conventional air-driven spray heads, which tend to ricochet 30-40% of atomised paint into the atmosphere.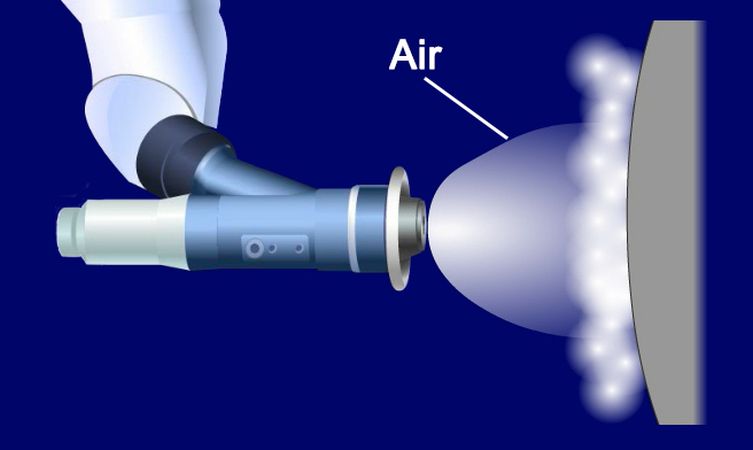 In a conventional spray head (above), atomised paint is sprayed on to the vehicle body using air, the power of which can cause many particles to ricochet and scatter.
Toyota's new airless spray head (above) atomises the paint using electrostatic force. This creates a negative charge within the paint particles, which are then efficiently attracted to the positive charge of the vehicle body.
The application of a number of new technologies has allowed Toyota to achieve such a high coating efficiency with this device. Interestingly, some of these were inspired by the beauty business, where instruments are needed to spray fine amounts of liquid.
The first advance is that the tip of the atomiser features a cylindrical head that contains approximately 600 minute grooves. The head rotates to create a centrifugal force, which in turn generates a capillary effect within the grooves that induces the paint to flow outwards before the particles are atomised through static electricity. Watch the following video to see an animation of this process.
The second advance is the use of highly accurate current control to make close-range painting possible. Vehicle bodywork is rarely flat and it was imperative that the stability of the electrostatic attraction and the size of the paint particles remained consistent as the spray head moves across the body. A new system was therefore designed to correlate the variations in vehicle body shape with variations in electrical voltage, despite running under a fixed current.



The first production facilities to have deployed these airless spray heads are the Takaoka and Tsutsumi plants in Japan, where models such as the RAV4 and Prius are made. But when all world production facilities are similarly aligned, Toyota calculates that it should reduce group CO2 emissions by about 7.0%. Painting production lines will also be able to be made more compact as the collection devices in individual paint booths will not need to hold as much volume.
As part of the Toyota Environmental Challenge 2050, initiatives such as the new airless spray head are helping Toyota get ever-closer to its goal of reducing CO2 emissions from all production facilities to zero.