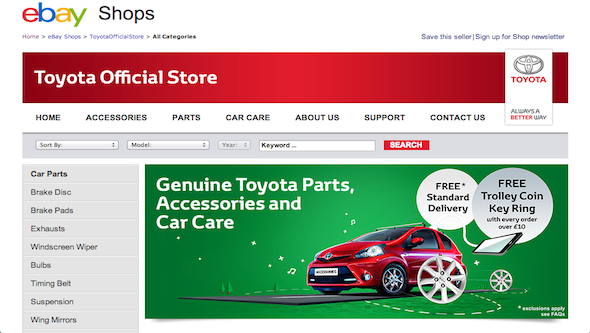 Need a part for your car? Toyota has got it clicked.
Toyota GB has opened an official eBay store, giving Toyota owners in the UK a fast and simple way to buy genuine parts and accessories for their cars.
The Toyota Official Store gives UK customers a new and convenient way to source the genuine parts they need, direct from Toyota's distribution centre in Lutterworth, Leicestershire.
Parts offered through the store include commonly needed servicing and repair items, as well as consumables such as touch-up paint, lubricants and polishes. The range of products on sale will increase in line with customer demand.
Prices in the store are the same as customers would pay at their local dealership, but the inventory supports a wider range of older vehicles, typically four to eight years old – meaning the store will complement dealer efforts rather than competing with them.
Toyota's sister brand Lexus has also launched an eBay store for the UK – which you can see here.
Steve Settle, Toyota's director of customer services, said: "Opening our new e-commerce channels helps us make genuine Toyota parts and accessories available to a much wider customer base. Working alongside our centres, they will help us maximise our business while providing customers with an alternative, convenient purchase method.
"Our research prior to launching the online stores revealed that around £15 million of parts and accessories for Toyota and Lexus are accessed through eBay searches every year, so it offers us great business potential. Our plan is that once customers have engaged with our eBay stores, we will able to build a relationship with them and introduce them to our centre network."
Toyota GB is the first of Toyota's European national marketing and sales companies to launch a full-scale e-commerce programme. Further developments to support 'click and collect' and 'click and fit' are planned for 2014.
Visit the Toyota Official Store on eBay at stores.ebay.co.uk/ToyotaOfficialStore/.