Toyota has held the road course lap record at Daytona since 1993, when the All-American Racers (AAR) team clinched pole position for the Daytona 24 Hours with its Toyota Eagle MkIII sportscar.
For the past 26 years, the 1m 33.875s benchmark at the Florida circuit – a mixture of the famous NASCAR banked oval and a twisty infield section – has been unassailable, although it could be eclipsed at the 2019 race this weekend.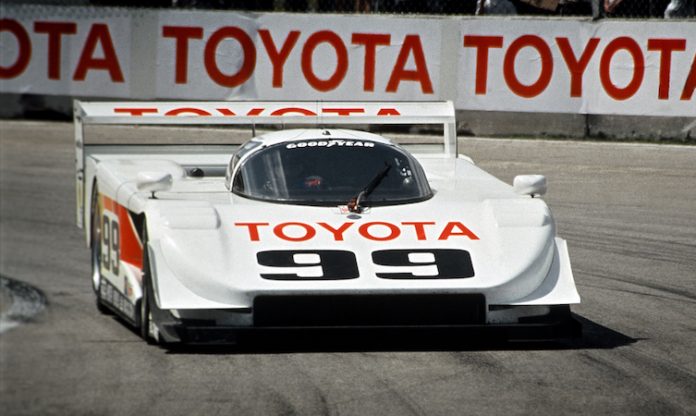 It was to prove the sole Daytona victory for AAR and drivers PJ Jones, Rocky Moran and Mark Dismore, who drove the number 98 car (the sister car to the number 99 machine, which won the IMSA crown at the end of the year). We asked Jones to look back on the race, his awesome qualifying lap and the mind-blowing Eagle MkIII.
Qualifying tweaks to the Toyota Eagle MkIII
Jones says the team would turn up the engine's turbo boost for super-quick laps in the qualifying sessions ahead of the race: "We didn't have power steering in those days and on the short qualifying runs I was able to put more castor in the car and still be able to physically turn it, whereas my team-mate in the other car, Juan Manuel Fangio II, was a smaller guy and couldn't. It made the car turn a little better and that made the difference in getting the pole.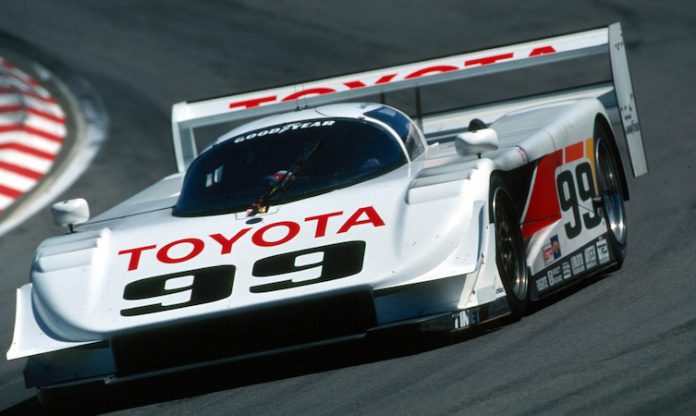 "The car responded so well," he continues. "The faster you drove it, the more downforce it had, and it showed up on the stopwatch every time. That wasn't always the case in an IndyCar, for example."
Aero star
The Eagle MkIII first appeared in 1991, racing in the GTP class of US sanctioning body IMSA's GT Championship. It incorporated a number of innovative features for the time, including a separate front-end diffuser that markedly improved the aerodynamics over its predecessor, the likewise Toyota-powered Eagle HF89.
"By 1993 it was the complete package," says Jones. "The chassis was unbelievable, it had a lot of downforce – around 10,000 lb (4,500kg) at 200mph. It had carbon-carbon brakes and a wide Goodyear tyre with a lot of grip. It also had a 1,000-horsepower engine [in qualifying trim] with a lot of torque."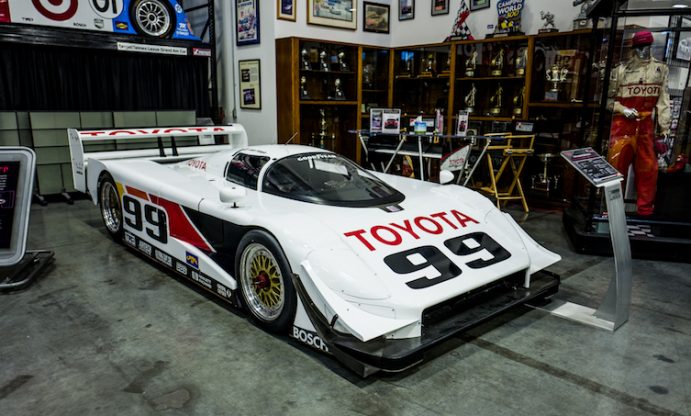 Boosted to the max
The turbocharged engines for the two Eagles were developed by Drino Miller at Toyota Racing Development (TRD) in California. Jones's trackside support engineer through the 1992 season had been David Wilson, now president and general manager at Toyota Racing Development USA.
The concept was unusual for the time in that the power came from a highly boosted, production-based 2.1-litre 4-cylinder engine, whereas rival teams were running larger sixes, V8s or even a V12.
How Toyota's IMSA racers inspired a very special GT86
"We raced with as much as 142psi of boost (just under 10 bar), although I think they turned it down to about 125psi (8.6 bar) for the 24 Hours!" laughs Jones. "It was phenomenal. [Some] didn't think that we could get that 4-cylinder engine to win a 24-hour race, but we did!"
Rollercoaster race
In 1993, a mechanical issue put Fangio's car out of the 24 Hours and GTP rivals Jaguar and Nissan led by as much as 30 laps, but Jones's car survived a 74-minute pit stop for a transaxle change on the Sunday morning to eventually win the race. That mechanical problem isn't the incident that looms largest in his memory, though.
"Rocky Moran threw up in the car in the middle of the night!" he recalls. "I didn't know. I got in and I asked the crew, 'what is that smell in this car?' And they said, 'oh, Rocky puked all over'. I looked at my hands and I had stuff all over me. I ended up driving about 13-and-a-half hours of that race!"
Career high
At AAR, Jones was driving for Dan Gurney, an F1 race-winner and a contemporary of Jones's father – Indianapolis 500-winning driver and team owner, Parnelli Jones. PJ's career would later encompass NASCAR and IndyCar races, the latter once more with a Toyota engine, but he looks back on his time in the Toyota-Eagle as "right at the top" of his achievements.
"To drive for Dan Gurney, to be a Toyota factory driver, to win all those races… Those were special years, although you don't realise it when you're 22-23 years old," he assesses. "Toyota's funding gave us the tools to be able to do an incredible programme. We were building our own chassis, we had our own scale wind tunnel and a carbon fibre shop – not many American race drivers have been part of a programme like that. AAR took good care of its drivers and Toyota was a great manufacturer to drive for."
PJ Jones was speaking to Graham Heeps
About the Toyota Eagle MkIII
The IMSA Grand Touring Prototype (GTP) cars in many ways represented the pinnacle of American sports car racing. At the front of the pack stood the All American Racers' Toyota Eagle MkIII, a car that dominated the GTP class and set records that stand to this day. The MkIII won 21 of 27 races entered – including an IMSA record 14 straight victories – and earned Manufacturers' and Drivers' titles in 1992 and 1993, driven by Juan Manuel Fangio II.
ENGINE
Type
Turbocharged Toyota in-line four cylinder
Displacement
2100cc
Power
750hp (endurance spec)
Valvetrain
Twin overhead cam, four valves per cylinder
DRIVETRAIN
Transmission
Five-speed
Clutch
5.5-inch Tilton carbon
CHASSIS/BODY
Chassis
Carbon fibre composite monocoque with tubular steel roll-cage
Bodywork
Carbon-Kevlar-Nomex honeycomb composite
Steering
Rack and pinion
SUSPENSION
Type
Independent, unequal-length double wishbone, bellcrank pushrod
Shocks
Four-way adjustable shocks with coaxial springs
BRAKES/WHEELS/TYRES
Brakes
14-inch ventilated discs with Brembo four-piston calipers
Wheels
BBS alloy, front: 17×13-inch; rear: 17×15-inch
Tyres
Goodyear Eagle racing radials
DIMENSIONS
Length
4800mm
Width
2006mm
Height
1016mm
Weight
830kg