This is CUE, a basketball-playing robot developed by Toyota engineers. It is recognised by Guinness World Records as the most accurate basketball player of its kind, having sunk 2,020 free throws without missing a single shot.
What makes this achievement even more remarkable is that CUE was put together in the engineers' spare time and that none of these volunteers had previous experience in either robot development or artificial intelligence technologies.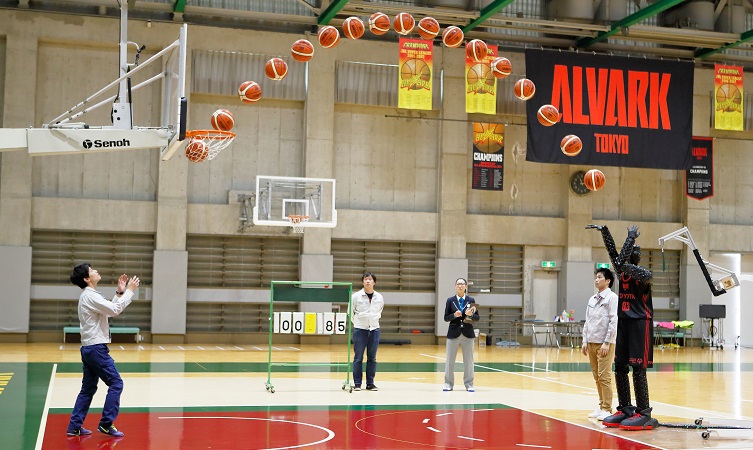 A brief history of CUE
CUE was developed as a free time project by nine volunteers from the Frontier Research department of Toyota Central R&D Labs in Japan. It began as a challenge for engineers with no experience in artificial intelligence (AI) to create a robot that could demonstrate machine learning through human-like intelligence. This led to the idea of developing a robot that used AI to calculate the distance of a free throw to a basketball hoop and sink multiple shots.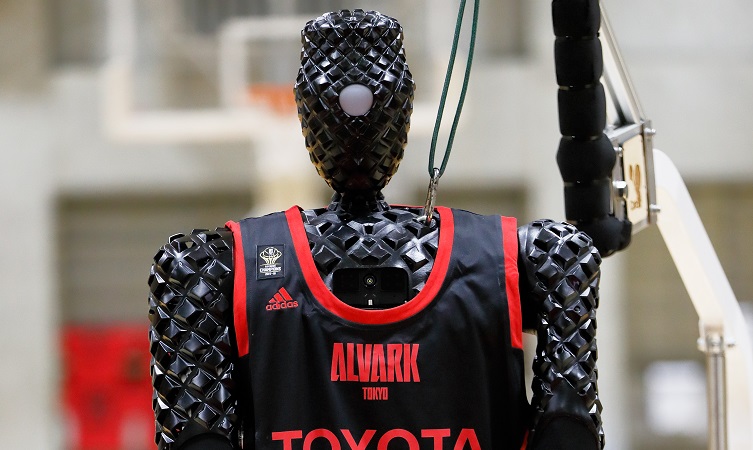 Developed through a painstaking process of trial and error, the first-generation CUE was unveiled in 2018 at a public event run by the Toyota Engineering Society. Rumour has it that CUE succumbed to stage fright and was only able to sink nine out of its ten shots as a Toyota executive was watching. CUE later redeemed itself during the following shootout against professionals from the Alvark Tokyo basketball team.
Reaction to CUE was overwhelmingly positive, and Toyota executives granted the team two years to progress the project full-time. This positive endorsement, together with advice offered by other teams within Toyota developing Partner Robots, resulted in the accelerated development of the second-generation model, CUE2. Members from the nearby Hirose Plant even took time out to assist in the fabrication of circuit boards, the robot's 600 metre wiring loom, and its pineapple-like resinous 'skin'.
Within a short, six-month timeframe the technologies were improved so that the robot could now stand unsupported. Motor output was also increased so it could shoot basketballs outside the three-point line. This was a significant development as the margin for error increases with distance – such a shot would fail if the motion was inaccurate by a single degree.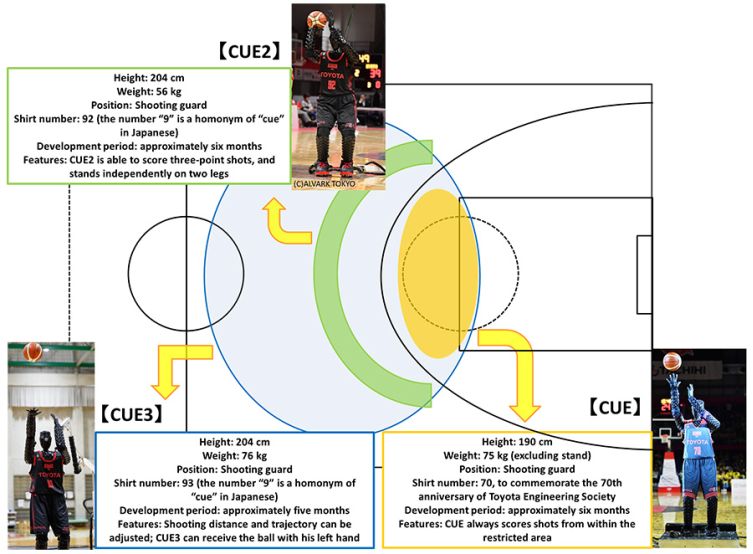 Fast-forwarding another five months brought the team to the reveal of CUE3, held during the half-time show between Alvark Tokyo and Sunrockers Shibuya. CUE could now be adjusted for distance and trajectory, so that it could shoot from almost anywhere between the three-point line and centre line. It could even receive the ball with its left hand. But the greatest challenge for CUE3 was imminent.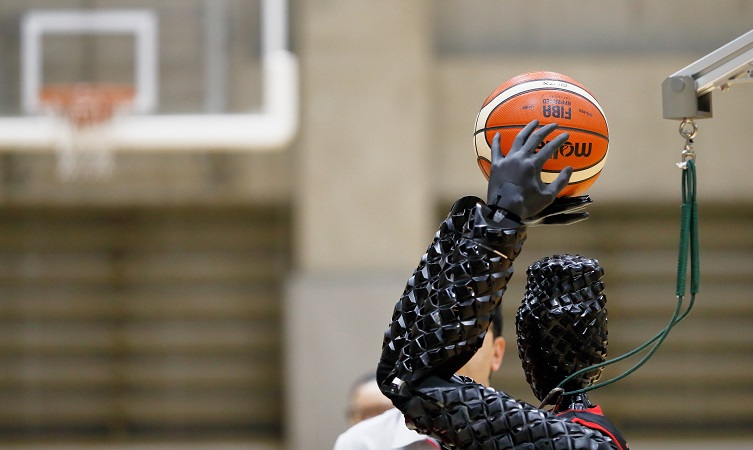 Toyota CUE3 becomes world record holder
Upon hearing news that CUE3 had described a perfect arc to sink a super-long throw from the centre line, approximately 12 metres away, Guinness World Records made an offer to the development team to compete for the following title: 'Most consecutive basketball free throws by a humanoid robot (assisted).'
In order to fulfil the definition of 'consecutive' the team reprogrammed CUE3 so that it would not drop its arm as part of the follow-through movement; instead, it would immediately prepare for its next shot. The motors and other mechanical elements were also thoroughly tested for endurance.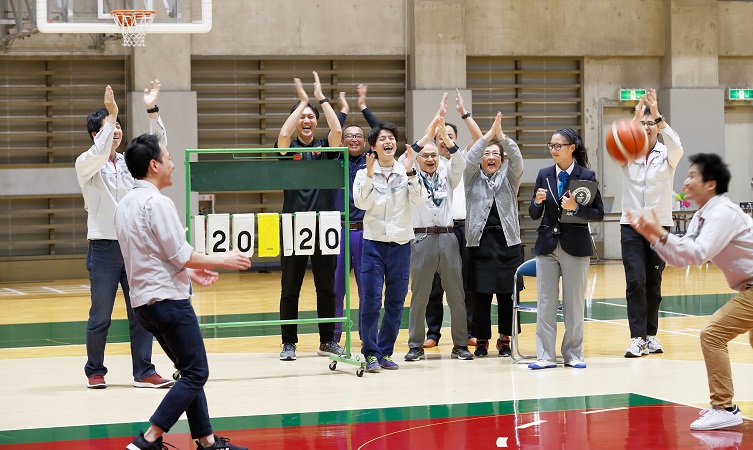 During the record attempt, the adjudicator would not permit anybody to make changes to CUE3 or for the procedure to be paused, even for comfort breaks or for a quick snack. So ball pressures, shooting distances, and the height and orientation of the basket were rigorously checked beforehand.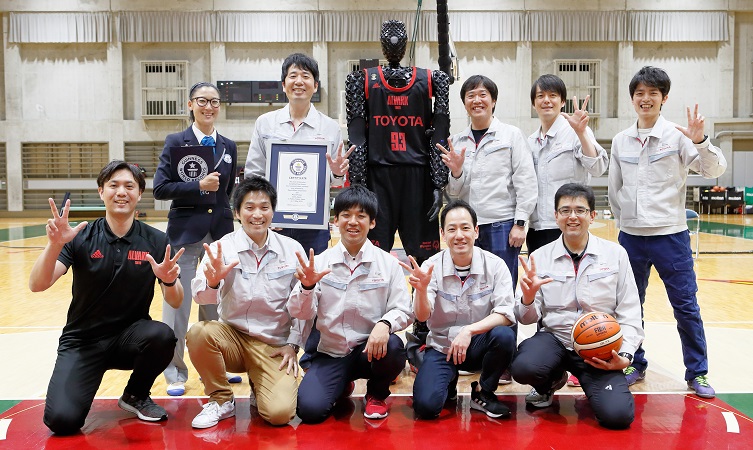 Working against the clock, CUE3 began quietly and efficiently sinking shot after shot, at a rate of one every 12 seconds. The robot had never exceeded 200 shots in rehearsals, so from that point onward it was unfamiliar territory for CUE3 and the team. After three hours and 18 minutes, CUE3 had reached its 1,000th shot and remained unerring in accuracy. And then, six hours and 35 minutes after the start of the record attempt, the moment the team had been waiting for finally arrived. Ball number 2,020 was successfully thrown through the hoop and a new Guinness World Record was set.
Watch the fascinating, official documentary from Guinness World Records below:
Is it easy for a robot to throw a ball?
Programming a robot to throw a single ball to a predetermined spot may not be particularly difficult. But to do it consecutively without mistake is incredibly hard. A variety of technical problems must be constantly overcome.
For example, the trajectory changes according to how the ball is placed in the robot's hand as well as how it leaves the hand. The force of each throw also results in minor changes to the robot's position, and you also cannot guarantee that the supply power or current feeding the motors remains identical with each shot. Therefore each throw has to be calculated and discharged individually.
Read more: Robot astronaut Kirobo wins two Guinness World Records