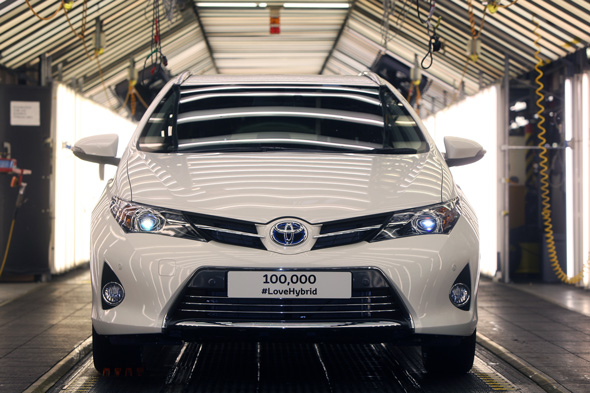 On 19 October 2000, the first day of the British International Motor Show, Toyota launched UK sales of its first-generation Prius. Fourteen years later it is celebrating 100,000 hybrids sold nationwide, confirmation that its clean, efficient and smooth powertrain technology is now an accepted and popular part of the mainstream motoring market.
Significantly, the car that clocks up the first hundred thousand is British-built, an Auris Hybrid Touring Sports in top-of-the-range Excel trim, produced by Toyota Manufacturing UK (TMUK) at its Burnaston plant, near Derby. Under the bonnet, its hybrid system includes a 1.8-litre VVT-i petrol engine manufactured by TMUK at Deeside in North Wales.
Hybrid is at the heart of Toyota's investment in UK manufacturing, with Auris and Auris Touring Sports models built here for export worldwide.
The original Toyota hybrid customers were true pioneers, adopting an advanced technology that promised low carbon emissions and, for its time, exceptional official fuel economy of 61.4mpg. Just one version of the quirkily styled four door saloon was on offer, with a £16,495 price tag. Sales were through a network of 60 Toyota Hybrid Technology Centres, which were also responsible for servicing, repairs and recycling. To help reassure the early adopters, Toyota provided a five-year warranty and the option of a peace-of-mind leasing arrangement.
Today there are six different Toyota hybrids, covering the market from compact superminis and family hatchbacks to seven-seat MPVs. Expansion of the range has gone hand-in-hand with accelerating sales; global sales of Toyota group hybrids are nearing seven million, with Prius now among the world's most popular cars.

British enthusiasm for Toyota hybrids is reflected in the fact sales of hybrid-powered Auris are set to overtake those of petrol and diesel versions combined and Yaris Hybrid is taking an increasingly large share of overall sales of the supermini.
Notably, a fleet customer will be taking delivery of the 100,000th UK hybrid, reflecting the advantages of low company car tax rates and running costs and high reliability that are all part of the Toyota hybrid ownership experience.
Of course Toyota models are just part of the hybrid picture: sister brand Lexus has progressively brought the benefits of hybrid power and sophistication to the luxury car market and is closing in fast on 50,000 UK sales, achieved since the debut here of the RX 400h in 2005.
Read more:
Hybrid Cars: An Introduction
8 things you didn't know about hybrid