Toyota develops its vehicles and technology under the umbrella of an 'Integrated Safety Management Concept', one part of a three-pronged approach which involves continual improvement in vehicle safety as well as initiatives to improve driver and pedestrian awareness and to create a safe traffic environment.
Toyota's eventual aim is to realise a society where traffic accidents are a thing of the past, which is why decades of research into safety technologies have resulted in Toyota cars receiving consistently high results in Euro NCAP crash safety tests, with the Prius,  Yaris, Auris, Verso, Avensis and RAV4 achieving the maximum five-star award.
In this post, we take a look at some of the technologies that bring convenience to owning a Toyota while adding a layer of safety when you're on the go:
Automatic High Beam (AHB)
Automatic rain-sensing wipers
Electrochromatic auto-dimming rear-view mirror
Automatic dusk-sensing headlights
Follow Me Home headlights
LED headlights
High-Intensity Discharge (HID) headlights
Adaptive Front-Lighting System (AFS)
Automatic High Beam (AHB)
Automatic High Beam (AHB) is part of the new Toyota Safety Sense suite of active technologies to improve safety by preventing or minimising the severity of road accidents. Automatic High Beam contributes by detecting the headlights of oncoming vehicles and automatically switching from high to low beam (dipped) headlights to avoid dazzling other drivers. Consequently, high beam can be used more often, meaning pedestrians and obstacles are easier to spot.
Automatic High Beam is available as standard on new Prius, Avensis, Verso and RAV4, with the system optionally available on Yaris too.
Automatic rain-sensing wipers
To ensure you always have a clear view of the road ahead, several Toyota models include automatic rain-sensing wipers. These vehicles are equipped with a rain sensor mounted at the top of the windscreen that detects rain on the screen and automatically selects the appropriate wiper speed (intermittent, low speed, or high speed) for the intensity of the rain.
Rain-sensing wipers are fitted as standard on most of the Toyota range including Auris, RAV4 and Verso.
Electrochromatic auto-dimming rear-view mirror
This is a specially designed rear-view mirror that detects intense glare from the headlights of following vehicles and automatically dims the surface of the rear-view mirror to avoid the driver's vision being dazzled by the bright lights.
Toyota's auto-dimming electrochromatic rear-view mirror is available on most Toyota passenger vehicles (dependent on trim level) with the exception of Aygo, Prius+, Prius Plug-in and GT86.
Automatic dusk-sensing headlights
Toyota has developed a system that senses when light levels are falling and automatically switches on the headlights, ensuring that the driver always has a good view of the road ahead. The system also activates when travelling through dimly lit tunnels, minimising the risks of dramatic changes in lighting conditions when travelling through the day.
Automatic dusk-sensing headlights are available on all current Toyotas (depending on trim level) except Aygo, Prius+ and Mirai.
Follow Me Home headlights
Toyota even protects vehicle occupants once they've exited the vehicle by means of Follow Me Home headlights which stay on for approximately 30 seconds after the engine is switched off.
This provides a pool of light that helps you find your way safely to the front door of your house without tripping over the cat or walking into an unseen plant pot.
Follow Me Home headlights feature on many Toyota passenger vehicles.
LED headlights
LED headlights have been adopted on many vehicles in the Toyota range due to their advantages over other lighting technologies. These advantages include producing light that is closest to daylight, using less energy and having a much longer life of up to 100,000 hours – that's almost the same as the vehicle itself!
LED headlights can currently be found on RAV4, Land Cruiser and Prius Plug-in models, with the Toyota Avensis featuring LED headlights that also have a dusk-sensing ability.
High-Intensity Discharge (HID) headlights
Toyota first produced a High-Intensity Discharge (HID) headlight in 1996, and its current bi-xenon HID headlights continue to be a leading conventional headlight technology that gives drivers better visibility at night thanks to a brighter headlight beam than standard halogen headlights.
Bi-xenon HID headlights are fitted as standard equipment on GT86 models.
Adaptive Front-Lighting System (AFS)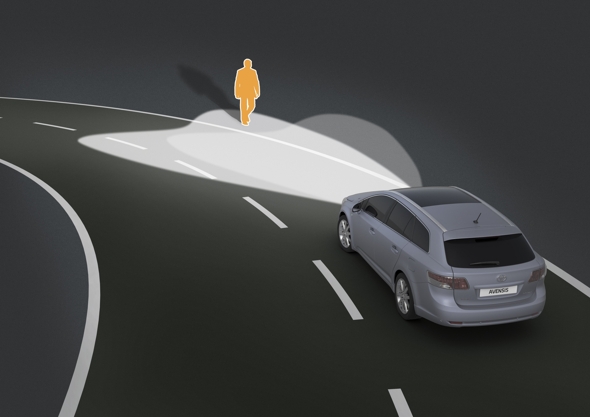 The Adaptive Front-Lighting System (AFS) fitted to selected Toyota models improves the effectiveness of Toyota's headlights by changing the direction of the low-beam headlights in relation to steering angle and vehicle speed. In effect, as you enter a corner, the headlights will adjust to point the beam into the corner, improving illumination of the road rather than simply shining ahead at the verge or pavement. The wider lighted area provided by AFS is another example of the lengths to which Toyota will go to improve driver confidence and occupant safety.
Adaptive Front-Lighting System is featured as standard equipment on Avensis and Land Cruiser models.
To learn more about other Toyota safety technologies, see these related posts:
Braking technologies
Stability and control technologies
Monitoring systems
Occupant safety